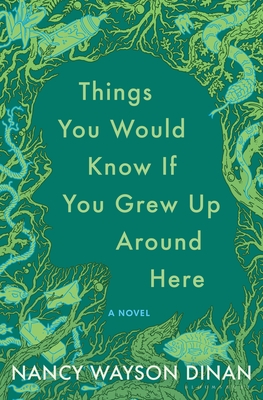 Things You Would Know if You Grew Up Around Here
Hardcover

* Individual store prices may vary.
Other Editions of This Title:
MP3 CD (8/18/2020)
Compact Disc (8/18/2020)
Compact Disc (8/18/2020)
Description
Set during the devastating Memorial Day floods in Texas, a surreal, empathetic novel for readers of Station Eleven and The Age of Miracles.

2015. 18-year-old Boyd Montgomery returns from her grandfather's wedding to find her friend Isaac missing. Drought-ravaged central Texas has been newly inundated with rain, and flash floods across the state have begun to sweep away people, cars, and entire houses as every river breaks its banks.

In the midst of the rising waters, Boyd sets out across the ravaged back country. She is determined to rescue her missing friend, and she's not alone in her quest: her neighbor, Carla, spots Boyd's boot prints leading away from the safety of home and follows in her path. Hours later, her mother returns to find Boyd missing, and she, too, joins the search.

Boyd, Carla, and Lucy Maud know the land well. They've lived in central Texas for their entire lives. But they have no way of knowing the fissure the storm has opened along the back roads, no way of knowing what has been erased-and what has resurfaced. As they each travel through the newly unfamiliar landscape, they discover the ghosts of Texas past and present.

Haunting and timely, Things You Would Know if You Grew Up Around Here considers questions of history and empathy and brings a pre-apocalyptic landscape both foreign and familiar to shockingly vivid life.
Praise For Things You Would Know if You Grew Up Around Here…
"Fabulous and engrossing, both faithful to the real-world details of central Texas and wildly imaginative, peopled with treasure hunters, prehistoric beasts, distracted professors and one improbable young woman facing a momentous decision. Dinan's storytelling flows as forcefully as a flash flood in this spellbinding first novel in which a handsome young man, refreshingly, awaits rescue by a powerful woman." —Shelf Awareness

"There's more than a little of Salman Rushdie's magical realism at play, as ghosts wander through the mist, scarecrows walk and vines reclaim the landscape… Dinan offers readers a reminder that what happened in Texas nearly five years ago is just one small piece of the climate disasters to come." —Associated Press

"Readers walk a central Texas suffused with the histories of the Comanche, the families of immigrant settlers, the Mexicans and American soldiers who battled over the state's imaginary borders… Dinan's beautiful prose focuses on the specifics of Texas history and lessons gleaned from larger human stories." - Star Tribune

"In central Texas, where the story is set, severe drought has been followed by a flood of biblical scale. ... Threaded into it are short omniscient chapters both lamenting our environmental collapse and extolling the unique history and geology of the region… page-turning." - Wall Street Journal

"Picturesque… [a] detailed portrait of a part of Texas whose novelistic potential few authors have tapped." - Texas Monthly

"This strange brew of a book nods to the picaresque novel, is shot through with magical realism, and undergirded by a naturalist's concern for Mother Earth-and it's all wrapped in lovely sentences. Book groups will have field days discussing this." —Booklist, starred review

"Eerie, damning, and altogether enchanting... a book of rugged beauty and raw empathy that revels in its unpredictability — conjuring up motifs and themes that run the gamut of empathy, self-discovery, snakes, and water." - Southern Review of Books

"Dinan's first novel takes a mildly numinous, not so mildly pre-apocalyptic approach in following the lives of a young Texas Hill Country teenager and her loved ones as they fight to find each other, or at least survive, in their suddenly devastated landscape…By turns magical, harshly realistic, poetic, aggravating, and enthralling." —Kirkus

"Things You Would Know If You Grew Up Around Here is proof that the finest American novelist of her generation has taken the stage. Nancy Wayson Dinan has created a Texas drought, a hundred years flood, and characters so real we can't help but fall in love with them, no matter what might happen next." —Dennis Covington, author of SALVATION ON SAND MOUNTAIN, a National Book Award Finalist

"In this astonishing debut novel, dream and dread and hope braid into a single, unforgettable tale: what happened when the flood came that changed everything. Part adventure story, part elegy for a planet that Nancy Wayson Dinan mourns with rich and unsentimental comprehension, Things You Would Know If You Grew Up Around Here explores love and loss and the limits of those things in our lives. It washes away old boundaries and creates a world that is new, slightly menacing, and thrilling." —Erin McGraw, author of THE SEAMSTRESSES OF HOLLYWOOD BOULEVARD

"Things You Would Know If You Grew Up Around Here is a cautionary fairy tale for our troubled ecological age. Dinan maps her version of the Texas Hill Country in such vivid and gorgeous detail that no matter the dangers her intrepid characters face readers will thrill to explore it. Precise and full-hearted, reverently attentive to the natural world, and woven through with subtle magic, Nancy Wayson Dinan has reinvented the Western for our newest frontier: the approaching end of the Anthropocene. Like the cataclysmic storm that sets this book in motion, Dinan's stunning debut will carry readers clean away." —Katie Cortese author of MAKE WAY FOR HER AND OTHER STORIES

"A harrowing debut that pulls you down into a central Texas underworld, a place where the soil is deep with myth and injustice. When a flood sweeps over the countryside like the eve of the apocalypse, shattering already fractured families, ghosts rise with the river to collect history's due. Dinan's novel will drown you with beauty and grief." —Micah Dean Hicks, Author of BREAK THE BODIES, HAUNT THE BONES

"[A] glorious debut novel [with] a complex collection of themes: feminine power, the horrors of climate change, the destruction of land and the power of memory. The story it tells is equally imbued with such combinations: fantasy with reality, anger with love, history with future, and water with earth…Dinan's debut is a tragedy, but also a memorialization, a way to capture what has been lost, to immortalize the land she loves, and to save history from being drowned in the flood of human error." —Paperback Paris
Bloomsbury Publishing, 9781635574432, 336pp.
Publication Date: May 19, 2020
About the Author
Nancy Wayson Dinan is a native Texan who currently lives in San Jose, Costa Rica. The former managing editor for Iron Horse Literary Review, she now teaches at Texas Tech University. Her work has appeared or is forthcoming in the Texas Observer, Arts & Letters, Crab Orchard Review, The Cincinnati Review, and others. She earned her MFA from the Ohio State University in 2013 and is currently a PhD student in fiction at Texas Tech.