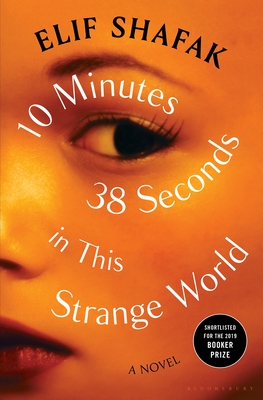 10 Minutes 38 Seconds in This Strange World
Hardcover

* Individual store prices may vary.
Other Editions of This Title:
Paperback (10/13/2020)
Paperback, Chinese (5/5/2021)
Description
Shortlisted for the 2019 Booker Prize
Named a Best Book of the Year by Bookpage, NPR, Washington Post, and The Economist

A moving novel on the power of friendship in our darkest times, from internationally renowned writer and speaker Elif Shafak.

In the pulsating moments after she has been murdered and left in a dumpster outside Istanbul, Tequila Leila enters a state of heightened awareness. Her heart has stopped beating but her brain is still active—for 10 minutes 38 seconds. While the Turkish sun rises and her friends sleep soundly nearby, she remembers her life—and the lives of others, outcasts like her.

Tequila Leila's memories bring us back to her childhood in the provinces, a highly oppressive milieu with religion and traditions, shaped by a polygamous family with two mothers and an increasingly authoritarian father. Escaping to Istanbul, Leila makes her way into the sordid industry of sex trafficking, finding a home in the city's historic Street of Brothels. This is a dark, violent world, but Leila is tough and open to beauty, light, and the essential bonds of friendship.

In Tequila Leila's death, the secrets and wonders of modern Istanbul come to life, painted vividly by the captivating tales of how Leila came to know and be loved by her friends. As her epic journey to the afterlife comes to an end, it is her chosen family who brings her story to a buoyant and breathtaking conclusion.
Praise For 10 Minutes 38 Seconds in This Strange World…
"Shafak writes with vision, bravery and compassion . . . a stunning portrait of a city, a society, a small community and a single soul." - The New York Times Book Review

A deeply humane story about the cruel effects of Turkey's intolerant sexual attitudes . . . Shafak is a master of captivating moments that provide a sprawling and intimate vision of Istanbul . . . Ultimately, "10 Minutes" isn't really about death, but the persistence of love . . . Leila's ragtag friends, scorned and mocked by polite society, can't possibly triumph over the forces of religious and political corruption, but they — and Shafak — manage to create something truly subversive: a community of devotion beyond the reach of state or mosque." - The Washington Post

"A beautifully written tour de force of exemplary storytelling . . . Its powerful insights into Turkey's past and present challenges and the world today make it highly recommended." - Library Journal, starred review

"Extraordinary . . . a piercing, unflinching look at the trauma women's minds and bodies are subjected to in a social system defined by patriarchal codes." - The Guardian

"Ever-courageous Turkish writer Shafak creates another resilient woman protagonist at odds with Turkey's repressive society . . . [A] seductively imaginative, rambunctiously humorous, complexly tragic, and lyrically redemptive tale . . . Shafak's motley and compassionate cast embodies both the brutal consequences of tyranny and the power of individuals to undermine it in a full-tilt novel set in a fabled city, a swirling microcosm of human complexity and paradox." - starred review, Booklist

"Gripping . . . Through flashbacks to [the protagonist's] life in modern-day Turkey, minute by minute, you'll feel her wonder, her joy, her pain. You'll feel empathy for a girl whose life is upended from the day she is born. It's companionship with other Istanbul transplants that saves Leila from complete despair. And as you get to know Leila's other friends on the margins of society, you find yourself rooting for them in the unlikeliest of endeavors." - NPR's Book Concierge

"Shafak portrays Istanbul in all its glorious chaos against the backdrop of civil unrest that culminated in the Taksim Square Massacre of 1977. Despite being harassed by Turkish authorities for her depiction of sexual violence, the author uses the megaphone of her 12th novel to further expose female exploitation and sexual abuse. In this way she succeeds in giving a voice to the voiceless." - Shelf Awareness

"This is a vividly realized and complicated portrait of a woman making a life for herself in grueling circumstances, and of the labyrinthine city in which she does so." - Publishers Weekly, starred review

"Lyrical and often magical . . . a love-letter to Istanbul." - The Economist

"A bold step forward by Turkey's most significant woman writer . . . Elif Shafak is enormously gifted." - Counterpunch

"Elif Shafak's audacious, dazzlingly original storytelling brings Istanbul's underworld to life via the vivid recollections of sex worker Tequila Leila, recently dumped for dead in a rubbish bin . . . A work of fearless imagination, the story takes the reader into the vertiginous world of its irresistible heroine, whose bloody-minded determination and fierce optimism make her an unforgettable character whose death, albeit foretold, still comes as a shattering blow. Courageous and utterly captivating, this telling novel is a testament to the power of friendship and of the human spirit." - The Booker Prize panel

"A heartbreaking meditation on the ways in which social forces can destroy a life. Elif Shafak can be unsparing, lyrical, political, intimate... Several novels live in this one, and all of them are moving, generous and elegantly written." - Juan Gabriel Vásquez, author of THE SOUND OF THINGS FALLING and REPUTATIONS

"Elif Shafak brings into the written realm what so many others want to leave outside. Spend more than ten minutes and 38 seconds in this world of the estranged. Shafak makes a new home for us in words." - Colum McCann, author of LET THE GREAT WORLD SPIN

"Haunting, moving, beautifully written—and based by an extraordinary cast of characters who capture the diversity of modern Turkey. A masterpiece." - Peter Frankopan, author of THE NEW SILK ROADS

"[Elif Shafak is] one of the best writers in the world today." - Hanif Kureishi

"Simply magnificent, a truly captivating work of immense power and beauty, on the essence of life and its end." - Philippe Sands, author of EAST WEST STREET

"A work of brutal beauty and consummate tenderness" - Simon Schama, author of The Story of the Jews

"A vivid carnival of life and death, cruelty and kindness, love, politics and deep humanity." - Helena Kennedy, author of Eve Was Shamed

"A rich, sensual novel . . . that gives voice to the invisible, the untouchable, the abused and the damaged, weaving their painful songs into a thing of beauty." - Financial Times

"Beneath the lush scene-setting and romantic storytelling . . . are strident calls to challenge fundamentalism and misogyny in the Middle East." - The Times

"Lush, evocative and compassionate." - Mail on Sunday
Bloomsbury Publishing, 9781635574470, 320pp.
Publication Date: September 24, 2019
About the Author
Elif Shafak is an award-winning British-Turkish novelist and the most widely read female author in Turkey. She has published seventeen books, eleven of which are novels, and her work has been translated into fifty languages. Shafak holds a PhD in political science and has taught at various universities in Turkey, the US and the UK, including Oxford University, where she is an honorary fellow. An advocate for women's rights, LGBT rights and freedom of speech, Shafak is an inspiring public speaker and twice a TED global speaker. Shafak contributes to many major publications around the world and has been awarded the title of Chevalier des Arts et des Lettres. She is a member of the Royal Society of Literature and in 2017 she was chosen by Politico as one of the 12 people "who will give you a much needed lift of the heart." www.elifshafak.com