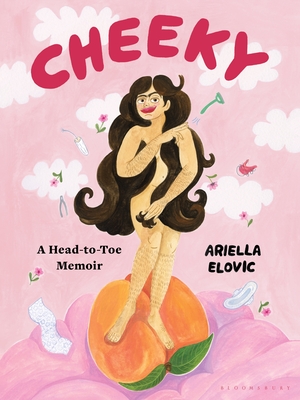 Cheeky
A Head-to-Toe Memoir
Hardcover

* Individual store prices may vary.
Description
A Beat Most Anticipated Graphic Novel of Fall 2020

The funny, exuberant, inspiring antidote to body shame--a full-color graphic memoir celebrating the imperfections of the author's female body in all its glory.

Too tall. Too short. Too fat. Too thin. The message is everywhere--we need to pluck, wax, shrink, and hide ourselves, to not take up space, emotionally or literally; women are never "just right." Well, Ariella Elovic, feminist and illustrator extraordinaire, has had enough. In her full-color graphic memoir Cheeky, she takes an inspiring and exuberant head-to-toe look at her own body self-consciousness, and body part by body part, finds her way back to herself.

How does Ariella learn not to see herself as a never-finished DIY project, but to accept and even love the physical attributes society taught her to hide? How does a mirror go from a "black hole of critique" to a "who's that girl" moment? Essential to her journey is her posse of girlfriends, her "yentas." Together, they discover that sharing "imperfections" and some of the gross and "unsightly" things our bodies produce can be a source of endless laughs and deep bonding. It helps to have a team with some outside perspectives to keep our inner bullies in check.

Charming and hilarious, full of empathy and candor, and gorgeously illustrated, Cheeky aims to inspire all of us to embrace our bodies, flaws and all, as well as our bodies' needs, desires, and inherent power.
Praise For Cheeky: A Head-to-Toe Memoir…
"This colorful graphic memoir from feminist author and illustrator Elovic celebrates her body in all its perfectly imperfect glory, inspiring readers to embrace their own." —USA Today

"Elovic takes the reader on a journey toward self-acceptance. We've just begun and already want to share it with a friend." —Goop

"The perfect, positive note to end 2020 on . . . Elovic determinedly shows us it's okay to love our bodies exactly as they are--hair everywhere, weird odors, pimples and all. Alongside her clever, colorful, and quirky art depictions of herself, we get messages that encourage body positivity and that challenge all of us to see the beauty in ourselves where we never thought we could see it before." - Paperback Paris, A Best Book of 2020

"I really wish I (and my butt!) had had this (gross and hilarious!) book when I was young." —Samantha Irby, NEW YORK TIMES-bestselling author of WOW, NO THANK YOU

"A spectacularly illustrated bodily memoir of everything we are not supposed to talk about, inside and out. Lush, vivid, inspiring, and powerful!" —NEW YORK TIMES bestselling illustrator Wendy MacNaughton, illustrator of THE GUTSY GIRL and SALT FAT ACID HEAT

"I love Ariella Elovic's exultant illustrations! Cheeky is a heartening companion for those of us who still find the concept of self-love elusive, for people with soulful, knowing boobs, and for anyone who has ever wanted to take a bath in a sidecar of sour cream." —Melissa Broder, author of THE PISCES

"Ariella Elovic's Cheeky is a very funny--and very touching--adventure in self-acceptance. I'd recommend it to anyone who's ever sprouted a hair." —NEW YORKER cartoonist Liana Finck, author of EXCUSE ME and PASSING FOR HUMAN

"An entertaining, jubilantly body-positive memoir." —Kirkus Reviews

"Elovic navigates her relationship with every inch of her body in her spirited debut . . . this chummy memoir will appeal broadly to comics readers, as well as any fan of lighthearted feminist memoir." —Publishers Weekly

"In this joy-filled graphic memoir, Ariella Elovic reclaims her body with radical self-love, including the stray hairs, bumps, and weird smells society tells us to hide." —Book Riot

"Elovic's friendly, easygoing voice and vibrant art bring a level of humor which in turn eases the reader into a narrative that could, in the wrong hands, turn brutal and offending. Instead, one keeps turning page after page, absorbing the colorful messages of positivity, self-love, and self-acceptance. Cheeky is more than just a fun read. It's medicine for anyone, women and men alike, who has ever felt inadequate, struggling to fit into unrealistic standards of beauty. It's inspiring and uplifting as it teaches us that the only standard of beauty we need to live up to is our own." —Paperback Paris

"Wow, how I wish I had this book when I was growing up. Or in my 20s or 30s…Candid and hilarious, this full-color graphic memoir tackles hair, boobs, feet and everywhere in-between–all of the 'imperfections' that make our bodies unique. It is DELIGHTFUL and beautiful enough to leave out on your coffee table for your guests to peruse during their holiday visits." - Ms. Magazine

"Many readers will be inspired by Elovic's fantastically liberating exercise [and] strong message of self-love." - Booklist
Bloomsbury Publishing, 9781635574524, 256pp.
Publication Date: December 8, 2020
About the Author
Ariella Elovic holds a BFA in Communication Design from Washington University in St. Louis. Her work has been featured by The New Yorker, Teen Vogue, Refinery29, Buzzfeed, KAAST, and Womanly Magazine. Ariella has collaborated with various female-interest brands, including Lunette Cup, What's In Your Box?, Lunapads, and Cora for Women. She lives in New York.