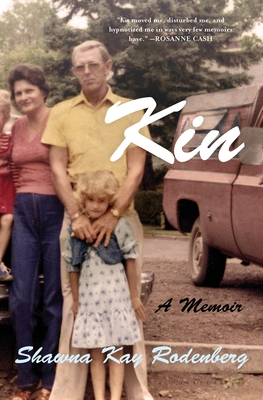 Kin
A Memoir
Hardcover

* Individual store prices may vary.
Other Editions of This Title:
Paperback (6/7/2022)
Description
"Kin moved me, disturbed me, and hypnotized me in ways very few memoirs have." –Rosanne Cash

A heart stopping memoir of a wrenching Appalachian girlhood and a multilayered portrait of a misrepresented people, from Rona Jaffe Writer's Award winner Shawna Kay Rodenberg.

When Shawna Kay Rodenberg was four, her father, fresh from a ruinous tour in Vietnam, spirited her family from their home in the hills of Eastern Kentucky to Minnesota, renouncing all of their earthly possessions to live in the Body, an off-the-grid End Times religious community. Her father was seeking a better, safer life for his family, but the austere communal living of prayer, bible study and strict regimentation was a bad fit for the precocious Shawna. Disciplined harshly for her many infractions, she was sexually abused by a predatory adult member of the community. Soon after the leader of the Body died and revelations of the sexual abuse came to light, her family returned to the same Kentucky mountains that their ancestors have called home for three hundred years. It is a community ravaged by the coal industry, but for all that, rich in humanity, beauty, and the complex knots of family love. Curious, resourceful, rebellious, Shawna ultimately leaves her mountain home but only as she masters a perilous balancing act between who she has been and who she will become.

Kin is a mesmerizing memoir of survival that seeks to understand and make peace with the people and places that were survived. It is above all about family-about the forgiveness and love within its bounds-and generations of Appalachians who have endured, harmed, and held each other through countless lifetimes of personal and regional tragedy.
Praise For Kin: A Memoir…
"From the opening pages of this singularly American memoir, author Shawna Kay Rodenberg enchants . . . this super-smart, gorgeously gritty debut smashes stereotypes and has a similar can't-take-your-eyes-off-it appeal as Tara Westover's EDUCATED." —OprahDaily, "Best New Books of June"

"Shawna Kay Rodenberg tells her story with a near-heroic self-awareness and insight into her family, her Appalachian ancestors, her spiritual suffering and religious sustenance, the damage done by generations of abuse, and the damage repaired by love and her own self-witness. She is a masterful storyteller, and I have tremendous admiration for her lucid courage and for the way her personal resiliency seems to have generated a specific kind of prose, both powerful and kind." —Rosanne Cash

"Whatever you believe about Appalachia, prepare to have those beliefs upended, or at least beautifully complicated. Unless, of course, you are from there, and then prepare to glimpse what is possible. Kin in about remembering 'who and what' we are-to not only making peace with that, but to shape it into something remarkable" —Nick Flynn, author of THIS IS THE NIGHT OUR HOUSE WILL CATCH FIRE

"This startling memoir of a wild soul will electrify you. The unbreakable Shawna Kay rises again and again to forgive, despite every institution that failed her." —Bonnie Jo Campbell, author of MOTHERS, TELL YOUR DAUGHTERS

"An intimate portrait of hardscrabble life in a much-derided, little-understood place. With the grit of the damaged yet hopeful, Rodenberg crafts the raw notes of faith, addiction, and generational trauma into a hymn to survival. By focusing on the deeply personal lived experience of a family, Kin contains worlds." —Michael Patrick F. Smith, author of THE GOOD HAND

"A remarkable story that will stay with you long after you have finished reading." —Rose Andersen, author of THE HEART AND OTHER MONSTERS

"Written from a reservoir of astonishing empathy, Rodenberg never shies away from the complexities and contradictions of the forces that shaped her. Kin bears testament to how family and place can nurture and maim-and to the redeeming act of storytelling." —Jason Kyle Howard, author of A FEW HONEST WORDS

"A gutsy testament to pure grit and the resilience of the human spirit. All through this astonishing testimony of a family in the grip of piety threads a remarkable place-Kentucky-benevolent and beloved." —Janisse Ray, author of ECOLOGY OF A CRACKER CHILDHOOD

"Shawna Kay Rodenberg may have been born 'bruised-ass-backward into a world of chaos' in Appalachia, but her memoir Kin is so full of ballsy intelligence and unremitting love that it feels like secular scripture. Like Richard Wright's Black Boy and Mary Karr's The Liars' Club, Kin is a American original." —Benjamin Anastas, author of TOO GOOD TO BE TRUE

"I hope this book will fall into the hands of everyone who has ever swallowed their words, hid their scars, been mocked, laughed at, or ignored. Rodenberg's lyricism, mastery of form, and command of image and metaphor are matched only by the power of her honesty and the precision of her recall. Kin will endure and bring light and warmth to all who encounter this beautiful book." —Robert Gipe, author of POP: AN ILLUSTRATED NOVEL

"A powerful and surprising story of an Appalachian childhood . . . bountiful, sometimes haunting . . . Rodenberg's depth of feeling, intelligence, and love opens eyes and demolishes stereotypes." —Kirkus Reviews (starred review)

"A vivid coming-of-age account...This engrossing series of dispatches offers a humanizing take on an Appalachia not often seen." —Publishers Weekly

"Rodenberg writes with an evocative and unflinching style…This is a richly nuanced portrait of people and place, along with the bounds of forgiveness. Good for biography readers eager to explore the complexities of family relationships, or readers interested in women's lives in Appalachia." —Library Journal

"A fascinating memoir. What makes this one special is the way the debut author widens her view to tell the stories of her parents, grandparents, and other relatives, including times before she was born, with as much compassion and realistic detail as she gives her own story . . . a nuanced portrait of a complicated place and people." —Booklist (starred review)

"Kin is highly readable, even in the darkest of its many dark moments. Rodenberg is a gifted writer and brings her setting to life. It is a beautifully written look at resilience and the power of family and place." —Bookreporter

"[Rodenberg] intersperses third-person accounts of her mother's life in Kentucky and her father's before he went to Vietnam . . . the alternating chapters provide context and feed Rodenberg's overarching theme about how stories repeat in families, that lineage 'wasn't about the past, like people often thought, so much as the future' . . . [Rodenberg's] life doesn't end with the memoir's last page. There's always more to be said. Here's hoping she will." - The Minneapolis Star Tribune

"Brilliantly detailed . . . Scorning the stereotypes, [Rodenberg] gives us a story about forgiveness and love." - Newsday
Bloomsbury Publishing, 9781635574555, 352pp.
Publication Date: June 8, 2021
About the Author
Shawna Kay Rodenberg holds an MFA from the Bennington Writing Seminars. Her reviews and essays have appeared in Consequence, Salon, the Village Voice, and Elle. In 2016, Shawna was awarded the Jean Ritchie Fellowship, the largest monetary award given to an Appalachian writer, and in 2017 she was the recipient of a Rona Jaffe Foundation Writer's Award. A registered nurse, community college English instructor, mother of five, and grandmother of one, she lives on a hobby goat farm in southern Indiana.
1. The first chapter of Kin takes place in 2017, when Shawna acts as a spokesperson for her community for a segment on a news station, and also spends time with her parents and sister. The newscaster sends Shawna an email with a list of stock shots she'd like to film, including "signs of blight, and signage indicating this is Trump country." How does this beginning frame the ensuing chapters? How does Shawna complicate or subvert commonly held narratives about Appalachian culture throughout the memoir?
2. The Little House books by Laura Ingalls Wilder, about Wilder's rural midwestern childhood in the 1870s, are some of the only entertainment that Shawna is permitted when she lives in The Body religious community. She continues to refer to the books frequently, comparing her own life, in its many iterations, with Laura's. Why did Shawna find so much comfort in the Little House books? How does the effect of these frequent allusions change as she gains clarity and perspective on her family's lifestyle? What was Shawna's intention as a writer in drawing a parallel between her childhood and Laura's, despite a century between the two?
3. How does Shawna's relationship with her father and her understanding of his behavior shift as she ages? When do his actions seem validated by a sense of morality and religiosity, and when are they senseless and terrifying? Are they ever both? At what points does Shawna feel love, respect, fear, resentment, or empathy in relation to her father, and why? How does her mother respond to her father's anger, and to what extent does she act as Shawna's protector?
4. Kin alternates chapters from a first-person perspective, moving chronologically through Shawna's coming of age, with chapters written in the third person, reconstructing stories from the lives of her parents and other relatives. Why is the book structured this way, and how does its composition emphasize themes of shared history and intergenerational trauma? How does a depiction of the family's past help you to understand and empathize with their decisions?
5. How do the first-person recountings differ from the reconstructed anecdotes? How does the experience of reading about a multitude of individuals, from a variety of settings and time periods, compare to reading about one author's memories? To what extent do they form a single collective story, and to what extent do they remain distinct from one another?
6. Shawna attends five different schools before she reaches sixth grade. What does school represent to her, as she exits her insular religious community and rejoins public life? Consider her interactions with teachers and peers. In what way is school a site of punishment or shame, and what is it a source of pride and increased independence?
7. Discuss the role of sexuality in the memoir. What messages does Shawna receive from the Church about sexuality and desire, particularly female sexuality and desire? How do her parents—explicitly or implicitly—reinforce those messages? How does she describe the sexual abuse she experienced at the hands of an adult member of the church? When does Shawna begin to understand her childhood urges and behavior? What does she choose to omit, and why?
8. Shawna describes her parents as having a vacillating level of religious devotion and involvement in the church after they leave The Body. Rules, including what she's allowed to wear and consume, change back and forth accordingly. Additionally, she often finds that her sister is treated differently than her for similar infractions, or isn't tempted to break the rules at all. Discuss the ramifications this kind of inconsistency has on Shawna's psyche. How does Shawna perceive her struggle to behave as she's expected to, and how does her perception of morality and deviancy develop or change?
9. Consider the role of gender and womanhood in Shawna's life. How are women's expectations communicated within the Church and within Shawna's family culture, and when do they conflict with one another? How does Shawna consolidate potentially conflicting messages surrounding womanhood? When does she resist or subvert gendered expectations? How does she respond to her mother's choices, and when does she empathize and help the reader empathize with them?
10. When Shawna's father tells her about the coal mine workers in Kentucky, he says, "'Living in bondage like that is a kind of death.'" Shawna "knew he was thinking of his own father, kneeling to pick coal from the earthen walls that surrounded him, carrying it through dark tunnels like an ant." How, too, are expectations of masculinity oppressive for the men in Shawna's family? How do each of the institutional choices available to her father (the coal industry, the military, and higher education) ultimately fail him? Consider the letters he writes from his military service in Vietnam. In light of these experiences, how do you understand his turn to extremist religion?
11. Shawna writes, "Until we moved to Kentucky, I hadn't really heard my parents talk much about how much money we did or didn't have," but that "the five or six years we lived in Minnesota cost my parents more than I understood at the time." How does financial anxiety permeate the background of Shawna's childhood? Did the Body financially exploit its members? More broadly, how is poverty inherited, and how is it self-perpetuating? Why is it so hard for Shawna and the people in their life to leave their hometowns or to change their cultural or economic status? Why might they choose to stay?
12. What support systems may have helped Shawna succeed in college? To what degree was she internally and externally obstructed from receiving that support?
13. Discuss the memoir's conclusion, wherein Shawna becomes pregnant with her first child and agrees to marry an older man she hardly knows and does not love. She says that, during her engagement, she "wasn't suicidal" but "often felt like [her] old dog, Red, when my father had found her chained to a post outside the sewer plant, half-strangled." How do you explain her decision to marry and her parents' reactions to the marriage? In what way do her new circumstances feel liberating, and how do they continue to constrain? To what degree has Shawna processed the traumas of her upbringing?