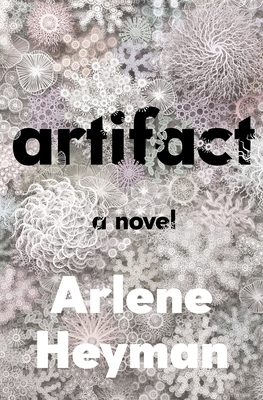 Artifact
Hardcover

* Individual store prices may vary.
Other Editions of This Title:
Paperback (3/1/2022)
Description
"Thrilling . . . Like all the best literature, Artifact leaves you feeling as if you've been through a major life experience and you're stronger for it." - Sandra Newman, author of The Heavens

A sweeping debut novel about love, sex, motherhood, and ambition that follows a gifted and subversive scientist's struggle to reach beyond cultural constraints for the life she wants.

From practicing psychiatrist and critically acclaimed author of Scary Old Sex ("the kind of bliss that lifts right off the page" -Dwight Garner, NYT), Artifact is the dazzling, half-century-spanning story of biologist Lottie Kristin. Born in Michigan in the early 1940s to a taciturn mother and embittered father, Lottie is independent from the start, fascinated with the mysteries of nature and the human body. By age sixteen, she and her sweetheart, cheerful high school sports hero Charlie Hart, have been through a devastatingly traumatic pregnancy. When an injury ends Charlie's football career four years later, the two move to Texas hoping for a fresh start.

There, torn between the vitality of the antiwar movement and her family's traditional values, Lottie discovers the joys of motherhood, and reconnects with her interest in biology and experimentation, taking a job as a lab technician. While Charlie's depression pervades their home, Lottie's instinct is toward life; though every step is a struggle, she opts for single motherhood, graduate school, a career, and eventually, a marriage that makes space for all that she is.

Bravely and wisely written, Artifact is an intimate and propulsive portrait of a whole woman, a celebration of her refusal to be defined by others' imaginations, and a meditation on the glorious chaos of biological life.
Praise For Artifact…
"Proudly corporeal, fascinated by the workings of the physical form where our desires are housed as our tragedies are recorded . . . An homage to the body's capacity to impart amazement even after death." - Sam Sacks, Wall Street Journal

"[Artifact] feels, more than anything, like an artifact of so many women's lives." - Lynn Steger Strong, New York Times Book Review

"Like its heroine, intelligent and lusty; full of real joys and sorrows." —Kirkus

"Heyman presents a first novel with prose shaped by a keen ear for language, and she confronts female sexuality, aspiration, motherhood, and sexism with eyes wide open." —Booklist

"A sparse, moving portrait of a woman's journey through life as she follows her scientific passion . . . Full of vim and vigor." —Washington Independent Review of Books

"A heart-palpitating story of womanhood, ambition, and scientific inquiry. Lottie, the main character, longs for what we all long for: well-being, connection, and the ability to pursue our capacities, in a world that sometimes tries to dampen desire, particularly the wants of women. I found Artifact to be thrilling, funny, evocative, and true." —TaraShea Nesbit, author of THE WIVES OF LOS ALAMOS and BEHELD

"Artifact is an exquisite and deeply wise novel about a woman's coming of age as both a mother and a scientist. It's a bold, funny, brilliantly acute portrait of a person who pursues her intellectual ambitions in a world that treats her as unnatural for having them. Heyman's Lottie is stubbornly honest, unabashedly sexual and full of passionate love both for her family and her work. This is a thrilling book that-like all the best literature-leaves you feeling as if you've been through a major life experience and you're stronger for it." —Sandra Newman, author of THE HEAVENS

"Artifact is a knock-out of a novel, with a hard-to-love, impossible-not-to-love heroine, Lottie, whose jittery journey from pregnant teenager to acknowledged scientist is related with beauty and honesty. Arlene Heyman digs deeply, so very deeply, into the complexities of sexual desire, young and not-so-young love, maternal devotion and impatience and searing guilt, the exhaustions and pleasures of a professional life, and the messy workings of a blended family. Readers will come to embrace Lottie in all her touching imperfections, and--like me--they may find themselves remembering and missing her when her story comes to an end." —Judith Viorst, author of NECESSARY LOSSES and I'M TOO YOUNG TO BE SEVENTY

"This is the story of a dauntingly independent woman's compelling need to pursue the mysteries of life, including her own body. Lottie Kristin is many things: a wife, a mother, a cell biologist, and a woman willing to be discomfortingly candid. I hope Heyman writes a sequel so we can know what she does next." —Gail Godwin, author of FLORA, EVENSONG, and OLD LOVEGOOD GIRLS

"Heyman pays such sustained and stylish attention to late-life lovemaking . . . that you may feel you are reading about it for the first time . . . Rueful and funny and observant . . . Heyman is an enlightened observer across many aspects of life . . . These men and women are busily and blissfully humanizing themselves, the kind of bliss that lifts right off the page." —Dwight Garner, New York Times

"A terrific story collection . . . Ms. Heyman is frank in her descriptions, but never cruel or unfeeling . . . a tender, perceptive work." —Wall Street Journal

"[An] impressive collection . . . Heyman takes on the brutal intimacy of death and aging and provides new ways of seeing and experiencing these stages of life." —San Francisco Chronicle

"The graphic, funny, tender and shocking stories in New York psychiatrist Arlene Heyman's debut collection are aptly titled . . . Scary Old Sex has a lot more literary history and mystery going for it than most first-time collections. It's always an event when the silent muse speaks up for herself, and in Heyman's case, the muse's voice is lusty, tough and life-affirming." —Elaine Showalter, Guardian

"Heyman's frank tales . . . feel paradoxically taboo on the page, all the more so for the fierce candor with which they examine the sexuality of older women, a demographic generally assumed to have none to speak of . . . Writers, show us more older women, ones whose desires are powerful rather than pitiable. Some might call it a nightmare; really, it would be a dream come true." —Alexandra Schwartz, New Yorker

"Powerful . . . Engaging . . . Rich in canny eroticism, late-life regrets and intimations of mortality . . . 'One gets over nothing in this life,' Heyman writes--a psychoanalytic truism perhaps, but also an apt thematic summary of this lovely book." —Forward

"Flaws make these characters so real and dimensional, their stories so readable and resonant . . . Heyman has been described as [Bernard] Malamud's muse. Judging from these stories, he may have been hers as well. The stories in this keenly observed collection lay bare truths-some comforting, others uncomfortable-about love and sex, aging and acceptance." —Kirkus (starred review)
Bloomsbury Publishing, 9781635574715, 288pp.
Publication Date: July 7, 2020
About the Author
Arlene Heyman is the author of Scary Old Sex, and a recipient of Woodrow Wilson, Fulbright, Rockefeller, and Robert Wood Johnson fellowships. She has been published in the New American Review and other journals, won Epoch magazine's novella contest, and has been listed twice in the honor rolls of The Best American Short Stories. Heyman is a psychiatrist/psychoanalyst practicing in New York City. This is her first novel.
or
Not Currently Available for Direct Purchase