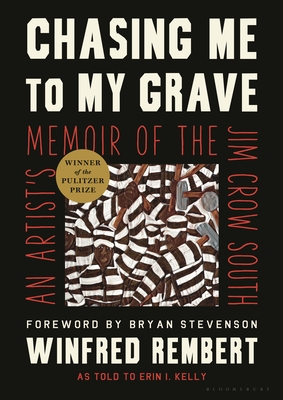 Chasing Me to My Grave
An Artist's Memoir of the Jim Crow South
Hardcover

* Individual store prices may vary.
Description
"A compelling and important history that this nation desperately needs to hear." -Bryan Stevenson, New York Times bestselling author of Just Mercy and executive director of the Equal Justice Initiative

Winfred Rembert grew up in a family of Georgia field laborers and joined the Civil Rights Movement as a teenager. He was arrested after fleeing a demonstration, survived a near-lynching at the hands of law enforcement, and spent seven years on chain gangs. During that time he met the undaunted Patsy, who would become his wife. Years later, at the age of fifty-one and with Patsy's encouragement, he started drawing and painting scenes from his youth using leather tooling skills he learned in prison.

Chasing Me to My Grave presents Rembert's breathtaking body of work alongside his story, as told to Tufts Philosopher Erin I. Kelly. Rembert calls forth vibrant scenes of Black life on Cuthbert, Georgia's Hamilton Avenue, where he first glimpsed the possibility of a life outside the cotton field. As he pays tribute, exuberant and heartfelt, to Cuthbert's Black community and the people, including Patsy, who helped him to find the courage to revisit a traumatic past, Rembert brings to life the promise and the danger of Civil Rights protest, the brutalities of incarceration, his search for his mother's love, and the epic bond he found with Patsy.

Vivid, confrontational, revelatory, and complex, Chasing Me to My Grave is a searing memoir in prose and painted leather that celebrates Black life and summons readers to confront painful and urgent realities at the heart of American history and society.
Praise For Chasing Me to My Grave: An Artist's Memoir of the Jim Crow South…
"One-of-a-kind . . . Chasing Me to My Grave is a stunning piece of visual truth-telling. Featuring a foreword by Bryan Stevenson, it's a stark reminder of our nation's ugly history, and the power in reclaiming such history through art." —Chicago Review of Books

"Chasing Me to My Grave offers a powerful, unfiltered look at life growing up in Jim Crow Georgia . . . A stunning portrait of hope in the face of evil, barbarity, and racism." —Publishers Weekly, starred review

"Frank and compelling . . . An ultimately uplifting journey from the ugliness of virulent racism to the beauty of art." —Kirkus, starred review

"Chasing Me to My Grave is a testament to the ways one man used his art to educate, delight and depict the trauma that arises out of memory." —Bookpage, starred review

"This is a book like no other, from Winfred Rembert's unique and uniquely powerful autobiographical paintings to his disturbing and courageous life story . . . Rembert recounts diabolical abuse and violence with rare candor and precision . . . By using carved, tooled, and dyed leather as the medium for vibrantly patterned scenes from his life, Rembert turned the scars on his body and soul into artworks of clarion witness and reckoning. With a foreword by Bryan Stevenson and superb color reproductions, Rembert's self-portrait in word and image belongs in every library." —Donna Seaman, Booklist, starred review

"Rembert's art expresses the legacy of slavery, the trauma of lynching, and the anguish of racial hierarchy and white supremacy while illuminating a resolve to fight oppression and injustice. He has the ability to reveal truths about the human struggle that are transcendent, to evoke an understanding of human dignity that is broad and universal." —Bryan Stevenson, New York Times bestselling author of JUST MERCY and founder and executive director of the Equal Justice Initiative

"The power of Rembert's Chasing Me to My Grave is in the unvarnished truth, in the writing, the storytelling, the artwork, his life. Unvarnished literary and visual power." —Carol Anderson, New York Times bestselling author of WHITE RAGE and ONE PERSON, NO VOTE

"Winfred Rembert paints a world too little depicted and a reality we can't afford to forget. While testifying to this nation's long history of racial injustice, Chasing Me to My Grave is also a must-read story of Black struggle, solidarity, and love." —Albert Woodfox, author of SOLITARY

"At turns harrowing and haunting, Chasing Me to My Grave is a testament to the rich cultural resources and the poetry of Black Southern life. Rembert's paintings, brilliantly composed, kinetic, and enchanting, are interspersed through his reflections about life in the cotton and carceral South. The language is elegant and vernacular, his observations are insightful and poignant. And through it all, joy, no matter how elusive, never disappears." —Imani Perry, Hughes-Rogers Professor of African American Studies at Princeton University and author of LOOKING FOR LORRAINE

"Chasing Me to My Grave is both a literary and artistic triumph. Winfred Rembert's memoir of the carceral state in the Jim Crow South is a profoundly moving, devastatingly painful, and wonderfully transformative experience. Rembert's earthy prose, evocative images, and grace in the face of racial oppression is an inspiring true story that will forever change the way we look at the system of mass incarceration and unequal justice and those who resisted with love, beauty, and artistic brilliance. This book is a must read for all who are interested in finding out the roots of our current racial crisis as well as the possibilities for truth, justice, and healing." —Peniel E. Joseph, author of THE SWORD AND THE SHIELD: THE REVOLUTIONARY LIVES OF MALCOLM X AND MARTIN LUTHER KING JR.

"Chasing Me to My Grave is a brilliant reminder of where we've come from as a country. We've come to accept William Faulkner's adage, 'The past is never dead. It's not even past.' But Rembert's account reminds us that it is in the remembering of the past that we keep it from becoming prologue. From the Jim Crow South to the chain gang to a life as an artist, Rembert reminds us of the terror and the possibility of America. That he became an artist while in prison says something about the gifts we bury, that he lived to tell this harrowing tale says something about the strength of this man." —Reginald Dwayne Betts, author of BASTARDS OF THE REAGAN ERA and FELON
Bloomsbury Publishing, 9781635576597, 304pp.
Publication Date: September 7, 2021
About the Author
Winfred Rembert (1945 - 2021) was an artist from Cuthbert, Georgia. His paintings on carved and tooled leather have been exhibited at museums and galleries across the country, and compared to the work of Jacob Lawrence, Romare Bearden, and Horace Pippin. Rembert was honored by the Equal Justice Initiative in 2015, awarded a United States Artists Barr Fellowship in 2016, and is the subject of two award-winning documentary films: All Me and Ashes to Ashes. In the last decades of his life, he lived and worked in New Haven, Connecticut.