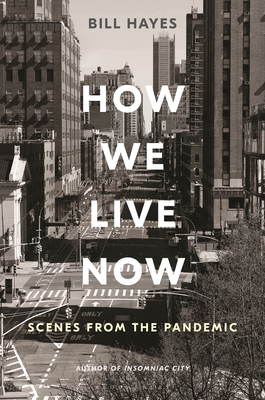 How We Live Now
Scenes from the Pandemic
Hardcover

* Individual store prices may vary.
Other Editions of This Title:
Paperback (2/22/2022)
Description
Winner of the New York City Book Award

From the beloved author of Insomniac City, a poignant and profound tribute in stories and images to a city amidst a pandemic.

A bookstore where readers shout their orders from the street. A neighborhood restaurant turned to-go place where one has a shared drink--on either end of a bar--with the owner. These scenes, among many others, became the new normal as soon as the world began to face the COVID-19 pandemic.

In How We Live Now, author and photographer Bill Hayes offers an ode to our shared humanity--capturing in real time this strange new world we're now in (for who knows how long?) with his signature insight and grace. As he wanders the increasingly empty streets of Manhattan, Hayes meets fellow New Yorkers and discovers stories to tell, but he also shares the unexpected moments of gratitude he finds from within his apartment, where he lives alone and--like everyone else--is staying home, trying to keep busy and not bored as he adjusts to enforced solitude with reading, cooking, reconnecting with loved ones, reflecting on the past--and writing.

Featuring Hayes's inimitable street photographs, How We Live Now chronicles an unimaginable moment in time, offering a long-lasting reminder that what will get us through this unprecedented, deadly crisis is each other.
Praise For How We Live Now: Scenes from the Pandemic…
"Bill Hayes has unwrapped a New York under wraps during the lockdown. He is, in his photos and writings, the great poet of the everyday." —Edmund White

"This is a love story--for one particular man in the love affair that began as the pandemic did, for the city of New York and its people coping with an unanticipated catastrophe, for what words can do, for the light and darkness, shade and illumination of black-and-white street photography, for wandering and encountering and seeing, for being truly a citizen of the city and an inhabitant of the streets. Even at a moment when we were all supposed to withdraw from each other How We Live Now reaches out." —Rebecca Solnit

"Images of empty streets and subways, when juxtaposed with Hayes's recollections--mostly of romances and amusing encounters with other New Yorkers--make for a startlingly potent contrast and show how abruptly life shifted from the pre-coronavirus world to the 'new normal' of today. . . . Hayes's photos movingly capture a fraught and frightening moment in history." —Publishers Weekly

"A touching volume . . . The photos serve as potent documentation of an unprecedented time." —Kirkus Reviews

"An achingly timely and moving portrait." —Booklist

"Since early in the year 2020, experts and pundits have been desperate to make sense of the grand and sweeping ways in which the Covid-19 pandemic is rapidly shifting the world. What acclaimed New York City author and photographer Bill Hayes brings to the conversation with How We Live Now however, is the same ground-level, impressionistic sensibility that made his memoir Insomniac City the tender and moving portrait it is, of living, loving and grieving. . . . Threading essays together with journal entries and fine-art photography, How We Live Now is a wise and understanding companion for the lonely nights of catastrophe." - Shelf Awareness

"Author and photographer Bill Hayes captures raw and beautiful moments of the world during the COVID-19 pandemic. From deserted streets, shuttered restaurants, and other changes in this strange new world, he manages to find grace and gratitude. How We Live Now is a deep look at this unprecedented time we're all living through together." - BookRiot

"Juxtaposed with eerily apocalyptic photos of empty streets and subway stations are other images and anecdotes that make Hayes such a needed chronicler of these uncertain times, because they reflect the resiliency and optimism that will help see us through it." - Amazon Book Review

"Eloquent and elegant . . . How We Live Now is delicate both in its prose and content. Hayes' writing is crisp, and several chapters are poetic. . . . A thread throughout How We Live Now is about chances taken and regrets for things not done. This provides the book's most poignant, salient theme. . . . Hayes' book offers hope that we can experience such random, pleasurable moments of connection again soon." - Philadelphia Gay News

"Its short chapters, interspersed with interludes of photos, pack a wallop of poignancy, beauty, love--even joy. How We Live Now is a lively, bracing read for our time." - Los Angeles & Washington BLADE

"In some ways, this new book could be titled, 'How New York Puts the Pieces Back Together Again,' as we see the ways--with numberless implications--that New Yorkers have adapted to the pandemic crisis. Certainly, Hayes documents enough of them to restore a sense of hopefulness about what is yet to come and the ways we must continue to alter our lives for the sake of survival. . . . [A] poignant reminder that no matter what else happens to us as a community, city or country, this is 'how we live now.' " - Texas Public Radio's "Book Public" podcast

"Mesmerizing . . . It's a living, breathing diary of the city in one of its darkest times—and a celebration of New York's grit, its people." - Afar

"A remarkable portrait of loss, mourning and surviving." - The Bay Area Reporter

"Images juxtaposed with haunting poetry and reflections serve to create a poignant portrait of life these last few months." - Paperback Paris

"Bill Hayes writes books that leave readers both awestruck and smarter." - Career Author

"The power of the book is the transition of a vibrant city like New York getting hit by the Pandemic. The photographs are stunning because it shows how fast and impactful was the first wave of the Covid-19 virus. . . . Hayes's account is splendid." - lwos.LIFE
Bloomsbury Publishing, 9781635576887, 160pp.
Publication Date: August 25, 2020
About the Author
Bill Hayes is the author of Insomniac City and The Anatomist, among other books, and a forthcoming history of exercise, Sweat, to be published by Bloomsbury. Hayes is a recipient of a Guggenheim Fellowship in nonfiction and is a frequent contributor to the New York Times. A collection of his street photography, How New York Breaks Your Heart, was published recently by Bloomsbury. Hayes has completed the screenplay for a film adaptation of Insomniac City, currently in the works from Hopscotch Features, and he is also a co-editor of Oliver Sacks's posthumous books. He lives in New York. Visit his website at billhayes.com
or
Not Currently Available for Direct Purchase