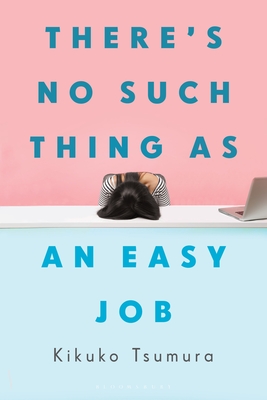 There's No Such Thing as an Easy Job
Paperback

* Individual store prices may vary.
Other Editions of This Title:
Digital Audiobook (4/14/2021)
MP3 CD (5/18/2021)
Compact Disc (5/18/2021)
Description
"[A] 21st-century response to Herman Melville's 'Bartleby, the Scrivener.'"—NPR

"A revelation."—Time

A young woman walks into an employment agency and requests a job that has the following traits: it is close to her home, and it requires no reading, no writing, and ideally, very little thinking.

Her first gig--watching the hidden-camera feed of an author suspected of storing contraband goods--turns out to be inconvenient. (When can she go to the bathroom?) Her next gives way to the supernatural: announcing advertisements for shops that mysteriously disappear. As she moves from job to job--writing trivia for rice cracker packages; punching entry tickets to a purportedly haunted public park--it becomes increasingly apparent that she's not searching for the easiest job at all, but something altogether more meaningful. And when she finally discovers an alternative to the daily grind, it comes with a price.

This is the first time Kikuko Tsumura--winner of Japan's most prestigious literary award--has been translated into English. There's No Such Thing as an Easy Job is as witty as it is unsettling--a jolting look at the maladies of late capitalist life through the unique and fascinating lens of modern Japanese culture.
Praise For There's No Such Thing as an Easy Job…
"Tsumura's 21st-century response to Herman Melville's 'Bartleby, the Scrivener.' [Barton's translation] encourages us to imagine the voice of Tsumura's narrator/avatar as both cheeky and self-deprecating, the perfect balance to wage a stealth feminist revolution." - NPR

"A revelation that plays out through Tsumura's sharp prose and biting observations on late capitalism." - Time, "Best New Books"

"A wry commentary on the value of work." - New York Magazine

"The unsettling genius of Tsumura's narrator is that despite her string of tedious jobs, she comes closest to describing what a good life may actually look like: spending time searching for chestnuts and breadfruit in the forest, taking long walks around the city, gently drawing out souls who have squirreled themselves away from the world, finding the strange in the everyday." - The Atlantic

"Tsumura is adept at capturing tiny reactions, such as the insecurity triggered by an offhand remark, and building them into a picture of the emotional labor of the modern workplace." —The New Yorker

"Surreal and frequently hilarious." —The Boston Globe

"Tsumura's rendering of a millennial besieged by anxious overthinking and coping through deadpan humor and sarcasm rings true. As the monotonous and fantastic collide, Tsumura shows that meaning and real intrigue can be found in the unlikeliest of places." - Publishers Weekly

"Tsumura deftly handles work habits and relationships, stereotypes, and expectations for success, all of which are set against a repetitious, unending search for what is valuable and valued." - Japan Times

"Tsumura's droll wit is so subtle it's almost imperceptible . . . It has a strange, almost calming effect, like the serenity that comes from building out a perfect spreadsheet." - Kirkus

"Funny and smart and delightful." - Book Riot's "All the Books" podcast

"The narrator's sly humor and ever-so-droll observations will delight readers . . . Tsumura perceptively examines on-the-job disparity, gender inequity, search for fulfilment." - Shelf Awareness

"There is No Such Thing as an Easy Job is a smart—and humorous—further exploration into the emotional toll labor can have on individuals in a hyper-consumerist, capitalist system." - Ploughshares

"A delightfully strange tale of one young woman's search for meaningful work." - The Bookseller, Editor's Choice

"Quietly hilarious and deeply attuned to the uncanny rhythms and deadpan absurdity of the daily grind, Kikuko Tsumura's postmodern existential workplace saga both skewers and celebrates our deeply human need to function in society and keep surviving in an oftentimes senseless-seeming world." - Sharlene Teo, author of PONTI

"A wise, comical and exceptionally relatable novel on finding meaning and purpose in our work lives." - Zeba Talkhani, author of MY PAST IS A FOREIGN COUNTRY

"Read it before you burn out" - Asahi Shimbun Weekly AERA

"The fantastical flavour of this book is one of its charms … This is a masterpiece of a book about the working world" - Bunshun Toshokan, Kentaro Tomoda

"Spending time in the author's unique world, which seems so bizarre and random but is in fact artfully designed, I found myself healed and restored" - Asahi Shimbun, Kazufumi Watanabe
Bloomsbury Publishing, 9781635576917, 416pp.
Publication Date: March 23, 2021
About the Author
Kikuko Tsumura is a writer from Osaka, Japan. She is the winner of the PEN/Robert J. Dau Short Story Prize and numerous Japanese literary awards including the Akutagawa Prize, Noma Literary Prize, Dazai Osamu Prize, and a New Artist award.

Polly Barton is a translator based in Bristol. Winner of the Japanese Agency of Cultural Affairs's International Translation Competition, she has received the Kyoko Selden Memorial Translation Prize and the Fitzcarraldo Editions Essay Prize.