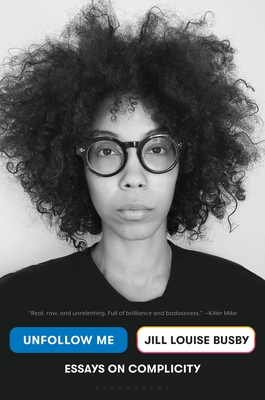 Unfollow Me
Essays on Complicity
Hardcover

* Individual store prices may vary.
Description
An intimate, impertinent, and incisive collection about race, progress, and hypocrisy from Jill Louise Busby, aka Jillisblack.

Jill Louise Busby spent years in the nonprofit sector specializing in Diversity & Inclusion. She spoke at academic institutions, businesses, and detention centers on the topics of Race, Power, and Privilege and delivered over two-hundred workshops to nonprofit organizations all over the California Bay Area.

In 2016, fed up with what passed as progressive in the Pacific Northwest, Busby uploaded a one-minute video about race, white institutions, and faux liberalism to Instagram. The video received millions of views across social platforms. As her pithy persona Jillisblack became an "it-voice" weighing in on all things race-based, Jill began to notice parallels between her performance of "diversity" in the white corporate world and her performance of "wokeness" for her followers. Both, she realized, were scripted.

Unfollow Me is a memoir-in-essays about these scripts; it's about tokenism, micro-fame, and inhabiting spaces-real and virtual, black and white-where complicity is the price of entry. Busby's social commentary manages to be both wryly funny and achingly open-hearted as she recounts her shape-shifting moves among the subtle hierarchies of progressive communities. Unfollow Me is a sharply personal and self-questioning critique of white fragility (and other words for racism), respectability politics (and other words for shame), and all the places where fear masquerades as progress.
Praise For Unfollow Me: Essays on Complicity…
"Outstanding . . . Busby gracefully unpacks how her identity as a queer Black woman has impacted her life and career . . . She considers and reconsiders the emotional toll of fame, however fleeting, and the ongoing challenge of separating herself from her online persona. Busby's compelling writing elevates conversations on gender, race, and sexuality, drawing in readers from the very first page and setting this memoir-in-essays apart." - Library Journal, starred review

"A stirring take on a young woman's search for identity and the fight for racial equity." - Publishers Weekly

"Dynamic . . . An intriguing glimpse of the author's state of mind, both before and after becoming recognized and growing her platform . . . Absorbing examinations of timely topics by an engaging, original voice." - Booklist

"In Unfollow Me, Busby takes the opportunity to retrace her steps, call out her own hypocrisy, and challenge the belief systems she's become accustomed to, both online, and much closer to home, with her family." - It's Lit! podcast

"Busby traces the trajectory of her fame in a series of wide-ranging essays that call out white people and Black people alike, with some of her most unflinching--even caustic--criticism aimed at herself and her own complicity in benefiting from the systems of oppression and racism that were the original targets of her videos . . . The push to capitalize on her internet fame, to keep trending, to write the book that will further galvanize her Jillisblack persona, that will speak in the voice of the curated self is powerful indeed. But Busby refuses, laying claim to an identity that is deeper, more complex, ambiguous, and mysterious." - Washington Independent Review of Books

"Jill lets us know out the gate that she ain't come to play. This book is real, raw, and unrelenting. Dark, satirical, full of brilliance and bad ass'ness. Now is definitely not the time to be unfollowing Jill." - Killer Mike

"For anyone who has ever heard they were too much, not enough, and right on time all in the same day, this book will assure you that you're not crazy. A pleasure, even in all its painful, powerful truths." - Meshell Ndegeocello

"Jill Louise Busby's Unfollow Me reminds me of just how much courage I lack. It forced me to challenge who I've presented myself as, and to confront the invisible but thick tether between irreverence and conformity, especially as it pertains to conversations and stances around identity and technology. Busby's voice is sharp, but what's sharper is the feeling that Busby is asking us to complicate our arguments and muster up the moxie to sort and see our many selves in a more honest light. And for that, I am grateful." - Jason Reynolds, # 1 New York Times bestselling author of MILES MORALES: SPIDER-MAN, the TRACK series, LONG WAY DOWN, and STAMPED, a collaboration with Ibram X. Kendi

"Busby has gifted us words that sing on the page with the insightful, poetic, and witty euphony that many of us have come to appreciate from her creative content online. Unfollow Me demands a follow, a like, a heart emoji, and a reader who is not afraid to be floored by Busby's incisive take on so many old inequities that ghost us still." - Darnell L. Moore, author of NO ASHES IN THE FIRE: COMING OF AGE BLACK & FREE IN AMERICA

"Frank, incisive, brutally funny, and moving, Busby has a gift for vivifying the keenest cultural observations with cutting, unflinching prose. I devoured this book." - Amanda Montell, author of WORDSLUT and CULTISH

"Unfollow Me is an emotionally risky, trope-turning manifesto of a book. Whether she's writing a letter to white hippiecrites, describing the disassociation that comes with online personas, or exploring the hell that can be micro-fame, her excavation is distinctive and nuanced. Jill Louise Busby for President." - Chloé Caldwell, author of I'LL TELL YOU IN PERSON and WOMEN

"Unfollow Me challenges how we think about each other and ourselves in a way that is nuanced, funny, and vulnerable. Reading this book is like listening to your smartest friend." - Mia Mercado, author of WEIRD BUT NORMAL
Bloomsbury Publishing, 9781635577112, 224pp.
Publication Date: September 7, 2021
About the Author
Jill Louise Busby had worked for years in the nonprofit sector with a focus on diversity and inclusion when she uploaded a short but scathing attack on liberal progressivism and the corporate nonprofit machine. The video went viral and made her a sought-after speaker of indulgently honest opinions. She continues to use social media, writing, and film to expose contradictions, challenge performative authenticity, and campaign for accountability. She lives in Olympia, WA.