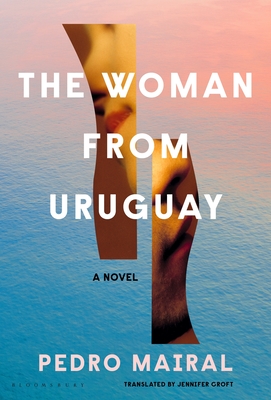 The Woman from Uruguay
Hardcover

* Individual store prices may vary.
Description
New York Times Book Review Editors' Choice

From acclaimed Argentine author Pedro Mairal and Man Booker International-winning translator Jennifer Croft, the unforgettable story of two would-be lovers over the course of a single day.

Lucas Pereyra, an unemployed writer in his forties, embarks on a day trip from Buenos Aires to Montevideo to pick up fifteen thousand dollars in cash. An advance due to him on his upcoming novel, the small fortune might mean the solution to his problems, most importantly the tension he has with his wife. While she spends her days at work and her nights out on the town—with a lover, perhaps, he doesn't know for sure—Lucas is stuck at home all day staring at the blank page, caring for his son Maiko and fantasizing about the one thing that keeps him going: the woman from Uruguay whom he met at a conference and has been longing to see ever since.

But that woman, Magalí Guerra Zabala, is a free spirit with her own relationship troubles, and the day they spend together in this beautiful city on the beach winds up being nothing like Lucas predicted. The constantly surprising, moving story of this dramatically transformative day in their lives, The Woman from Uruguay is both a gripping narrative and a tender, thought-provoking exploration of the nature of relationships. An international bestseller published in fourteen countries, it is the masterpiece of one of the most original voices in Latin American literature today.
Praise For The Woman from Uruguay…
"Beautifully written and translated, The Woman from Uruguay is a work of exquisite style, shrewd philosophical insight, and deftly controlled suspense. A searing tale of seduction and betrayal, both wryly comic and deeply serious." - Sigrid Nunez, author of THE FRIEND and WHAT ARE YOU GOING THROUGH

"The Woman from Uruguay is at once a picaresque comedy and a penetrating study of a man on the verge of middle age who is trying to deal with fatherhood, money, marriage and love. Lucas's vivid presence in this book is created by his rich way of observing the world. As he travels from Buenos Aires to Montevideo, over seventeen hours, a whole world comes into being, a complex sensibility gets dramatized." - Colm Toibin, author of BROOKLYN and THE MAGICIAN

"A provocative, often darkly funny narration that strikes a clever balance between midlife-crisis story and noir." -New York Times Book Review

"[A] bittersweet meditation on love, sexual desire and ageing . . . Pitch-perfect." - The Guardian

"A tender meditation on desire and the fragility of the human heart." - Chicago Review of Books

"Deftly paced, surprising . . . Mairal beautifully evokes a star-crossed romance that pits the body's urges against the needs of the mind." -O, the Oprah Magazine

"Eminently readable . . . Witty . . . Mairal gives his character the gift of frankness, and in his uncomfortable admissions and meandering reflections, Lucas, too, comes to accept the limits of his agency and the ineluctable force of reality." - Claire Messud, Harper's

"Breathtaking and enticing . . . it's impossible to deny how engaging Mairal's novel is. I could not put this book down. . . . The way that Mairal writes is fluid and incredibly comforting. . . . The Woman From Uruguay is delightfully refreshing and an absolute must-have on your shelf." - Medium

"Into this brief novel, Mairal fits the humor and pain of being human, especially male, fully on display. In vivid prose that turns grotesque moments sublime . . . this is a luminous and witty work of literary fiction." - Booklist, starred review

"Mairal shines a fresh light into the cave of being middle aged. Hidden inside a mountain of adult responsibilities, Mairal's narrator revolts in known ways, with infidelity and travel, and yet Mairal's acute insights and the lyrical precision of Jennifer Croft's translation, cast a new glow on the unexpected pleasures to be found in the middle of life. An absolute delight of a novel." - Idra Novey, author of THOSE WHO KNEW

"Excellent . . . a funny, poignant tale--an urgent read for anyone whose heart is ready to grow." —Los Angeles Review of Books

"The story ends beautifully and judiciously." - Publishers Weekly

"This is a short novel of subtle gear changes, where the seemingly obvious plot becomes a distraction to the true narrative that builds and builds and accelerates through a shifting geographical and psychological landscape." - New York Journal of Books

"Mairal . . . has written a gripping adventure novel of the mind--rendered in pulsating prose by Jennifer Croft--of a middle-aged writer's delusions and spiraling collapse." - World Literature Today

"Mairal's writing is simple yet cinematic in the description of what happens, and it is easy to get lost in his prose. A slim yet powerful novel." - Alma

"Exquisite." - A.V. Club, "Favorite Books of 2021 so far"

"Part picaresque, part tragedy, this critical day in the life of a hapless Argentine writer and would-be lover is both entertaining and thought-provoking." - Shelf Awareness

"What helps it to stand out are the small, lived-in details that Mairal works in--and the unsettling specificity of his protagonist's moral and financial dilemmas." - Words Without Borders

"At only 152 clearly written, insightful, event-filled pages, [The Woman from Uruguay] is a refreshing reminder of just how much can be fit into a slim novel in skilled hands. . . . There are more ideas, more action, more of life, than in novels two and three and four times the length." -Jewish Currents

"Mairal's prose, snappy and fluid, endears Lucas to us simply because he is, in his foolishness, utterly human." - On the Seawall

"A perfect novel. A triumph from beginning to end. The novel's style, that carries the soft irony of a writer in command of his narrative voice, its extension, its verbal prowess, its impeccably paced rhythm and, of course, the theme: a marital crisis written from the perspective of an Argentine man in his mid forties who is facing an existential crisis." - El Pais (Spain)

"[Pedro Mairal] displays his full talent in a wisely structured novel, outstanding in its narrative rhythm and in the twists and turns of the plot, where humor emerges at the same time a tragedy takes shape surrounding an enigma . . . A story about love and its imponderables." - Página 12 (Argentina)

"I wasn't able to put the book down." - María Dueñas

"A perfect novel." - Edmundo Paz Soldan

"The loss and recovery of desire, the ambition of everlasting adventures, the earthquake of becoming a father, the flight forward . . . all these things occur in a single day (. . .), interwoven in the brilliant prose of Pedro Mairal, one of the best Latin American writers of our time."- Leila Guerriero

"Intimate, irreverent, fast-paced and raw . . . resonates long after the novel has ended." - Sunday Times (UK)
Bloomsbury Publishing, 9781635577334, 160pp.
Publication Date: July 20, 2021
About the Author
Pedro Mairal is a professor of English literature in Buenos Aires. In 1998 he was awarded the Premio Clarín and in 2007 he was included in the Hay Festival's Bogotá 39 list, which named the 39 best Latin American authors under 39. Among his novels are A Night with Sabrina Love, which was made into a film and widely translated, and The Woman from Uruguay, which was a bestseller in Latin America and Spain and has been published in twelve countries.

Jennifer Croft won the Man Booker International Prize for her translation from Polish of Nobel laureate Olga Tokarczuk's Flights. She is the author of Homesick, a Saroyan Prize winner, and numerous pieces in the New York Times, the Los Angeles Review of Books, the Paris Review Daily, and elsewhere. She holds a PhD in Comparative Literary Studies from Northwestern University and an MFA in Literary Translation from the University of Iowa.