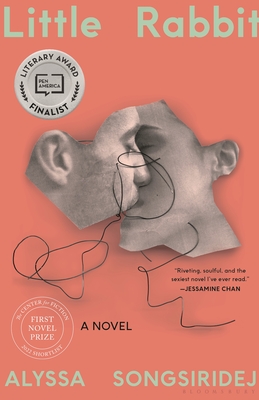 Little Rabbit
Hardcover

* Individual store prices may vary.
Description
A NATIONAL BOOK FOUNDATION "5 UNDER 35" HONOREE

"A darkly sensuous tale of awakening that will quietly engulf you in flames." --Ling Ma, author of Severance

When the unnamed narrator of Little Rabbit first meets the choreographer at an artists' residency in Maine, it's not a match. She finds him loud, conceited, domineering. He thinks her serious, guarded, always running away to write. But when he reappears in her life in Boston and invites her to his dance company's performance, she's compelled to attend. Their interaction at the show sets off a summer of expanding her own body's boundaries: She follows the choreographer to his home in the Berkshires, to his apartment in New York, and into submission during sex. Her body learns to obediently follow his, and his desires quickly become inextricable from her pleasure. This must be happiness, right?

Back in Boston, her roommate Annie's skepticism amplifies her own doubts about these heady weekend retreats. What does it mean for a queer young woman to partner with an older man, for a fledgling artist to partner with an established one? Is she following her own agency, or is she merely following him? Does falling in love mean eviscerating yourself?

Combining the sticky sexual politics of Luster with the dizzying, perceptive intimacy of Cleanness, Little Rabbit is a wholly new kind of coming-of-age story about lust, punishment, artistic drive, and desires that defy the hard-won boundaries of the self.
Praise For Little Rabbit…
"It's the first great novel of the summer." - Debutiful

"A sweetly shocking novel exploring identity, love, lust, friendship, art, pain and possession." - Ms.

"Like a modern queer feminist Story of O, this nuanced exploration of desire and the unseen dance between the lover and the beloved sucks you into its lush, yet precisely-rendered reality, one edged with ambiguity regarding possession and power, perception and identity." - Electric Literature

"Alyssa Songsiridej's Little Rabbit shocked me. It tells truths about sex, the self, and art-making that I'd never seen on the page or even known the words to think before. It's bold, frightening, and magnificent, a work deserving of this honor and many more." —Julia Phillips, Vulture

"It's the sexiest book we've read in a long time…a seductive, deeply complex exploration of power and agency, and lust and love. It rushes through you and leaves you stunned." - goop

"[. . .] explores power dynamics and kink within an unexpected relationship with riveting nuance…Little Rabbit arrives at just the right time, serving as a fearless inquiry into the power of bodies and intimacy." - Observer

"A darkly sensuous tale of awakening that will quietly engulf you in flames." —Ling Ma, author of SEVERANCE

"A deeply empathetic and horny novel-a love letter to bottoming and being an artist and following yourself to the end of everything." —Carmen Maria Machado, author of IN THE DREAM HOUSE

"Little Rabbit is a glorious debut-riveting, soulful, cerebral, and the sexiest novel I've ever read. In this story about ambition, power, art-making, and the pursuit of beauty, perfect for fans of Luster and Bad Behavior, Alyssa Songsiridej thrillingly interrogates the conflict between reason and desire, between our public and private selves. My life is richer for having read this book. Yours will be too." —Jessamine Chan, author of THE SCHOOL FOR GOOD MOTHERS

"Little Rabbit turned me inside out and left me utterly in awe. This daring exploration of the boundaries between desire and obliteration will have you asking who is in control. A fearless portrayal of a young writer shaping her life and art, even as they collide." —Sanaë Lemoine, author of THE MARGOT AFFAIR

"Eviscerating. Sophisticated. So incredibly hot." —Rachel Yoder, author of NIGHTBITCH

"Scintillating and seductive, almost unbearably perceptive, Little Rabbit announces the arrival of a brilliant new voice in literature, one who knows how to make the body sing." —Alexandra Kleeman, author of SOMETHING NEW UNDER THE SUN

"What a hypnotic, sexy, smart, unputdownable book! It delves into so many of my favorite subjects: erotic obsession, art, friendship, and the slippery and surprising nature of selfhood." —Melissa Febos, author of GIRLHOOD

"A fierce and utterly compelling look at the nearly biological instinct to nurture a love affair, even when that love isn't understood by others, and it blows your world apart. Little Rabbit is a totally absorbing debut: nuanced, intelligent, and sexy as hell." —Courtney Maum, author of THE YEAR OF THE HORSES

"Little Rabbit is a brilliant debut by a rare talent. Songsiridej writes with tremendous precision, intelligence, and insight about the complexities of desire-how it can prompt the impulse to empower, possess, erase, and recreate one's lover and oneself." —Chloé Cooper Jones, author of EASY BEAUTY

"An exhilarating story of intense desire, creative ambition, sex, and power. Little Rabbit's honest exploration of kink, control, and sexual freedom obsessed and transported me. When I reached the final page, I was stunned." —Hanna Halperin, author of SOMETHING WILD
Bloomsbury Publishing, 9781635578690, 256pp.
Publication Date: May 3, 2022
About the Author
Alyssa Songsiridej is an editor at Electric Literature. Her fiction has appeared in StoryQuarterly, The Indiana Review, The Offing, and Columbia: A Journal of Literature and Art, and has been supported by Yaddo, the Ucross Foundation, the Ragdale Foundation, the Vermont Studio Center, the VCCA and the Massachusetts Cultural Council. Little Rabbit is her first novel. A National Book Foundation 5 Under 35 Honoree, she lives in Philadelphia.