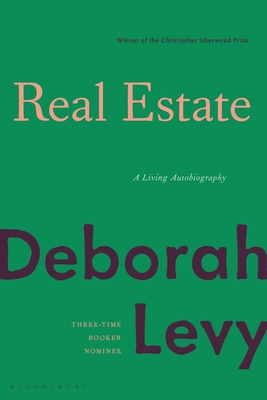 Real Estate
A Living Autobiography
Paperback

* Individual store prices may vary.
Other Editions of This Title:
Digital Audiobook (8/23/2021)
Digital Audiobook (5/24/2021)
Hardcover (8/24/2021)
Description
The final installment in three-time Booker Prize nominated Deborah Levy's Living Autobiography—a boldly intimate meditation on home and the specters that haunt it.

"Three bicycles. Seven ghosts. A crumbling apartment block on the hill. Fame. Tenderness. The statue of Peter Pan. Silk. Melancholy. The banana tree. A love story."

Virginia Woolf wrote that in order to be a writer, a woman needs a room of one's own. Now, in Real Estate, acclaimed author Deborah Levy concludes her ground-breaking trilogy of living autobiographies with an exhilarating, boldly intimate meditation on home and the specters that haunt it.

In this vibrant memoir, Levy employs her characteristic indelible writing, sharp wit, and acute insights to craft a searing examination of the poetics and politics of ownership. Her inventory of possessions, real and imagined, pushes readers to question our cultural understanding of belonging and belongings and to consider the value of a woman's intellectual and personal life.

Blending personal history, gender politics, philosophy, and literary theory, Real Estate is a brilliant, compulsively readable narrative about the search for home.
Praise For Real Estate: A Living Autobiography…
"Wonderful… Levy, whose prose is at once declarative and concrete and touched with an almost oracular pithiness, has a gift for imbuing ordinary observations with the magic of metaphor… the ordinary stuff of modern life, made radiant by Levy's clarifying prose." —Alexandra Schwartz, The New Yorker

"Excellent … playful, candid … a supremely elegant exploration ... It is vibrant and kinetic, never predictable and yet always direct ... Few writers are able to give so much so swiftly. Levy's hospitality on the page is a delight." —Lily Meyer, NPR.org

"It's Levy's openness to the quirks and peccadilloes of others... that makes Levy's work so invigorating. She's a prober, but not a heavy-handed one… Her prose is at once playful and multilayered." —Heller McAlpin, Los Angeles Times

"[Levy's] writing is elliptical and episodic, as if tracing the movement of her mind. But it's clearly crafted, with ideas recurring and expanding as the book goes on... The book feels as if we're listening in on her very thoughts." —Carolyn Kellogg, Boston Globe

"Beautifully written ... A captivating journey to find a sense of place." —Kirkus Reviews

"Levy's fictional books are often nominated for the Booker Prize - and they are excellent. But her autobiographies as a working writer will go down as blueprints for living." —Donna Liquori, Albany Times-Union

"The third and final book of Deborah Levy's 'living autobiography' takes on the idea of home and houses in many iterations: the haunted, the literary, and what homespace means to a woman writer. Levy considers much about unreal estate too, as the narrator collects her fantasy dream homes…And in essence, puts forth what has always been at the heart of this project, 'to embody and make present a female mind.'" —The Millions

"[Levy] is an indelible writer . . . [an] elliptical genius . . . The Cost of Living . . . is always a pleasure to consume." —Dwight Garner, The New York Times, on THE COST OF LIVING

"Home means different things to different people. For you, it might be where you were born or grew up. It might be your chosen home. In Deborah Levy's latest meditation on living, she explores what possessions and property mean and how they can define us." —Bustle

"An astute observer of both the mundane and the inexplicable, Levy sketches memorable details in just a few strokes." —Yiyun Lee, The New York Times Book Review, on THE COST OF LIVING

"A smart, slim meditation on womanhood informed by Levy's wide reading." —Maureen Corrigan, NPR's "Fresh Air", on THE COST OF LIVING

"Unclassifiable, original, full of unexpected pleasures at every turn. ... Delivered in gorgeous, disciplined prose, Deborah Levy has crafted a bracing, searing inquiry into one woman's life that manages to tell the truth of all women's lives." —Dani Shapiro, on THE COST OF LIVING

"Levy's trio of memoirs ... are undoubtedly pleasant places to spend time. Levy's wry humor and attention to the art of living make her good company on the page, with wisdom weaved in from her touchstone authors, including James Baldwin, Walter Benjamin, and Leonora Carrington." —Mia Levitin, Los Angeles Review of Books

"As in the other volumes, Levy explores the entwining of writing and life …The memoir is a careful balancing act of withholding and revelation. Levy uses the other characters she encounters as a way to refract her own point of view." —Megin Jiminez, Chicago Review of Books

"This latest effort is a testament to just how immersive and compelling Levy's writing can be." —Man of LA Book blog
Bloomsbury Publishing, 9781635579321, 224pp.
Publication Date: August 23, 2022
About the Author
Deborah Levy writes fiction, plays, and poetry. Her work has been staged by the Royal Shakespeare Company, broadcast on the BBC, and widely translated. The author of highly praised novels, including The Man Who Saw Everything (longlisted for the Booker Prize), Hot Milk and Swimming Home (both Man Booker Prize finalists), The Unloved, and Billy and Girl, the acclaimed story collection Black Vodka, and two parts of her working autobiography, Things I Don't Want to Know and The Cost of Living, she lives in London. Levy is a Fellow of The Royal Society of Literature.