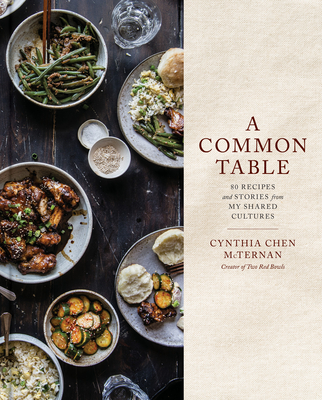 A Common Table
80 Recipes and Stories from My Shared Cultures: A Cookbook
Hardcover

* Individual store prices may vary.
Description
JAMES BEARD AWARD FINALIST • NAMED ONE OF THE BEST COOKBOOKS OF THE YEAR BY The New York Times • NPR • Epicurious • Eater

In A Common Table, Two Red Bowls blogger Cynthia Chen McTernan shares more than 80 Asian-inspired, modern recipes that marry food from her Chinese roots, Southern upbringing, and Korean mother-in-law's table. The book chronicles Cynthia's story alongside the recipes she and her family eat every day—beginning when she met her husband at law school and ate out of two battered red bowls, through the first years of her legal career in New York, to when she moved to Los Angeles to start a family.

As Cynthia's life has changed, her cooking has become more diverse. She shares recipes that celebrate both the commonalities and the diversity of cultures: her mother-in-law's spicy Korean-inspired take on Hawaiian poke, a sticky sesame peanut pie that combines Chinese peanut sesame brittle with the decadence of a Southern pecan pie, and a grilled cheese topped with a crisp fried egg and fiery kimchi. And of course, she shares the basics: how to make soft, pillowy steamed buns, savory pork dumplings, and a simple fried rice that can form the base of any meal. Asian food may have a reputation for having long ingredient lists and complicated instructions, but Cynthia makes it relatable, avoiding hard-to-find ingredients or equipment, and breaking down how to bring Asian flavors home into your own kitchen.

Above all, Cynthia believes that food can bring us together around the same table, no matter where we are from. The message at the heart of A Common Table is that the food we make and eat is rarely the product of one culture or moment, but is richly interwoven—and though some dishes might seem new or different, they are often more alike than they appear.
Praise For A Common Table: 80 Recipes and Stories from My Shared Cultures: A Cookbook…
"LA-based food blog star Cynthia Chen McTernan stuns with this accessible, and personal, story of how she blends her Chinese heritage with her Southern upbringing. . . . The photography, which Chen McTernan shoots herself, is phenomenal[,] and the recipes are pretty easy, good enough for a novice cook to start spending more time in the kitchen.  [T]he story of melding cuisines and heritage is a classic Angeleno story of reinvention and discovery."  - MATTHEW KANG, Eater LA

"Lawyer/food blogger Cynthia Chen McTernan's primary food influences are Southern (from her childhood), Korean (from her mother-in-law) and Chinese (from her family). Sound promising? For good reason. . . . This is McTernan's first cookbook, and it has that feeling about it: hopeful, eclectic, conversational. I very much doubt it will be her last."  - T. SUSAN CHANG, NPR Book Concierge

"Cynthia has an incredible way of crafting a beautiful, engaging story around her recipes while making me want to eat every single one. Her recipes in A Common Table are approachable and crave-worthy, and her writing makes me feel like I'm conversing with a close friend. This is a cookbook that I will find myself reaching for over and over again!"
—JESSICA MERCHANT, author of Seriously Delish and The Pretty Dish, and creator of How Sweet Eats

"Cynthia's world is a delicious mix of cultures that are all showcased beautifully in A Common Table. Her stories about these dishes paired with her stunning photos and the flavors themselves make this book
a true work of art."
—MOLLY YEH, author of Molly on the Range

"A Common Table is filled with evocative photographs, thoughtful writing, and gorgeous food in Cynthia's remarkable style. Her inventive recipes, inspired by her Southern upbringing, her Chinese heritage, and her husband's Korean-Irish roots, are comforting, craveable, and unique enough to stand out from the crowd. Cynthia's work is endlessly inspiring, and has translated beautifully to her first book!"
—YOSSY AREFI, author of Sweeter Off the Vine 

"Cynthia Chen McTernan's A Common Table effortlessly captures the spirit of American food right now—a rich and vibrant melting pot of influences from around the world. From her Chinese heritage to her Southern upbringing and her husband's Korean-Irish background, Cynthia's tales of embracing the 'shared cultures' of her family are as intoxicating as her mouthwatering, cross-cultural recipes. A Common Table is an important book for now and the future, a powerful story of how food, and the traditions of eating together, can help people from disparate cultures find common ground."
—HETTY McKINNON, author of Community and Neighborhood, editor in chief of Peddler Journal, and co-owner of Neighborhood Studio, Brooklyn

"Cynthia Chen McTernan's A Common Table feels new yet comfortingly familiar all at once. The sweet story of her food landscape and how it came to be will make you hungry in the best way possible. I devoured this book and its stories, photos, and recipes alike."
—STEPHANIE LE, author of Easy Gourmet and creator of I Am a Food Blog

"Her words and recipes are full of personal and thoughtful memories, made vivid by her love of her family, and instilled with a sense of gentle hope. Cynthia surely makes me hate my life. But I forgave her the minute I tasted her open, friendly, and comforting foods. You probably will, too."
—MANDY LEE, creator of Lady and Pups: An Angry Food Blog 
Rodale Books, 9781635650020, 288pp.
Publication Date: October 23, 2018
About the Author
Cynthia Chen McTernan is a lawyer and the self-taught home cook and photographer behind Two Red Bowls, winner of the 2015 Saveur Blog Award for Most Delicious Food. She has been featured in Food & Wine, Saveur, Better Homes and Gardens, Good Housekeeping, and Huffington Post, and has collaborated with West Elm, Crate & Barrel, King Arthur Flour, Food52, Urban Outfitters, and more. Cynthia graduated from Harvard Law School in 2013 and spent three years at a law firm in Manhattan before moving to Los Angeles, California, where she continues to practice law—when not cooking—and where she lives with her husband, the patient taste-tester and the original owner of the two red bowls, and their baby, Luke.