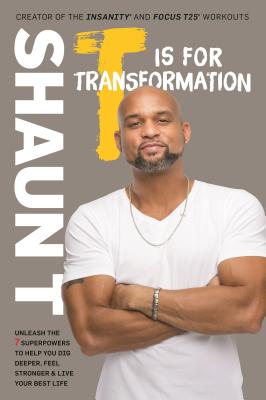 T Is for Transformation
Unleash the 7 Superpowers to Help You Dig Deeper, Feel Stronger, and Live Your Best Life
Hardcover

* Individual store prices may vary.
Other Editions of This Title:
Paperback (12/24/2018)
MP3 CD (11/7/2017)
Compact Disc (11/7/2017)
Compact Disc (11/7/2017)
Pre-Recorded Audio Player (11/7/2017)
MP3 CD (12/24/2018)
Compact Disc (12/24/2018)
Description
As a fitness icon and motivational mastermind, Shaun T has helped millions of people transform their bodies and their lives through his Hip Hop Abs, INSANITY, and CIZE workouts. But people who think of Shaun T as just a workout force are missing something. He has always focused on building inner strength first, then moving to the exterior. And that inner focus started in his own life. He became the man and motivator he is today after escaping from the abuse he suffered as a child, and fighting his way back from a 50-pound weight gain in his early 20s. He knows firsthand that you can't drop weight or enjoy better health until you overcome the mental obstacles that cause bad choices in the first place.

In T is for Transformation, Shaun T unveils the 7 transformational principles that guided his progress through life and that are at the core of his incredibly successful workouts. T is for Transformation is a motivational master class as Shaun shows you how to become more flexible and resourceful, give everything you've got, and, most importantly, trust and believe in your path to success. The only real obstacles in life are the mental ones, and T is for Transformation can train you to achieve astonishing results in your own life, just as Shaun T has in his.
Praise For T Is for Transformation: Unleash the 7 Superpowers to Help You Dig Deeper, Feel Stronger, and Live Your Best Life…
"I know Shaun T as the tough love motivator and butt kicker behind my favorite workout videos. His workouts are HARD, but I always feel amazing after them—I can't believe I survived, and I can't believe that my body can do all that crazy stuff. But I had no idea where Shaun learned the techniques that help to inspire, push, heal, and help me (and the millions of others who have gotten fit along with him)."
—Serena Williams, 4-time Olympic gold medalist and 23-time Grand Slam champion

"Shaun T has motivated millions to change their lives and it has little to do with his chiseled physique. It is through his courageous truth, overcoming childhood abuse and insurmountable challenges that you realize it starts with mind-set. T is for Transformation is for everyone who is ready to face their truths, move past their pasts, reclaim the greatness that was always inside of them, and take control of their lives!
—Chalene Johnson, New York Times bestselling author, host of podcast The Chalene Show, and creator of SmartSuccess

"Shaun is a unicorn. He's super fit, an incredible motivator, and dances better than Shakira. He's helped millions of people transform their bodies and change their lives. And he's the most genuine, down-to-earth dude you'll ever meet. I feel blessed to know him and to be able to call him a friend. And I can't recommend this book enough to people who want to take control of their lives and maximize what they've got."
—BJ Gaddour, Men's Health Fitness Director

"Shaun T's new book was a game changer for me! I knew Shaun would help me guide my fitness, but I had no idea that he could also inspire my personal success goals so greatly!"
—Cody Alan, host of Country Music Television's CMT Hot 20 Countdown

"Not only has Shaun inspired millions of people to transform their bodies, his incredible personal transformation in this book will no doubt help millions more transform their souls and hearts as well."
—Harley Pasternak, celebrity trainer and New York Times bestselling author of The Body Reset Diet

"T is for Transformation is so much more than just a personal memoir. I finished the book feeling like a better version of me. I've been lucky enough to have Shaun T as personal mentor and friend for years, so it was no surprise to FEEL his motivation exploding out the pages of his book."
—Bob Ruff, host of the Truth & Justice podcast

"Shaun T is the most caring person in this world, and his book will be life changing for those who truly want to dig deep and transform even if they've had a rough go at life so far. You just gotta Trust and Believe in Shaun T and he will show you the way."
—Drew Manning, New York Times bestselling author of Fit2Fat2Fit

"If you want to be a better human, let Shaun T be your guide. This groundbreaking book is a crash course on how to thrive in a world so often stacked against us. With your newfound superpowers and Shaun on your side, your obstacles don't stand a chance."
—Abel James, New York Times bestselling author and award-winning host of Fat-Burning Man

"Shaun T is in a class by himself and knows the struggles we all face day-to-day. Having been fortunate enough to work with him on set, this book T is for Transformation encompasses all the magic and positivity he exudes in person, while giving the mental tools we all need to succeed."
—Albert Bianchini, executive producer, Milojo Productions

"T is for Transformation is a testament to the fact that within every obstacle there is opportunity. Shaun T is a life changer—I dare you to read this book and not want to take on the world."
—Andrea Boehlke, Survivor contestant and host of PEOPLE Now

"Shaun T's raw and authentic energy is like a wildfire that will sweep over all your excuses and transform you into the unstoppable sexy beast you've always had within you. Trust and Believe that Shaun T will be sweating, burning and digging deeper right there next to you every step of the way."
—Bethanie Mattek-Sands, Olympic gold medalist and 8-time Grand Slam Champion

"Not long ago I tweeted that at 43 I found myself in the parking lot of a gym, contemplating the fact that I had been dieting and exercising to lose weight since I was 9 years old. It was a sobering and ultimately demoralizing realization and, if anything, really undermined any motivation I had to keep at it. But Shaun's book T is For Transformation and his message changed my perception of what the struggle really needed to be about. His Truthbombs, "It isn't about the weight, fit isn't about a number, if you're chasing a number you'll never catch it" made me pause and reexamine what my goals of the last 30-plus years have been. His message to simply do better each day than the previous day with consistency is what I really needed to hear. Focusing on how the journey makes you feel versus arbitrary numbers on a scale is the mindshift I've needed to think about fitness not as unachievable, but as something I can achieve every single day by simply moving my body and putting good things in it. Shaun shares his personal stories of struggle and the mental breakthroughs that help him overcome them, which means he knows what we are going through and is not lecturing from a pedestal. I know that I'll visit and revisit this book for years to come, every time I need a pick-me-up and a voice telling me to keep going!"
—Rabia Chaudry, New York Times bestselling author of Adnan's Story and co-host and co-producer of the podcast Undisclosed

"As someone who knows Shaun T well, I still found myself deep into this book finding out even more about him than I knew before and being motivated and inspired in new ways. I finished this book feeling inspired to take action, ready to tackle my life, and motivated to truly trust and believe in who I am."
—Danielle Natoni, creator of Fit & Funky and Beachbody LIVE Master Trainer

"This one touches my soul to the very core! Being authentically and unapologetically me is something that I pride myself on... but also something that takes an immense amount of hard work and perseverance. As someone who is a people pleaser and a Yes Girl, it's easy to fall into the trap of compromise... compromising your true self.

I can't even begin to imagine what little Shauny endured for so many years. To see him fight his way out of that dark place not only inspires me to be braver, it shows me that no matter what life has in store for us, we can all have a Secret Backpack. We can unleash our superpowers whenever we are faced with life struggles and challenges.

I'm so proud of him for all that he has overcome and accomplished and am extremely grateful to have been impacted by his strength, courage, friendship, and love!"
—Tania Baron, founder of Team Machine and Beachbody LIVE Master Trainer

"I expected this book to be about the body. How to get fitter and stronger, but it is so much more. Almost autobiographical, it creates pathways for your journey, body and mind.

Many of us remember "Come on" from the Insanity program. I keep hearing "Dig Deep." This is a perfect way to get the tools necessary to understand that nothing comes easy but as long as you know how to focus, anything is possible. It is NOT a book about Shaun T—it is a book about you. He and his life story are a conduit through which you can achieve your dreams.

Find out how the kid who never knew his birth father and built up protective barriers against the world grew to become one of the most powerful forces in self-improvement and one of the nicest and inspirational people I have ever interviewed. Now I have some answers, and so will you."
—Eddie Nestor, host of BBC Radio London's Drivetime with Eddie Nestor



Rodale Books, 9781635650136, 272pp.
Publication Date: November 7, 2017
About the Author
Shaun T is the creator of revolutionary workout programs Hip Hop Abs, Rockin' Body, INSANITY, T25, INSANITY Max: 30, and CIZE. All told, these workout programs have rolled up a mind-blowing billion dollars in sales, and transformed the lives of millions of people worldwide. Through his wildly successful infomercials, workout programs, personal appearances, and Trust and Believe with Shaun T podcast, he challenges people mentally, physically, and emotionally, so that they can clear obstacles and become their best selves. He lives in Phoenix, Arizona, and travels the world and the internet to connect with his legions of fans and followers.
Coverage from NPR
or
Not Currently Available for Direct Purchase