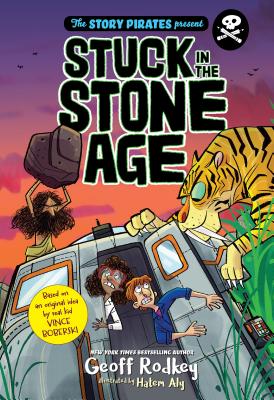 Stuck in the Stone Age (Hardcover)
Rodale Kids, 9781635650891, 256pp.
Publication Date: March 20, 2018
About the Author
The Story Pirates are a nationally respected media and education organization founded in 2004 to celebrate the words, ideas, and stories of young people. Their motto: "Changing kids' lives, one story at a time." They've been featured on NBC Nightly News, TODAY, and Sesame Street, and are endorsed by Jon Stewart, Conan O'Brien, John Oliver, and more.Geoff Rodkey is the New York Times bestselling writer of the Tapper Twins and Chronicles of Egg books, as well as the hit films Daddy Day Care and RV. He lives and works in New York City. Visit him at geoffrodkey.com.Hatem Aly is an Egyptian-born illustrator whose work has been featured on television and in multiple publications worldwide. He currently lives in New Brunswick, Canada, with his wife, son, and more pets than people. Find him online at metahatem.com or @metahatem.Vince Boberski writes short stories and funny songs, plays saxophone in his school band, and likes to play basketball, and his favorite Grizzlies player is Mike Conley. He lives in Memphis, Tennessee, with his mom and dad, a little sister who sometimes gets on his nerves, and two dogs named Daisy and Lucy who don't.
Advertisement