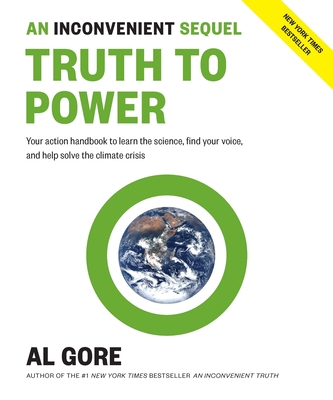 An Inconvenient Sequel
Truth to Power: Your Action Handbook to Learn the Science, Find Your Voice, and Help Solve the Climate Crisis
Paperback

* Individual store prices may vary.
Description
A New York Times bestseller!

The follow up to the #1 New York Times bestselling An Inconvenient Truth and companion to Vice President Al Gore's new documentary, An Inconvenient Sequel: Truth to Power, this new book is a daring call to action. It exposes the reality of how humankind has aided in the destruction of our planet and delivers hope through groundbreaking information on what you can do now.

Vice President Gore, one of our environmental heroes and a leading expert in climate change, brings together cutting-edge research from top scientists around the world; approximately 200 photographs and illustrations to visually articulate the subject matter; and personal anecdotes and observations to document the fast pace and wide scope of global warming. He presents, with alarming clarity and conclusiveness (and with humor, too) that the fact of global climate change is not in question and that its consequences for the world we live in will be assuredly disastrous if left unchecked.

Follow Vice President Gore around the globe as he tells a story of change in the making. He connects the dots of Zika, flooding, and other natural disasters we've lived through in the last 10+ years—and much more.

The book also offers a comprehensive how-to guide on exactly how we can change the course of fate. With concrete, actionable advice on topics ranging from how to run for office to how to talk to your children about climate change, An Inconvenient Sequel will empower you to make a difference—and lets you know how exactly to do it.

Where Gore's first documentary and book took us through the technical aspects of climate change, the second documentary is a gripping, narrative journey that leaves you filled with hope and the urge to take action immediately. This book captures that same essence and is a must-have for everyone who cares deeply about our planet.
Praise For An Inconvenient Sequel: Truth to Power: Your Action Handbook to Learn the Science, Find Your Voice, and Help Solve the Climate Crisis…
"Vibrantly illustrated with photographs and infographics, the book can and should be read before, after, or in lieu of seeing the film, its vital information readily accessible and useful in print...This clarifying and inspiring call to stand with the facts and support the sustainable revolution belongs in every library." - Booklist



Rodale Books, 9781635651089, 320pp.
Publication Date: July 25, 2017
About the Author
Al Gore was the forty-fifth vice president. He is the co-founder and chairman of Generation Investment Management. He is also a senior partner at Kleiner Perkins Caufield & Byers, and a member of Apple, Inc.'s board of directors. Gore spends the majority of his time as chairman of The Climate Reality Project, a non-profit devoted to solving the Climate Crisis.

Gore was elected to the U.S. House of Representatives in 1976, 1978, 1980, and 1982 and the U.S. Senate in 1984 and 1990. He was inaugurated as the forty-fifth Vice President of the United States on January 20, 1993, and served eight years. During his time in the Clinton Administration, Gore was a central member of the president's economic team. He served as President of the Senate, a Cabinet member, a member of the National Security Council, and as the leader of a wide range of Administration initiatives.

He is the author of the bestsellers Earth in the Balance, An Inconvenient Truth, The Assault on Reason, and Our Choice.
or
Not Currently Available for Direct Purchase