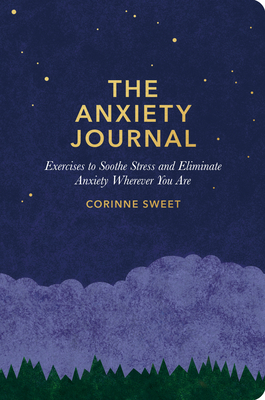 The Anxiety Journal (Diary)
Exercises to Soothe Stress and Eliminate Anxiety Wherever You Are :Guided Journal
Rodale Books, 9781635652185, 224pp.
Publication Date: May 8, 2018
* Individual store prices may vary.
Description
Find calm and clarity where you are with this beautiful journal.

A fluttering in the chest, constant worrying, sleepless nights with your breath squeezed from you. One in four people suffer from anxiety, and the symptoms can feel overwhelming. But you can take control. Let psychologist Corinne Sweet help you on your way to eliminating anxiety with this journal full of:

· Inspiring quotes and advice for when you need a quick, calming fix
· Prompts grounded in cognitive behavioral therapy to help identify the causes of your anxiety for long-term peace of mind
· Soothing mindfulness exercises
· Pages to record your thoughts and keep track ofprogress

Practical, supportive, and uplifting, this journal is an indispensable companion on your journey to a peaceful mind.
About the Author
Corinne Sweet is a highly professional author, psychologist, and psychotherapist. She regularly writes for magazines and newspapers and has published more than fourteen books, including several bestsellers. She regularly appears on TV, radio, and online offering expert insight as a "Psychologist Spokesperson."

Marcia Mihotich is a London-based graphic designer and illustrator whose clients include The School of Life, Donna Wilson and the Guardian.