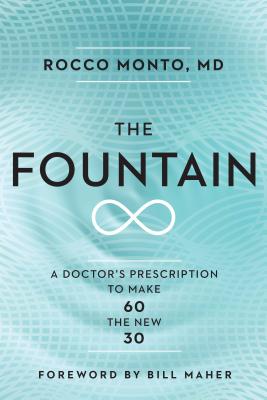 The Fountain (Hardcover)
A Doctor's Prescription to Make 60 the New 30
Rodale Books, 9781635652338, 272pp.
Publication Date: March 6, 2018
Other Editions of This Title:
Compact Disc (7/8/2018)
MP3 CD (7/8/2018)
* Individual store prices may vary.
Description
Don't just live longer—live better!

Everyone wants to feel fitter, sexier, more energetic, more productive, and younger—but what if the solutions were already here? What if there were already ways to ease the negative effects of aging and prevent diabetes, heart disease, cancer, Parkinson's disease, and Alzheimer's disease from ever starting? What if we could translate all the exotic science and research breakthroughs of today into a practical plan that could help us win the war on aging? Here's the truth: We can.

The Fountain is a sensible, comprehensive, and scientifically based anti-aging guide packed with essential information. With actionable advice, biting humor, and savvy insight, Dr. Rocco Monto, a top national health expert and board-certified orthopedic surgeon, explains why we age so poorly now and how the latest breakthroughs in science and medicine can help change this. Focusing on the four pillars of science, diet, exercise, and medicine, Dr. Monto's findings interlace the clinical and the cultural and suggest that simple choices provide profound results.

Debunking long-held diet and fitness myths while highlighting safe, effective therapies backed by cutting-edge research, Dr. Monto includes the diet, supplements, exercise, mental training, and new medications to help us all live longer, happier, healthier, and more productive lives. Much more than a compilation of longevity research, The Fountain is an essential toolkit that will redesign lifestyles and forever transform the way we look at aging.

As the book blends fascinating stories with new research findings, illustrations, infographics, and exclusive interviews, it also educates you on how aging really works and provides practical ways to hack the system.
About the Author
Rocco Monto, MD, is an award-winning board-certified orthopedic surgeon and a leading expert in sports medicine, stem cells, and aging. A national leader in health policy for orthopedists across the nation, he serves as a media spokesperson for the American Academy of Orthopedic Surgeons and frequently consults with professional athletes and sports teams around the United States and the globe. He has been featured in the New York Times, TIME, The New Yorker, and the Wall Street Journal.
Praise For The Fountain: A Doctor's Prescription to Make 60 the New 30…
"I really think Dr. Monto is on to something in the way he breaks down the intricacies of the confusing medical world we're confronted with, toward the purpose of living longer and healthier lives."
—Bill Maher, host of HBO's Real Time

"Smart, candid, and provocative, The Fountain is a must-read for everyone who really cares about their wellness. Dr. Monto confidently breaks down complex concepts into simple, elegant lessons for healthy living. It's a dazzling book."
—Dr. Bob Arnot, network television journalistand New York Times bestselling author

"The Fountain is an amazing, practical, and effective road map to allow people to take charge of their lives and renew their bodies, minds, and spirits. Dr. Monto is a pioneer in the practical approach to optimal aging. He connects the most advanced scientific findings along with traditional, proven techniques to unlock a REAL Fountain of Youth that is accessible to everyone."
—Keith Frankel, CEO/founder of Vitaquest International

"This is one book you will not read one time but rather three to five times! The Fountain presents a logical, practical, and understandable pathway to wellness and longevity with a dose of Dr. Monto's humor in his writing style. I commend him for finding the time and energy to share his observations and perceptions in an effort to help people live their lives better and healthier. He writes 'we are not genetic prisoners.' Makes you want to turn the page, doesn't it?"
—William Kupper Jr., former publisher of HEALTH magazine and BusinessWeek

"For years we have considered Dr. Monto as one of the nation's leading medical, health, and wellness experts. We are thrilled that The Fountain now packages the full breadth of his expertise in impactful and accessible form for the general public."
—Josh Staph, president of STACK Media

"Dr. Monto can distill difficult and complex concepts with overwhelming clinical data into something quite simple to understand. His messages are clear, impactful, and captivating."
—Thien Doan, director of Global Marketing at Exactech, Inc.