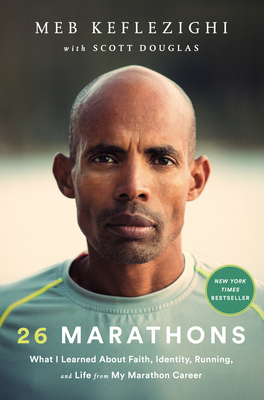 26 Marathons (Hardcover)
What I Learned About Faith, Identity, Running, and Life from My Marathon Career
Rodale Books, 9781635652888, 256pp.
Publication Date: March 19, 2019
Other Editions of This Title:
Digital Audiobook (3/18/2019)
* Individual store prices may vary.
Description
NEW YORK TIMES BESTSELLER • A world-class runner and four-time Olympian shares the life lessons he's learned from each of the twenty-six marathons he's run in his storied career. 

"An athlete whose wisdom and lessons aren't just for runners."—The Washington Post

When Meb Keflezighi—the first person in history to win both the Boston and New York City marathons as well as an Olympic marathon medal—ran his final marathon in New York City on November 5, 2017, it marked the end of an extraordinary distance-running career. 

Meb's last marathon was also his twenty-sixth, and each of those marathons has come with its own unique challenges, rewards, and outcomes. In 26 Marathons, Meb takes readers on those legendary races, along every hill, bend, and unexpected turn of events that made each marathon an exceptional learning experience, and a fascinating story.

26 Marathons offers the wisdom Meb has gleaned about life, family, identity, and faith in addition to tips about running, training, and nutrition. He shows runners of all levels how to apply the lessons he's learned to their own running and lives. Equal parts inspiration and practical advice, 26 Marathons provides an inside look at the life and success of one of the greatest runners living today.

Praise for 26 Marathons

"26 Marathons is a swift read, guaranteed to be popular with student athletes plus hard-core and recreational runners, who will undoubtedly agree that Meb is an American treasure and running ambassador who never fails to inspire."—Booklist (starred review)

"26 Marathons gives great insight about the ups and downs in marathon running and how to cope with them. As Meb shows, dealing with these marathon experiences help us become better in our lives."—Eliud Kipchoge, Marathon World Record Holder and 2016 Olympic Gold Medalist

"Meb's 26 Marathons is like opening a treasure chest full of inspiring stories that give behind-the-scenes glimpse into the mental and physical joys and obstacles that elite-level racing can bring. His advice on training, overcoming injuries, and adversity is for everyone. It's pure gold!"—Shalane Flanagan, 2017 TCS NYC Marathon Champion
About the Author
Meb Keflezighi's victory at the 2014 Boston marathon made him the first American man to win the race in thirty-one years. He's won nearly two dozen national titles and is a four-time USA Olympian. Meb is also the only athlete in history to earn an Olympic medal in the marathon along with victories at the New York City and Boston marathons. The author of the New York Times bestseller Meb for Mortals, he founded the MEB Foundation, which funds programs that promote fitness and other positive lifestyle choices for children. He lives in San Diego, California, with his wife, Yordanos, and their daughters, Sara, Fiyori, and Yohana.
Praise For 26 Marathons: What I Learned About Faith, Identity, Running, and Life from My Marathon Career…
"Keflezighi is a four-time Olympian who has won the Boston and New York marathons — so it's fitting that his 2017 New York Marathon was not just his last, but his 26th. That's one marathon race per marathon mile for an athlete whose wisdom and lessons aren't just for runners."—The Washington Post

"26 Marathons is a fantastic book. It tells the story of Meb Keflezighi's career by documenting his marathons, but it's not really about running. It's about life! About setting goals and pursuing them, and how to continue to strive to excel in the midst of satisfaction and disappointments.  Meb drives home the fact that winning in life isn't defined by coming in first place. This book is not just for runners. It will help you no matter what your passion in life might be."—Tony Dungy, Super Bowl Winning Coach, NFL Hall of Famer, and New York Times bestselling author
 
"Meb is as great a champion as I've ever known, and an even better person. 26 Marathons is the perfect roadmap for your journey to the top of the mountain. This radiantly brilliant treatise on life through sport, family, faith, perseverance and persistence epitomizes everything that I strive for, and on a path that Meb has already traveled. Thank you, for shining the light, for being the true giant among us, and for showing us that tomorrow is worth the effort to get there. Run on, beam on, teach on, carry on." —Bill Walton, Former NBA champion & MVP
 
"This book is a gift from Meb. I couldn't put it down as memories flooded back and his vivid descriptions put us in the races with him. Reading this a race at a time or by the years, first timers and pros alike will be inspired to "run to win" on and off the roads."—Mary Wittenberg, Former CEO NYRR, Virgin Sport
 
"I've watched Meb build a legendary career in distance running, one marathon at a time. 26 Marathons is a captivating look at each race from his professional marathon career and the valuable lessons they taught him about running and life."  —John Legere, CEO T-Mobile