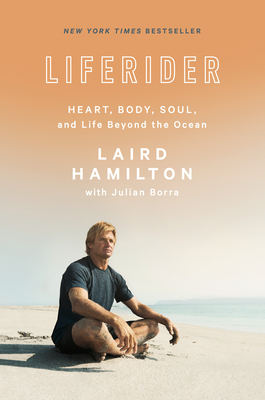 Liferider
Heart, Body, Soul, and Life Beyond the Ocean
Hardcover

* Individual store prices may vary.
Other Editions of This Title:
Digital Audiobook (3/11/2019)
Description
NEW YORK TIMES BESTSELLER • Surfing icon Laird Hamilton offers inspiration to anyone who wants to elevate their ordinary, landlocked lives to do extraordinary things.
 
"When Laird Hamilton surfs, you must watch. When he speaks, I listen. And when he writes a book, I'm damn sure gonna read it. Twice."—Eddie Vedder, Grammy Award–winning lead vocalist of Pearl Jam
 
Millions of us increasingly seek happiness in fads and self-help books, reaching upward every day toward some enlightened state that we wish to attain. Laird Hamilton is more intent on looking inward and appreciating the brilliant creatures we already are. In Liferider, Laird uses five key pillars—Death & Fear, Heart, Body, Soul, and Everything Is Connected—to illustrate his unique worldview and life practices.
 
This is Laird Hamilton in his own words—raw, honest, and unvarnished—on topics he has rarely explored before. Based on extensive interviews and conversations between Laird and his coauthor, Julian Borra, with additional insights from Laird's wife, pro-volleyball player Gabby Reece, Liferider takes on human resilience, relationships, business, technology, risk-taking, and the importance of respecting the natural world, all through the lens of Laird's extraordinary life both in and beyond the ocean.

Praise for Liferider

"Laird is a hero, if you want him to be. That's up to your perception. He challenges himself, and he challenges those around him. He shows us that the deeper we puncture into life, the more vibrant the colors get. The Laird Hamilton I know—real, faulty, moody, deeply loving, and communal—comes through on every page of Liferider."—Josh Brolin, Award-Winning Actor
 
"Laird Hamilton is a true individualist unafraid to carve his own path. These thoughtful mediations offer a unique window — illuminating and inspiring — into one of America's great innovators."—Rory Kennedy, Documentary Filmmaker
Praise For Liferider: Heart, Body, Soul, and Life Beyond the Ocean…
"A powerful message from Laird on what it means to 'go beyond' and how it can be applied by all. He hones in on the dualities of life and death, focusing on what's most important: making the most of the time we have, and living aloha, connected to and caring for each other and our environment."—Tulsi Gabbard, Congresswoman serving Hawaii's 2nd district

"This book is like a one-on-one chat with Laird, a personal conversation about his philosophies. You can't be champ without an untamable fire inside, and you can feel that here. His spirit is raw and to the point. As athletes retire and sail into the sunset, Laird keeps pushing, finding and finding new ways to improve."—Joakim Noah, Two-time NBA All-Star
Rodale Books, 9781635652901, 256pp.
Publication Date: March 12, 2019
About the Author
Laird Hamilton is one of the world's best known big-wave surfers. Over the last decade, Laird has transcended surfing to become an international fitness icon and nutrition expert. Many of today's top professional athletes and celebrities look to Laird for training guidance, including instruction in his unique underwater resistance workouts. He has appeared in a number of feature films and documentaries, most recently Take Every Wave, a biographical feature documentary. In addition to his film work, Laird has appeared on numerous television shows including Oprah's Master Class, 60 Minutes, CONAN, The Late Show with Steven Colbert, and Ellen. Laird lives with Gabby and his daughters on the Hawaiian island of Kauai and in Malibu, California
 
Julian Borra has worked for more than thirty years as a creative writer in the media and communications industry at Saatchi & Saatchi, Leo Burnett, and at the consulting firm he founded, Thin Air Factory.