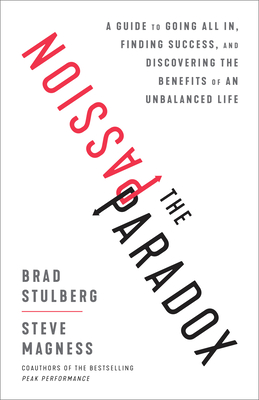 The Passion Paradox
A Guide to Going All In, Finding Success, and Discovering the Benefits of an Unbalanced Life
Hardcover

* Individual store prices may vary.
Other Editions of This Title:
Digital Audiobook (3/18/2019)
Compact Disc (3/19/2019)
MP3 CD (3/19/2019)
Description
The coauthors of the bestselling Peak Performance dive into the fascinating science behind passion, showing how it can lead to a rich and meaningful life while also illuminating the ways in which it is a double-edged sword. Here's how to cultivate a passion that will take you to great heights—while minimizing the risk of an equally great fall.

Common advice is to find and follow your passion. A life of passion is a good life, or so we are told. But it's not that simple. Rarely is passion something that you just stumble upon, and the same drive that fuels breakthroughs—whether they're athletic, scientific, entrepreneurial, or artistic—can be every bit as destructive as it is productive. Yes, passion can be a wonderful gift, but only if you know how to channel it. If you're not careful, passion can become an awful curse, leading to endless seeking, suffering, and burnout.
     Brad Stulberg and Steve Magness once again team up, this time to demystify passion, showing readers how they can find and cultivate their passion, sustainably harness its power, and avoid its dangers. They ultimately argue that passion and balance--that other virtue touted by our culture--are incompatible, and that to find your passion, you must lose balance. And that's not always a bad thing. They show readers how to develop the right kind of passion, the kind that lets you achieve great things without ruining your life. Swift, compact, and powerful, this thought-provoking book combines captivating stories of extraordinarily passionate individuals with the latest science on the biological and psychological factors that give rise to—and every bit as important, sustain—passion.
Praise For The Passion Paradox: A Guide to Going All In, Finding Success, and Discovering the Benefits of an Unbalanced Life…
"Clear, concise, and captivating. From the onset, one is quickly drawn in through their honest and open comments supplemented by engaging stories, provocative examples, and supportive research. The book is a page turner, nudging one on to the next chapter and then the next." —New York Journal of Books

"A valuable volume about finding and embracing passion, avoiding burnout, and carefully navigating an unbalanced life." —Publisher's Weekly

"Passion. The topic is sparking conversations at work, at school, and at home. Should we throw everything to the winds and follow our passion? Or should we strive for balance and let our passions cool? In THE PASSION PARADOX, Brad Stulberg and Steve Magness offer the surprising, nuanced, and research-backed answer. This super-smart, must-read book will teach you how to find and fuel your passion without burning up or burning out." —Daniel H. Pink, New York Times bestselling author of When and Drive

"Passion is a roller coaster ride that can send us on a sudden, precipitating plunge from the heights of happiness to the depths of despair.  This thoughtful, immediately readable book shows how to manage passion so it brings out the best in us rather than the worst in us." —Adam Grant, New York Times bestselling author of Give and Take, Originals, and Option B with Sheryl Sandberg

"I feel like this book was written for me. I had to resist underlining every sentence in the book." —Shalane Flanagan, New York City Marathon Champion, Four-Time Olympian, and New York Times bestselling author

"The Passion Paradox brings together multiple angles to peer over the edge at something difficult to grasp but incredibly important to people." —David Epstein. New York Times bestselling author of The Sports Gene and Range

Rodale Books, 9781635653434, 192pp.
Publication Date: March 19, 2019
About the Author
BRAD STULBERG researches, writes, speaks, and coaches on health and human performance. His coaching practice includes working with athletes, entrepreneurs, and executives on their mental skills and overall wellbeing. He is a columnist at Outside Magazine and has written for The New York Times, New York Magazine, Sports Illustrated, Wired, Forbes and The Los Angeles Times. Previously, Stulberg worked as a consultant for McKinsey and Company, where he counseled some of the world's top executives on a broad range of issues. An avid athlete and outdoor enthusiast, Stulberg lives in Northern California with his wife, son, and two cats. Follow him on Twitter @Bstulberg.  

STEVE MAGNESS is a coach to some of the top distance runners in the world, having coached numerous athletes to Olympic trials, world championship teams, and the Olympics. Known widely for his integration of science and practice, Steve has been on the forefront of innovation in sport. He has been a featured expert in Runner's World, the New York Times, the New Yorker, BBC, the Wall Street Journal, and ESPN The Magazine. His first book, The Science of Running, was published in 2014. He lives in Houston, Texas. Follow him on Twitter @SteveMagness.
or
Not Currently Available for Direct Purchase