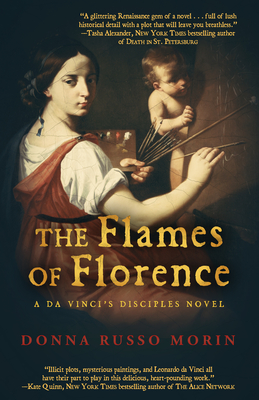 The Flames of Florence
A Da Vinci's Disciples Novel
Paperback

* Individual store prices may vary.
Description
A glittering Renaissance gem of a novel. Donna Russo Morin, a master of her craft, has penned an intricate story full of lush historical detail with a plot that will leave you breathless. --Tasha Alexander, New York Times bestselling author of Death in St. Petersburg In her final standalone novel featuring Da Vinci's Disciples, Donna Russo Morin delivers a thrilling story of the secret female artists of Florence, under the tutelage of Leonardo Da Vinci, and their heroic, potentially deadly efforts to save great works of art from the infamous Bonfire of the Vanities. Illicit plots, mysterious paintings, and Leonardo da Vinci all have their part to play in this delicious, heart-pounding work. --Kate Quinn, New York Times and USA Today bestselling author of The Alice Network Lorenzo de Medici is dead, and his son Piero has brought war and famine upon the city of Florence. Yet, the glory that is Renaissance artistry grows more magnificent, as does the work of the women known as Da Vinci's Disciples. Now they face their most dangerous challenge, one shrouded in the cloak of a monk. From the ashes of war, Friar Girolamo Savonarola rises. Some call him a savior and a prophet, a man willing to overthrow tyrannical rulers and corrupt clergy, the Borgia Pope among them. Fra Girolamo is determined to remold Florence from an avaricious, secular culture to a paragon of Christian virtues. Many call Savonarola a delusional heretic, incapable of anything but self-serving fanaticism. When he sets out to destroy all secular art forms, Da Vinci's Disciples call him an enemy ... but not all of them. Like a glorious Italian fresco-richly textured and vividly portrayed ... Highly recommended for lovers of history, art, and courageous women. --Anna Lee Huber, bestselling author of the Lady Darby Mysteries Donna Russo Morin renders one of the most tumultuous periods in Florence's history in bright colors and with vivid descriptions. This tale of a group of determined women standing up for what they believe in ... will absolutely resonate with modern readers. --Alyssa Palombo, author of The Most Beautiful Woman in Florence
Diversion Books, 9781635763799, 260pp.
Publication Date: May 8, 2018
or
Not Currently Available for Direct Purchase