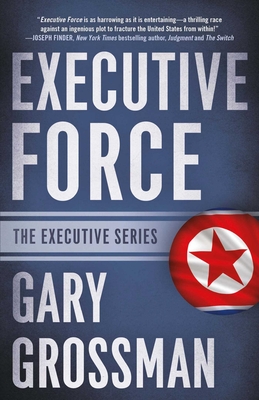 Executive Force (Paperback)
Diversion Books, 9781635764420, 448pp.
Publication Date: August 21, 2018
Other Editions of This Title:
MP3 CD (2/12/2019)
* Individual store prices may vary.
Description
The fourth standalone thriller in The Executive Series finds Secret Service Agent Scott Roarke on a serial assassin's trail--one that leads to a clandestine North Korean plot and a nuclear standoff. "As harrowing as it is entertaining--a thrilling race against an ingenious plot to fracture the United States from within " --Joseph Finder, New York Times bestselling author of Judgment and The Switch Instability and fear seize the nation. Local and national political figures are systematically assassinated. A growing secessionist movement stirs up anti-government fervor. The combination creates nationwide unrest and lack of confidence in leadership. With the clock ticking toward a monumental constitutional crisis, President Morgan Taylor assigns Secret Service Agent Scott Roarke to investigate the assassinations. Meanwhile, Roarke's fianc e, an assistant to the U.S. Supreme Court Chief Justice, is tasked with researching the separatists. Attorney Katie Kessler goes rogue to gather evidence for the court. Roarke hunts a lone assassin across two continents. Their paths lead them both to a decades-old plot hatched at a private school in Switzerland, now leading to North Korea. With the assassin ready to make his greatest kill and critical destabilizing votes occurring state-by-state, the president must decide whether to activate America's own secretive, long-incubating active measures against an enemy that can't be exposed, but must be stopped. Timely and revealing, with an inside-out view of real and present dangers, Executive Force brings a political reality to the page that feels like breaking news.
About the Author
Gary Grossman's first novel, Executive Actions, propelled him into the world of political thrillers. Executive Treason, the sequel, further tapped Grossman's experience as a journalist, newspaper columnist, documentary television producer, reporter and playwright. The third book in the series, Executive Command, nearly brought his trilogy to a conclusion. But there was more-and Executive Force covers new ground. Grossman has written for the New York Times, Boston Globe, and Boston Herald American. He covered presidential campaigns for WBZ-TV in Boston, and has produced television series for NBC News, CNN, NBC, ABC, CBS, FOX and 40 cable networks. He is a multiple Emmy Award winning producer, served as chair of the Government Affairs Committee for the Caucus for Television, Producers, Writers and Directors, and is a member of the International Thriller Writers Association. Grossman has taught at Emerson College (where he is a member of the Board of Trustees), Boston University, USC, and Loyola Marymount University, and is a contributing editor to Media Ethics Magazine.