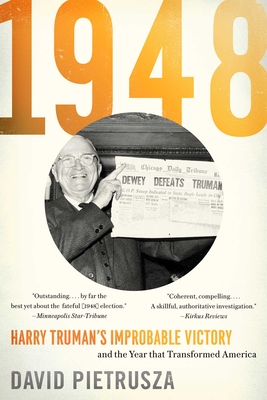 1948 (Paperback)
Harry Truman's Improbable Victory and the Year That Transformed America
Diversion Books, 9781635764482, 559pp.
Publication Date: September 4, 2018
Other Editions of This Title:
Hardcover (10/4/2011)
MP3 CD (12/11/2018)
Compact Disc (12/11/2018)
* Individual store prices may vary.
Description
The iconic news photo showed a jubilant underdog Harry Truman brandishing his copy of the Chicago Tribune proclaiming "DEWEY DEFEATS TRUMAN." But far more exists to 1948's election than a single inglorious headline and a stunning upset victory. Award-winning author David Pietrusza goes beyond the headlines to reveal backstage events and to place in context a down-to-the-wire donnybrook fought against the background of an erupting Cold War, the Berlin Airlift, and the birth of Israel, a post-war America facing exploding storms over civil rights, and domestic communism. It's a war for the soul of the Democratic Party with accidental president Harry Truman pitted against his embittered left-wing predecessor as vice president, Henry Wallace, and stormy young South Carolina segregationist Dixiecrat Strom Thurmond. On the GOP side, it's a four-way battle between cold-as-ice New Yorker Tom Dewey, Minnesota upstart Harold Stassen, the stodgy but brilliant Ohio conservative Robert Taft, and the imperious but aged Douglas MacArthur. From this roster of politicians, Americans really want "none of the above." They do, however, "like IKE," but Dwight Eisenhower stubbornly resists draft movements in both parties to run--at least, that year. Pietrusza again brings history to life, spellbinding readers with tales of the highest drama while simultaneously presenting the issues, personalities, and controversies of this pivotal era with laser-like clarity.