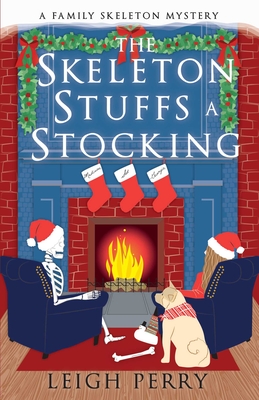 The Skeleton Stuffs a Stocking
A Family Skeleton Mystery (#6)
Paperback

* Individual store prices may vary.
Other Editions of This Title:
Digital Audiobook (7/12/2021)
Description
Mirth and murder blend beautifully in Perry's sixth whodunit featuring Sid, a skeleton who can move around, talk, and search the internet for clues. . . . Cozy fans who enjoy their mysteries leavened with humor will find their funny bones tickled. --Publishers Weekly, starred review Sid is back with a murder that's sure to send a chill down your spine in Leigh Perry's festive new mystery. Dr. Georgia Thackery is back at home with her parents after finding a new adjunct position at Bostock College. Everyone is excited for their first family Christmas with nothing to hide. Why? Because Georgia's daughter Madison is now in the know about Sid, their walking, talking family skeleton. But their Christmas cheer is interrupted when the Thackerys' dog Byron goes missing on a cold December night. When he's finally found, he has a femur clutched between his jaws, and Georgia and Madison race to apologize to Sid for letting the dog gnaw on him yet again. Except that all of Sid's bones are present and accounted for. This bone is from somebody else, and when they trace Byron's trail to an overgrown lot nearby, they find the rest of the skeleton. It's the normal kind, not moving or telling jokes, and when the police come to take charge, they're sure it was murder. And one of Georgia's adjunct friends could be implicated. With tensions stirring at the college and everyone hiding a secret or two, Sid and Georgia must uncover the truth before the ghost of a Christmas past strikes again. Whodunits don't come much funnier than Perry's suspenseful fifth mystery featuring 'an ambulatory skeleton named Sid.'... Fans of offbeat comic mysteries will be richly rewarded. --Publishers Weekly starred review on The Skeleton Makes a Friend
Diversion Books, 9781635766479, 280pp.
Publication Date: September 24, 2019