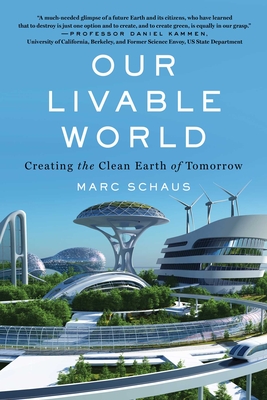 Our Livable World
Creating the Clean Earth of Tomorrow
Paperback

* Individual store prices may vary.
Other Editions of This Title:
Digital Audiobook (1/11/2021)
Description
As President Biden commits the US to cutting greenhouse gas emissions in half by 2030, bold new scientific and technological innovations will soon revolutionize the world--and a vital guide from the frontlines of our fight against climate change has finally arrived. The United States' accelerated plans to combat the existential threat of climate change finally gives reason to hope. In Our Livable World, research specialist and author Marc Schaus explores the incredible new green innovations in science and engineering that can allow us to avoid the worst repercussions of global warming as we work to usher in a sustainable, livable world. To beat a challenge the size of climate change, our solutions will have to be ambitious: solar thermal cells capable of storing energy long after the sun goes down, "smart highways" designed to charge your vehicle as you drive, indoor vertical farms automated to maximize crop growth with no pesticides, bioluminescent vines ready to one day replace our streetlights, jet fuel created from landfill trash--and next-generation carbon capture techniques to remove the emissions we have already released over the past several decades. Far from the geoengineering schemes of cli-fi action thrillers, real solutions are being developed, right this moment. Our Livable World features interviews with the innovators, real talk on the revolutionary technology, and a clear picture of a cleaner planet in the future. Though climate change is arguably the biggest threat humankind has ever faced, this book proves that our ability to fight this change is limited only by the scope of our imagination and the power of our will.
Diversion Books, 9781635767209, 304pp.
Publication Date: October 13, 2020