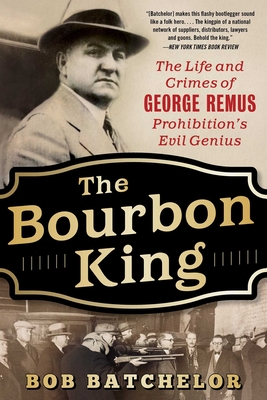 The Bourbon King
The Life and Crimes of George Remus, Prohibition's Evil Genius
Paperback

* Individual store prices may vary.
Other Editions of This Title:
Digital Audiobook (9/2/2019)
Hardcover (9/3/2019)
Compact Disc (9/3/2019)
MP3 CD (9/3/2019)
Library Binding, Large Print (1/1/2020)
Description
On the 100th anniversary of The Volstead Act taking effect comes the epic, definitive story of the man who cracked the Prohibition system and helped inspire The Great Gatsby. " Batchelor] makes this flashy bootlegger sound like a folk hero...Behold the king." --New York Times Book Review "It's all here: murder, mayhem--and high-priced hooch." --David Pietrusza, author of 1920 In October 1919, Congress gave teeth to Prohibition. But the law didn't stop George Remus from amassing a fortune equivalent to billions today. As one journalist put it, Remus was to bootlegging what Rockefeller was to oil. The Bourbon King breathes life into America's largest illegal booze operation--greater than that of Al Capone--and a man considered the best criminal defense lawyer of his era. Remus cracked the system by purchasing an empire of distilleries on Kentucky's "Bourbon Trail" and using his other profession, as a pharmacist, to profit off legal loopholes. He stole, bribed, and partied, a roaring lifestyle epitomizing the Jazz Age over which he ruled. That is, before he came crashing down in one of American history's most sensational murder cases in: a cheating wife, the G-man who seduced her and jailed Remus, and the plunder of a Bourbon Empire. Remus murdered his wife in cold blood and then shocked a nation, winning his freedom based on a condition he invented--temporary maniacal insanity. Love, murder, political intrigue, mountains of cash, and rivers of bourbon...the tale of George Remus is a grand spectacle, and a lens into the dark heart of Prohibition and the mastermind behind one of its richest rackets. "Larger-than-life characters take the reins of this story, a rip-roaring good time for any American history buff or true-crime fan." --Publishers Weekly, starred review
Diversion Books, 9781635767384, 400pp.
Publication Date: December 8, 2020