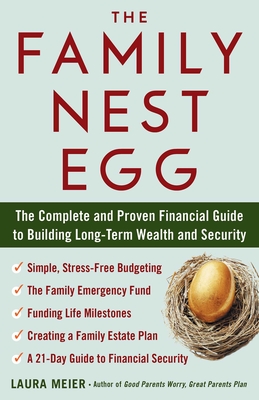 The Family Nest Egg
The Complete and Proven Financial Guide to Building Long-Term Wealth and Security
Paperback

* Individual store prices may vary.
Description
"Laura Meier's The Family Nest Egg gives parents the tools they need to find confidence, stop worrying, and secure the financial future for their loved ones. . . . a trustworthy resource."
--Barbara Corcoran, Founder of the Corcoran Group and Shark on ABC's Shark Tank Earn and save more money while protecting your finances and your family Wouldn't it be great if life were perfect, or just predictable? Recent times have been anything but. With rising rents, expensive mortgages, student loans, debts, and dreams deferred, most of us parents found our lives far from perfect or predictable even before the global pandemic and economic turmoil. But with the right guidance and actionable advice, we can get ourselves closer--taking back our future, building wealth, and protecting our families against the worst unforeseen events. In The Family Nest Egg, estate planning attorney and parent Laura Meier provides a breakthrough program of inspiring real-life stories and time-tested legal, financial, and practical tips to move our families from stress to success and security. Let's get planning. - Build Your IF LIFE WERE PERFECT Vision - Follow the 21-Day Family Nest Egg Plan - Follow the Three Ps for Prosperity - Engage in a Budgeting P.E.A.C.E. Process - Invest, Build Wealth, and Fund Life Milestones - Create Your Family Emergency Fund - Find the Right Insurance and Asset Protection - Learn About Wills and Trusts - Build a Team of S.T.A.R. Financial and Estate Advisers.
Diversion Books, 9781635767483, 240pp.
Publication Date: January 19, 2021