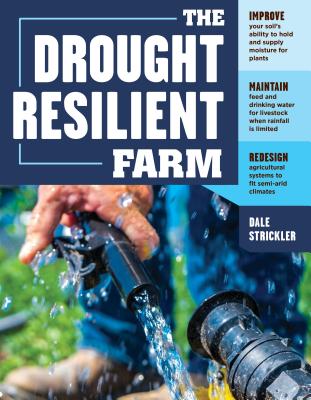 The Drought-Resilient Farm (Paperback)
Improve Your Soil's Ability to Hold and Supply Moisture for Plants; Maintain Feed and Drinking Water for Livestock when Rainfall Is Limited; Redesign Agricultural Systems to Fit Semi-arid Climates
Storey Publishing, LLC, 9781635860023, 200pp.
Publication Date: June 12, 2018
* Individual store prices may vary.
Description
Rainfall levels are rarely optimal, but there are hundreds of things you can do to efficiently conserve and use the water you do have and to reduce the impact of drought on your soil, crops, livestock, and farm or ranch ecosystem. Author Dale Strickler introduces you to the same innovative systems he used to transform his own drought-stricken family farm in Kansas into a thriving, water-wise, and profitable enterprise, maximizing healthy cropland, pasture, and water supply. Ranging from simple, short-term projects such as installing rain-collection ollas to long-term land-management planning strategies, Strickler's methods show how to get more water into the soil, keep it in the soil, and help plants and livestock access it.
About the Author
Dale Strickler is the author of Managing Pasture and The Drought-Resilient Farm. He is a leader in the soil health movement and an agronomist for Green Cover Seed, the nation's leading cover crop-specific seed company. Strickler holds degrees in agronomy from Kansas State University and taught college for 15 years. He worked as an agronomist for Land O'Lakes, Star Seed, and Valent USA prior to working with Green Cover Seed. He successfully farms and ranches cattle in Kansas.
Praise For The Drought-Resilient Farm: Improve Your Soil's Ability to Hold and Supply Moisture for Plants; Maintain Feed and Drinking Water for Livestock when Rainfall Is Limited; Redesign Agricultural Systems to Fit Semi-arid Climates…
"Every farmer and rancher knows how valuable water is to their operation, but most don't know how to get more value. This book spells out the tools and knowledge to capture that value more efficiently and store the resource on the farm instead in the Gulf of Mexico." ― Steve Swaffar, Executive Director, No-till on the Plains

"For a producer to turn a profit, they must have a healthy, fully functioning soil ecosystem. The Drought-Resilient Farm is the blueprint for achieving successful results.  I highly recommend this book." ― Gabe Brown, Rancher, Regenerative Pioneer, Bismarck, ND

"When farmers ask me for direction on cover crops or soil health, I point them to Dale Strickler." ― Donn Teske, Vice President of the National Farmers Union