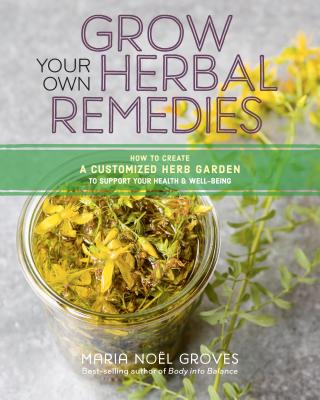 Grow Your Own Herbal Remedies
How to Create a Customized Herb Garden to Support Your Health & Well-Being
Paperback

* Individual store prices may vary.
Description
Expert herbalist Maria Noël Groves has advice for budding herb gardeners: grow just what your body needs!

In Grow Your Own Herbal Remedies, Groves provides 23 garden plans specially tailored to address the most common health needs, along with simple recipes for using each group of herbs. Discover the three to six herbs that are most effective for what ails you, whether you're seeking headache relief, immune support, stress relief, or a simple daily tonic. For chronic stomach problems, marshmallow, plantain, rose, fennel, and calendula make the perfect medicine, with recipes for tummy tea and gut-healing broth. Groves teaches you how to plant, harvest, and care for each medicinal herb, and in all of her plant suggestions, she emphasizes safe, effective, easy-to-grow herbs that provide abundant harvests and can be planted in containers or garden beds.
Praise For Grow Your Own Herbal Remedies: How to Create a Customized Herb Garden to Support Your Health & Well-Being…
"The incredible array of herbal remedies and recipes, easy gardening guidelines, and beautiful plant photography make this one of the best DIY herb books ever. I will use it again and again as reference guide, and highly recommend it for everyone interested in medicinal plants and herb gardening." — Rosemary Gladstar, herbalist and author

"With Maria's thorough and practical guidance you'll soon have your hands in the dirt, the sun on your face, and baskets brimming with your herbal harvests. Whether you are just starting an herb garden or you've been at it for years, this is the book to inspire and inform you along the way." — Rosalee de la Forêt, RH(AHG), author of Alchemy of Herbs: Transform Everyday Ingredients into Foods and Remedies That Heal"Once the garden gate is open, the plants you need in your life appear. Maria provides a pathway to welcoming plants into your life with growing instructions, simple tips, and recipes. The secret to potent herbal remedies is often the love that goes into making your own, and this book is the perfect guide." — Susan Leopold, PhD, director of United Plant Savers  "Grow Your Own Herbal Remedies is not just an ordinary gardening book, but a beautiful exposé of an herbalist's garden planted with intention and purpose! Maria thoughtfully and thoroughly provides us with the tools and information to grow our own personalized herbal gardens." — Marlene Adelmann, founder and director of The Herbal Academy
 "Maria has created a beautiful, inspiring book that shares her joyful knowledge of growing and preparing medicinal herbs for health and well-being. We will use this book often for its practical, tangible wisdom. Thank you, Maria!" — Tammi Hartung, author of Homegrown Herbs
Storey Publishing, LLC, 9781635860139, 336pp.
Publication Date: April 2, 2019
About the Author
Maria Noël Groves is the author of Grow Your Own Herbal Remedies and Body into Balance. She is a clinical herbalist and herbal medicine teacher with more than two decades of experience, and a registered professional member of the American Herbalists Guild. She writes for numerous publications including Herbal Academy's The Herbarium, Taste for Life, Remedies, Herb Quarterly, and Mother Earth News. Her business, Wintergreen Botanicals, is based in Allenstown, New Hampshire.