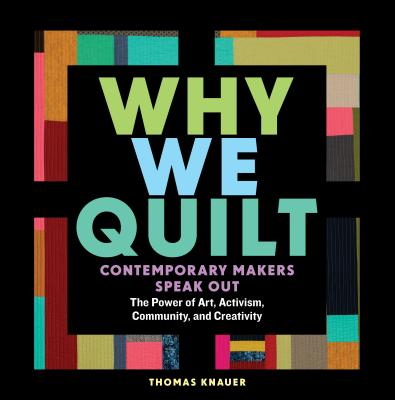 Why We Quilt
Contemporary Makers Speak Out about the Power of Art, Activism, Community, and Creativity
Hardcover

* Individual store prices may vary.
Description
In this tribute to today's vibrant quilting community, prize-winning quilter and teacher Thomas Knauer showcases a stunning collection of quilts from a wide range of contemporary makers, accompanied by their testimonials about what inspires and imbues their craft with meaning. From temperance quilts to the AIDS quilt, there's a rich history of individuals and communities using fabric and thread to connect with others and express themselves, both personally and politically. Why We Quilt blends bits of this history with the stories and work of today's leading quilters, highlighting themes of tradition, community, consumerism, change, and creativity. With a unique die-cut cover and a richly layered design, this book will enthrall designers, quilters, and all types of handcraft enthusiasts.
Praise For Why We Quilt: Contemporary Makers Speak Out about the Power of Art, Activism, Community, and Creativity…
"Thomas is a maker worth watching, but even more importantly he is a thinker worth listening to. This book shows amazing pieces of art and even more amazing ways of thinking, through the lens of an often overlooked medium." — LUKE Haynes, designer

"Why We Quilt beautifully highlights some of the leading quilters of our time, stitching connections between their work and the rich history of quilting that we cannot help but be grounded in. This book reminds me, as a quilter and the owner of a local quilt shop, that what we create — alone or in shared spaces, for whatever reason — is important. Our handwork, our stories, our quilt dreams are powerful and meaningful." — Virginia B. Johnson, owner, Gather Here

"A great compilation of historical significance, beautifully presented." — Ricky Tims, The Quilt Show

"Knauer's strength is in asking the big questions. Yes, we're quiltmakers, but why? In a day and age when quilting is no longer a necessity, what drives us to cut up fabric and sew it back together again? In Why We Quilt you'll find the answers and they are as rich and deeply satisfying as you might expect: tradition, connection, outrage, and creative expression. A fascinating, beautiful examination of quilting culture." — Abby Glassenberg, While She Naps

Storey Publishing, LLC, 9781635860337, 224pp.
Publication Date: October 15, 2019
About the Author
Thomas Knauer began his career teaching design at Drake University before turning to quilting. He has designed fabrics for several leading manufacturers, and his work has been exhibited in quilt shows and museums across the globe, including the International Quilt Study Center & Museum, the New Museum of Contemporary Art, Des Moines Art Center, the Melbourne Fringe Festival, and the Cranbrook Art Museum. Knauer is the author of Why We Quilt, as well as two previous books, including The Quilt Design Coloring Workbook. Find him online at www.thomasknauersews.com.