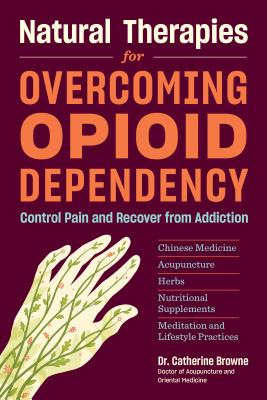 Natural Therapies for Overcoming Opioid Dependency
Control Pain and Recover from Addiction with Chinese Medicine, Acupuncture, Herbs, Nutritional Supplements & Meditation and Lifestyle Practices
Paperback

* Individual store prices may vary.
Description
Nautilus Book Awards Silver Winner

With opioid dependency at epidemic levels, Catherine Browne, a doctor of acupuncture and Oriental medicine, provides an accessible and practical guide to the effective use of natural therapies in helping people wean off opioids, manage withdrawal symptoms, and address pain without opioids.

Drawing on her extensive clinical experience, Dr. Browne explains how Chinese medicine, acupuncture and acupressure, herbs, essential oils, nutritional supplements, meditation, and exercise can be used to address addiction and restore the body to optimal functioning. Individuals and families who are struggling with addiction, as well as medical practitioners and holistic healthcare professionals, will find help and encouragement in Dr. Browne's detailed protocols and advice for integrating natural therapies with traditional medical treatment.
Praise For Natural Therapies for Overcoming Opioid Dependency: Control Pain and Recover from Addiction with Chinese Medicine, Acupuncture, Herbs, Nutritional Supplements & Meditation and Lifestyle Practices…
"Catherine Browne's clear explanations of the various natural and traditional therapies she recommends, as well as her practical suggestions for accessible herbs, fill a significant gap in current strategies for treating opioid dependency and will be much appreciated by sufferers and healthcare professionals alike." — Penelope Ody, author of The Complete Medicinal Herbal

"This easy-to-read book offers a practical roadmap to recovery through the use of Chinese medicine and other natural therapies. Its unique approach and non-judgmental tone make it a great resource for people struggling with addiction." — Dr. Jill Blakeway, DACM, LAc, Founder & Clinic Director of The Yinova Center, and author of Sex Again and Making Babies 

"Opioid addiction is incredibly difficult to treat and, beyond detox and Methadone, most people are not aware of other options. Thankfully, Dr. Catherine Brown has written a much-needed manual outlining the successful treatments she uses in her clinic to support opiate withdrawal and help her patients stay addiction-free. She clearly describes how the use of acupuncture, herbs, aromatherapy, mediation, lifestyle changes, and nutritional supplements can help make the difference between vibrant health and the continuing curse of addiction."— David Winston, RH (AHG), coauthor of Adaptogens: Herbs for Strength, Stamina, and Stress Relief

"Dr. Browne has written a very important text for our time. Her clear and straightforward language can inform families and individuals, and her expertise and thorough research will give practitioners a much-needed professional guide. Her passion and dedication to contributing something positive to the issue of opioid addiction comes through in every chapter." — Kat Maier, RH(AHG), Director Sacred Plant Traditions, Charlottesville, VA

"Dr. Browne provides explanations of how and why acupuncture and other natural therapies are effective in a way that is easy to understand, not only for the lay person but for any Western medical professional seeking to provide patients with a natural alternative to pain management." — Linda Huang Tolentino, L.Ac. , President of NC Society of Acupuncture and Asian Medicine

"I found Natural Therapies for Overcoming Opioid Dependency to be not only insightful and educational, but proof that there are viable options for the countless people suffering from opioid dependence. Dr. Browne is truly a pioneer in the fight against our country's opioid epidemic." — William C. VanNess III, MD, FAAPMR, The Pain & Rehab Institute
 
Storey Publishing, LLC, 9781635861150, 240pp.
Publication Date: November 13, 2018
About the Author
Dr. Catherine Browne is the author of Natural Therapies for Overcoming Opioid Dependency. She has more than 30 years' experience using natural therapies for treating pain and addiction. She holds a doctorate in acupuncture and Oriental medicine and is a board-certified acupuncturist and registered professional herbalist. She is the founder of In Harmony Wellness Clinic, where she specializes in serving U.S. veterans, and lives in Hamptonville, North Carolina.