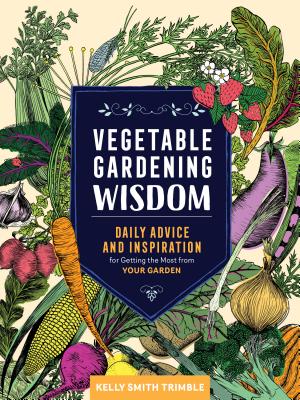 Vegetable Gardening Wisdom
Daily Advice and Inspiration for Getting the Most from Your Garden
Paperback

* Individual store prices may vary.
Description
Sometimes the best gardening advice comes in tidbits shared over the backyard fence from a sage neighbor. In Vegetable Gardening Wisdom, Master Gardener Kelly Smith Trimble shares her tried-and-true ideas and guidance for finding success and enjoyment in every aspect of vegetable gardening. Trimble invites readers to dip in regularly for bite-sized pieces of information on topics ranging from herb and vegetable gardening to cooking, preserving, and creative ways to use the harvest along with ideas for reducing garden and kitchen waste, all presented in a lively, beautifully designed package that makes a perfect gift and source for daily inspiration. She suggests the best herbs to grow indoors, the best way to start peas, how to use lettuce as a living mulch in the garden, how to make compost tea, how to identify beneficial bugs, how to blanch cauliflower, and much more. Woven in among her tips are helpful and inspiring quotes from other plant-loving folks, ranging from novelist Jamaica Kincaid to vegetable gardening guru Ed Smith and renowned chef Sean Brock.
Praise For Vegetable Gardening Wisdom: Daily Advice and Inspiration for Getting the Most from Your Garden…
"Vegetable Garden Wisdom is such a happy book to keep on hand, like having a gardening friend who is always ready to plant a new herb, try a radish recipe, or grow an edible quilt of red and green lettuces. For every season this book offers ideas and inspiration to help you turn your corner of the world into a more beautiful and bountiful place." — Barbara Pleasant, author of Homegrown Pantry
 "This is not a book for the shelf, but one for the coffee table or bedside table, where it can be savored every single day. Kelly Smith Trimble guides us through the seasons with her practical tips paired with inspiration from some of the most respected voices in gardening. With every carefully chosen quote, every morsel of advice, Trimble reinforces the joys of being a gardener. The takeaway from this book is simple: gardening makes us happy." — Niki Jabbour, host of The Weekend Gardener radio show and author of The Year-Round Vegetable Gardener
 "Warning: This book will give you confidence. Empowered with nuggets of wisdom, practical tips, and solid horticultural facts, you're going to find yourself saying, 'Hey, I can do that.' And you will!" — Rebecca Bull Reed, former associate garden editor, Southern Living
Storey Publishing, LLC, 9781635861419, 288pp.
Publication Date: April 2, 2019
About the Author
Kelly Smith Trimble is the author of Vegetable Gardening Wisdom. She has been a lifestyle editor for nearly 20 years, working for brands such as HGTV, Southern Living, Lowe's, Bonnie Plants, the National Park Foundation, and more. Her education combines the disciplines of writing and environmental studies. A master gardener, she grows vegetables, herbs, and flowers in her suburban backyard and loves cooking and preserving. Trimble lives in Knoxville, Tennessee.