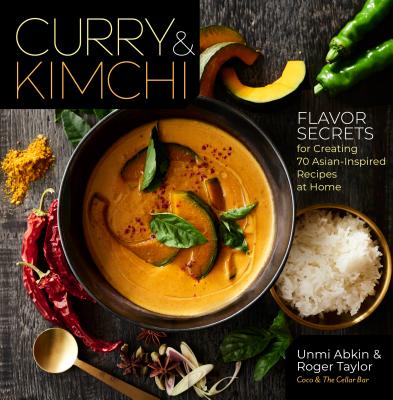 Curry & Kimchi
Flavor Secrets for Creating 70 Asian-Inspired Recipes at Home
Hardcover

* Individual store prices may vary.
Description
In their western Massachusetts-based restaurant Coco & The Cellar Bar, chefs Unmi Abkin and Roger Taylor create well-balanced, boldly flavored signature dishes shaped by Abkin's Korean and Mexican-American upbringing. In Curry & Kimchi, they open their kitchen secrets up to the home cook, sharing their foundational dressings, salsas, broths, and infused oils and the dishes that feature them, through recipes that are delightfully simple to execute and beautifully complex in flavor. Honey Miso Dressing lends full-bodied taste to Honey Miso Noodle Salad, while Shoyu Ramen Broth (made in an Instant Pot) is the key ingredient in Coco Shoyu Ramen. Other favorites include a Korean-inspired take on Bolognese sauce for Korean Spaghetti and Korean Sloppy Joes, Chow Fun Sauce (for Coriander Shrimp Chow Fun), Scallion Ginger Jam (for Clay Pot Miso Chicken), and Ponzu Sauce (for Miso-Glazed Cod Rice Bowl). Together with vivid restaurant photography that shows elegant plating suggestions, Abkin and Taylor's recipes give home cooks the building blocks to preparing meals with remarkable clarity of flavor.
Praise For Curry & Kimchi: Flavor Secrets for Creating 70 Asian-Inspired Recipes at Home…
"Curry & Kimchi has an effortless way of exploring the diversity of flavors throughout Asia, and the world. These dishes are thoughtfully balanced, beautifully prepared, and full of vibrant seasonal ingredients — and most of all, I love the way cooking is a joyful and creative process in Unmi's hands." — Alice Waters, Chez Panisse

"This innovative cookbook delivers bold yet balanced flavors, opening up a world of exciting flavors to cooks at any level. I'm thrilled to bring the recipes of these very thoughtful chefs into my kitchen." — Virginia Willis, James Beard Foundation Award-winning cookbook author and chef 
 
"When I read Unmi's story, it made me want to run into the kitchen and cook from this book. I fell in love not only with her warmth but also her sincere relationship to food. She may have just made an Asian cook out of me!" — Joanne Weir, James Beard Foundation Award-winning cookbook author, chef, and host of Weir Cooking on PBS

"Chef Unmi Abkin has created a name for herself with a series of fusion-flavored restaurants in the Pioneer Valley of New England. In this debut cookbook, Abkin and Taylor (her partner and co-owner) take us on a swift, highly focused tour of Abkin's idiosyncratic culinary landscape. Where else will you find Instant Pot pork carnitas tacos rubbing shoulders with General Tso's tofu, or Korean bolognese with gochujang and miso paste? Sharply curated and intensely sauced, Abkin's creations are both manageable enough for the weeknight routine and eccentric enough to disrupt it." — NPR's Favorite Books of 2019

"James Beard Award semifinalist Abkin brings her unique perspective to this collection of 70 recipes inspired by her Korean, Mexican-American, and Jewish heritage and her experience preparing Asian inspired cuisine." — Booklist
 
Storey Publishing, LLC, 9781635861587, 176pp.
Publication Date: October 29, 2019
About the Author
Unmi Abkin's early relationship with food centered around longing. As an orphaned child in South Korea, she experienced hunger on a daily basis. Eventually adopted by a Jewish-American father and a Mexican mother, Abkin was steeped in diverse food traditions. Flavor was a revelation that ultimately defined her passion for food. A graduate of California Culinary Academy, she interned at Chez Panisse and worked at Boulevard Restaurant before opening her first restaurant 25 years ago. Abkin now owns the Easthampton, Massachusetts-based restaurant Coco & The Cellar Bar with her husband, Roger Taylor, and is a four-time semifinalist for the James Beard Award for Best Chef in the Northeast.
Roger Taylor's life as a cook began with a childhood spent in professional kitchens and working in restaurants from the age of 15. His years in the food industry have honed his ability to create efficiency in the kitchen while still producing spectacular meals. A graduate of Le Cordon Bleu program at the California Culinary Academy, Taylor worked in restaurants across the country including Melisse in Los Angeles. Taylor is the chef and co-owner with his wife, Unmi Abkin, of the Easthampton, Massachusetts-based restaurant Coco & The Cellar Bar.