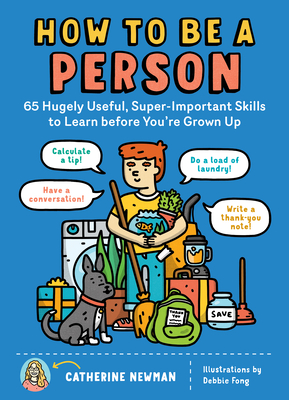 How to Be a Person
65 Hugely Useful, Super-Important Skills to Learn before You're Grown Up
Paperback

* Individual store prices may vary.
Description
For the kid who leaves a wet towel wadded up on the floor or forgets to put a new roll on the toilet-paper thingy, witty parenting writer and etiquette columnist Catherine Newman has created the ultimate guidebook of essential life skills for kids. Jam-packed with tips, tricks, and advice — all illustrated in an irresistible graphic novel–style — How to Be a Person shows kids just how easy it is to free themselves from parental nagging and become more dependable — and they'll like themselves better, too! They'll learn how to do chores like loading the dishwasher and making a bed, brush up on communication skills like making a phone call and apologizing, and master 61 other super-helpful skills including how to stick up for somebody, fold a T-shirt, and turn a 33-cent package of ramen into dinner. Improve work-life balance for the whole family with this kids' guide to growing up.
 
Praise For How to Be a Person: 65 Hugely Useful, Super-Important Skills to Learn before You're Grown Up…
"Catherine Newman has created a starting place for loving, productive conversations about independence, competence, and kindness."— Jessica Lahey, best-selling author of The Gift of Failure

"Kids will delight in this witty, clear, and fun-to-read handbook. And parents will rejoice in having Catherine Newman as a wise and warm partner in teaching our children nearly everything they should know — but don't want to hear about from us!" — Dr. Lisa Damour, best-selling author of Untangled and Under Pressure

"An illustrated guide that teaches tweens (who aren't eager to learn anything from you) life skills such as managing money, doing the dishes, and addressing an envelope."— Parents

"Geared toward kids — but honestly, everyone in the house should brush up on these cleaning and life skills." — Real Simple

"Emphasizes why these skills are so important for kids to master and how good they'll feel once they do. The illustrations reflect diversity and avoid gender stereotypes. Entertaining way to teach valuable skills that every kid (and adult) needs to know." — Booklist

"This succinct and entertaining guidebook describes life skills with step-by-step instructions... No matter who is reading and enjoying the book, the skills are fleshed out with easy-to-understand steps and engaging illustrations."  — School Library Journal


 
Storey Publishing, LLC, 9781635861822, 160pp.
Publication Date: May 26, 2020
About the Author
Catherine Newman is the author of What Can I Say? and the award-winning bestseller How to Be a Person, as well as two parenting memoirs: Waiting for Birdy and Catastrophic Happiness, and a middle-grade novel, One Mixed-Up Night. She's also the co-author of Stitch Camp. Newman is the etiquette columnist for Real Simple magazine and the editor of the James Beard Award–winning kids' cooking magazine ChopChop. A regular contributor to publications including the New York Times, Romper, Cup of Jo, and Grown & Flown, Newman lives in Amherst, Massachusetts, with her family. Visit her at catherinenewmanwriter.com.