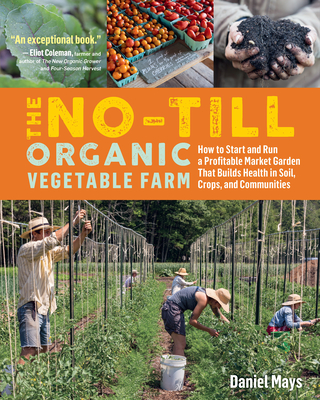 The No-Till Organic Vegetable Farm
How to Start and Run a Profitable Market Garden That Builds Health in Soil, Crops, and Communities
Paperback

* Individual store prices may vary.
Description
No-till — a method of growing crops and providing pasture without disturbing the soil — has become an important alternative to standard farming practices. In this comprehensive guide to successful no-till vegetable farming for aspiring and beginning farmers, author Daniel Mays, owner and manager of an organic no-till farm in Maine, outlines the environmental, social, and economic benefits of this system. The methods described are designed for implementation at the human scale, relying primarily on human power, with minimal use of machinery. The book presents streamlined planning and record-keeping tools as well as marketing strategies, and outlines community engagement programs like CSA, food justice initiatives, and on-farm education.
Praise For The No-Till Organic Vegetable Farm: How to Start and Run a Profitable Market Garden That Builds Health in Soil, Crops, and Communities…
"An exceptional book." — Eliot Coleman, farmer and author of The New Organic Grower and Four Season Harvest
 
"A great treatise on the importance of a holistic approach to agriculture and a must-read for any serious market grower." — Jean-Martin Fortier, farmer and author of The Market Gardener

"Daniel Mays has hit the ball out of the park. Home gardeners and market gardeners alike will learn much about honoring soil life while growing the best vegetables possible." — Michael Phillips, farmer and author of The Holistic Orchard

"If you want to farm for a living, I highly recommend reading this book. It is one of the best guides for serious growers that I know of." — Ben Hartman, farmer and author of The Lean Farm and The Lean Farm Guide to Growing Vegetables

"Farmer Mays draws from nearly a decade's worth of experience running his five-acre Frith Farm in Maine for this useful primer on 'intensive no-till vegetable production'... Straightforward and encouraging, Mays's insightful and detailed account is a one-stop source for small farmers looking for both inspiration and practical advice."
— Publisher's Weekly
Storey Publishing, LLC, 9781635861891, 240pp.
Publication Date: November 10, 2020
About the Author
Daniel Mays is the author of The No-Till Organic Vegetable Farm and the owner of Frith Farm, a no-till operation in southern Maine that produces food for hundreds of local families from three acres of vegetables and five acres of pasture. With a master's degree in environmental engineering, Mays has studied dozens of small organic farm operations throughout the world and is a frequent speaker at farm events, including the Maine Organic Farmers and Gardeners Association (MOFGA), Maine Farmland Trust, and the Maine State Agricultural Trade Show. He lives in Scarborough, Maine.