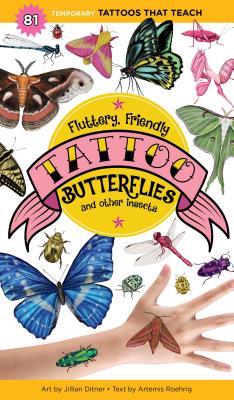 Fluttery, Friendly Tattoo Butterflies and Other Insects (Paperback)
81 Temporary Tattoos That Teach
Storey Publishing, LLC, 9781635862027, 14pp.
Publication Date: September 17, 2019
* Individual store prices may vary.
Description
Kids will love adorning themselves with the stunning specimens in Fluttery, Friendly Tattoo Butterflies and Other Insects. Eighty-one illustrated temporary tattoos introduce creatures with amazing colors and realistic features, from the brilliant blue Cypris Morpho Butterfly to the Garden Tiger Moth, the Jewel Beetle, and the Peacock Pansy Butterfly. Accompanied by fascinating facts about each insect, the tattoos come in sheets and are ready to be applied with a damp cloth, offering bright, bold body art.
About the Author
Artemis Roehrig is the coauthor of the children's books Are Pirates Polite? and Does a Fiddler Crab Fiddle? She grew up in western Massachusetts, and spent summers on Cape Cod where she worked at the Wellfleet Bay Wildlife Sanctuary. After graduating from Skidmore College, she received her master's degree from the organismic & evolutionary biology program at the University of Massachusetts. She continues to research invasive insects in the Elkinton Lab.
Jillian Ditner combines her knowledge of science and passion for visual communication in her work as a graphic designer and scientific illustrator. She earned a graduate degree in science illustration from California State University — Monterey Bay, where she honed her observational skills and pursued interests in naturalist subjects. Ditner lives in Ithaca, New York, and works at the Cornell Lab of Ornithology as a graphics editor.