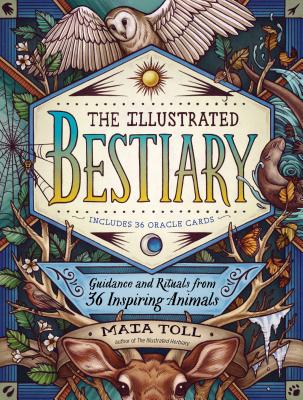 The Illustrated Bestiary (Hardcover)
Guidance and Rituals from 36 Inspiring Animals
Storey Publishing, LLC, 9781635862126, 168pp.
Publication Date: October 1, 2019
* Individual store prices may vary.
Description
People across cultures and through the centuries have felt a spiritual, symbolic connection to animals. In The Illustrated Bestiary, author and spiritual wellness guide Maia Toll turns the insight and wisdom that birthed The Illustrated Herbiary — her best-selling volume on the mystical power of plants — to the animal kingdom. Through profiles highlighting 36 animals' most meaningful traits, Toll explores how those qualities can illuminate our habits, guide our intentions, and inform our actions. Spring Peeper's ability to reemerge from frozen hibernation can inspire us to reinvent ourselves. Katydid's five eyes can lend clarity of vision when we need to see the bigger picture. Rituals and reflections guide readers in cultivating each animal's energy, while 36 oracle cards featuring art by Kate O'Hara further shape readers' meditations. From the humble House Mouse to the magnificent Elephant, this beautifully illustrated guide to animal spirits provides new ways of connecting with the creatures that walk, crawl, slither, swim, and fly.
About the Author
Maia Toll is the author of The Illustrated Herbiary and The Illustrated Bestiary. During a life-changing year apprenticed to a traditional medicine woman in Ireland, Toll learned healing craft working with both humans and animals on a local organic farm. She helps women cultivate personal spirituality through a connection with the rhythms of nature in her online programs, The Medicine Keepers Collective and Witch Camp. She is the founder and owner of Herbiary, a natural products store with locations in Asheville, North Carolina, and Philadelphia, Pennsylvania.
 
Kate O'Hara is a freelance illustrator currently based in Reno, Nevada. She received a BFA in Illustration from the University of the Arts in Philadelphia, in 2014. Her work combines intricate nature drawings with decorative hand-lettering and rich color schemes. 
Praise For The Illustrated Bestiary: Guidance and Rituals from 36 Inspiring Animals…
"O'Hara's bright, bold colors and energetic designs match Toll's impassioned prose… This poetic, gorgeous oracle deck will make a perfect gift for spiritual animal lovers." — Publisher's Weekly

"This book is enchanting — a dive into the wonder, wisdom, and healing offered to us by the natural world." — Dr. Linda Bender, author of Animal Wisdom: Learning From the Spiritual Lives of Animals

"Inspiring rituals, contemplation of mythology and cultural traditions, and evocative art work together to create a spiritual guide to animals that uplifts, guides, and encourages self-reflection. A marvelous tool for deepening your relationship with key fauna of the world, and an ideal addition to the shelf of anyone open to connecting with the animal kingdom." — Arin Murphy-Hiscock, author of The Green Witch