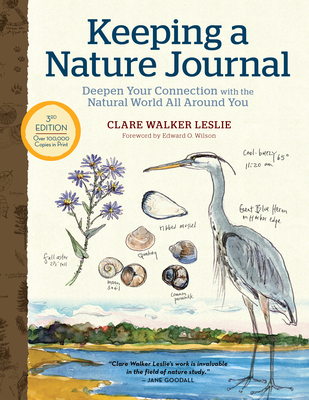 Keeping a Nature Journal, 3rd Edition
Deepen Your Connection with the Natural World All Around You
Paperback

* Individual store prices may vary.
Description
Originally published in 2000 with endorsements from E.O. Wilson and Jane Goodall, Clare Walker Leslie's Keeping a Nature Journal was at the forefront of the nature observation and journaling movement. Leslie's approach has long been acclaimed for its accessible style of teaching people to see, witness, and appreciate the wonders of nature, and her classic guide is still used by individuals, groups, and educators ranging from elementary school teachers to college-level instructors. The third edition features more of Leslie's step-by-step drawing techniques, a new selection of pages from her own journals (which she's kept for 40 years), and an expanded range of prompts for observing particular aspects of the natural world in any location. With an emphasis on learning to see and observe, Leslie shows how drawing nature doesn't require special skills, artistic ability, or even nature knowledge, and it is a tool everyone can use to record observations and experience the benefits of a stronger connection to the natural world.
Praise For Keeping a Nature Journal, 3rd Edition: Deepen Your Connection with the Natural World All Around You…
"Deepen your connection to the natural world with Leslie's easy journaling techniques. Be inspired, healed, and filled with joy as you start your own nature journal!" — Jessica Bussmann, Director of Education at Mount Auburn Cemetery, Cambridge, Massachusetts

"A keystone book for anyone developing their nature journaling skills. The insights of one of the best and wisest teachers fill every page." — John Muir Laws, artist, naturalist, author, and educator

"Leslie's captivating journal pages ease you into the practice of keeping a nature journal. Now, more than ever, this practice is needed for solace, learning, connecting, and caring." — Sandy McDermott, artist and teacher

"Using Leslie's easy-to-apply techniques, my students were joyful, engaged, thinking on higher levels, and motivated to learn." — Stephen L. Houser, Jr., elementary school teacher, Recipient of the Presidential Award for Excellence in Math and Science Teaching, and American Geological Institute's US Earth Science Teacher of the Year
"This new edition of Clare Walker Leslie's classic book provides pleasure for hand and eye, while offering an alluring pathway toward greater attentiveness to the beauty and mystery of the world.  She explores both the "why?" and "how?" of nature journaling, in an engaging, encouraging, and accessible approach. Naturalists of all skill levels and backgrounds can benefit from this offering." — Thomas Lowe Fleischner, Ph.D. Executive Director, Natural History Institute; Editor: Nature, Love, Medicine: Essays on Wildness and Wellness and The Way of Natural History 
"Having known Clare Walker Leslie for over 45 years, I have been privileged to observe her development of this very personal, detailed and practical approach to nature journaling. It is just delightful to see this talented artist and teacher present us with her most comprehensive "how to" publication to date. Clare is not just entertaining us with her unique, keenly observed illustrations and text; she is instructing us (and imploring us) to develop our own techniques for recording the amazing natural world around us." — Trevor L. Lloyd-Evans, Director, Landbird Conservation, Manomet
Storey Publishing, LLC, 9781635862287, 224pp.
Publication Date: May 25, 2021
About the Author
Clare Walker Leslie is a nationally known wildlife artist, author, and educator. For more than 30 years, she has been connecting people of all ages to nature using drawing, writing, and observation of the outdoors. Her books include the bestsellers Keeping a Nature Journal and The Nature Connection, as well as The Curious Nature Guide, Nature Journal, and Drawn to Nature. She lives with her husband and family in Cambridge, Massachusetts, and Granville, Vermont.