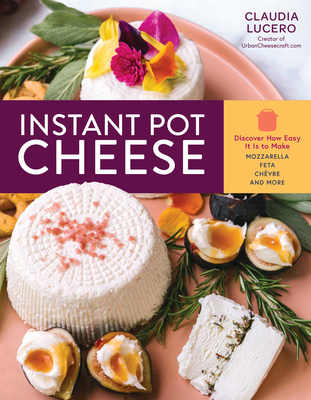 Instant Pot Cheese
Discover How Easy It Is to Make Mozzarella, Feta, Chevre, and More
Paperback

* Individual store prices may vary.
Description
The beloved Instant Pot can be used to do just about anything: caramelize onions, boil eggs, steam rice . . . and now, make cheese! Cheesemaking in a multicooker is not only time- and money-saving, but the cooker's accurate and consistent temperatures make it an ideal tool for the craft. Claudia Lucero, author of the best-selling One-Hour Cheese, presents the cheesemaking basics, then covers classics such as paneer, ricotta, goat cheese, and easy cottage cheese before introducing more sophisticated options like burrata and feta, and even dairy-free alternatives. For multicookers with a "Yogurt" function, there are recipes for cultured dairy products such as buttermilk, ghee, and sour cream, too.
Praise For Instant Pot Cheese: Discover How Easy It Is to Make Mozzarella, Feta, Chevre, and More…
"Claudia has once again made cheesemaking fun and accessible for everyone! Instant Pot Cheese is beautifully presented, easy to read, filled with simple and delicious recipes, and will give you another good reason never to put that multicooker away." — Gianaclis Caldwell, cheesemaker and author of Mastering Artisan Cheesemaking, Mastering Basic Cheesemaking, and Homemade Yogurt & Kefir

"Just when I thought I couldn't love my Instant Pot more, Instant Pot Cheese comes about! From homemade feta to burrata, and even dairy-free cheeses, this book has it all. With easy-to-follow instructions, colorful graphics, and lots of photos, Claudia has found multiple ways to make the Instant Pot even more useful."  — Ivy Manning, author of Instant Pot Miracle 6 Ingredients or Less and Instant Pot Italian

"Old-world artisanal cheeses meet ultra-modern methods and the match is solid. In Instant Pot Cheese, Claudia Lucero has found yet another use for the Instant Pot, showing how to use it as a fermentation chamber capable of much more than yogurt. What's more, this book covers both traditionally cultured dairy products and a number of dairy-free options. It is a fun, creative, and easy approach to making your own cheeses at home." — Kirsten K. Shockey, coauthor of Fermented Vegetables, Fiery Ferments, and Miso, Tempeh, Natto and Other Tasty Ferments
Storey Publishing, LLC, 9781635862409, 144pp.
Publication Date: September 29, 2020
About the Author
Claudia Lucero is the author of Instant Pot Cheese, One-Hour Cheese, and One-Hour Dairy-Free Cheese. She is the entrepreneur behind UrbanCheesecraft.com and DIY Cheese Kits, which she sells through Etsy, specialty food shops, and select Whole Foods stores, and she developed the home cheesemaking kits for Williams-Sonoma's Agrarian product line. She lives in Portland, Oregon.