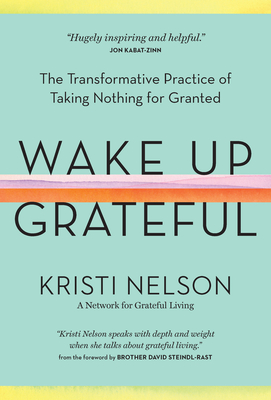 Wake Up Grateful
The Transformative Practice of Taking Nothing for Granted
Hardcover

* Individual store prices may vary.
Other Editions of This Title:
Digital Audiobook (11/23/2020)
Compact Disc (11/24/2020)
MP3 CD (11/24/2020)
Description
"Hugely inspiring and helpful." — Jon Kabat-Zinn

Is it possible to be grateful in challenging times? Our wellbeing depends on it, but how do we achieve it? In Wake Up Grateful, Kristi Nelson, executive director of A Network for Grateful Living, unlocks the path to recognizing abundance in every moment, no matter the moment. With questions for reflection, daily exercises, and perspective prompts, Nelson introduces readers to the benefits of a daily gratitude practice. Using the story of her own cancer experience as a touchstone, Nelson provides deep insight and help in finding resilience and wellbeing in the face of life's uncertainties and offers the promise of profound personal change.
Praise For Wake Up Grateful: The Transformative Practice of Taking Nothing for Granted…
"This book reminds us of what is most important and not to be taken for granted — and how to align our lives with that vital awakening to the beauty and possibility that is always present amidst the darkness and the fear." — Jon Kabat-Zinn, founder of MBSR (mindfulness-based stress reduction) and author of Full Catastrophe Living and Mindfulness for All

"Like gratefulness itself, the book comfortably holds extremes: it's expansive yet concise, individual yet relational, and personal yet universal. It represents an abiding belief in abundance and fierce commitment to wonder, but it's also grounded in reality, recognizing that life is uncertain and hard, and that it is lived in a flawed, fallible body. Wisdom and grace abound in the text, which is calm and cognizant of the fact that people are seeking gratefulness amid raging battles and hard circumstances. Wake Up Grateful is an invitation to a new way of living, even in the most challenging times." — Foreword Reviews 

"Wake Up Grateful will make you think about gratefulness more deeply and give thanks more widely. This is not a book to rush through, but to savor. The pages crackle with raw honesty, deep wisdom, profound realizations, and practical guidelines. Reading it was a true gift, and left me more convinced than ever before that gratefulness is the deepest touchpoint of human existence." — Robert Emmons, professor of psychology at University of California–Davis, and author of Thanks! How Practicing Gratitude Can Make You Happier, Gratitude Works!, and The Little Book of Gratitude

"Wake Up Grateful is exquisitely touching, powerful, and real. This book will make a lasting difference to those fortunate enough to read it. The creation of a new future will be profoundly served by this message and the heart and depth from which it comes. I hope this book gets into the hands of as many people as possible." — Lynne Twist, author of The Soul of Money and founder of SOMI

"With this book, Kristi offers a timely guide to circulate more gratitude in our hearts and build bridges in our communities. If her five guiding principles were pinned to every bathroom mirror, not only would we Wake Up Grateful but we would most certainly wake up to a different world." —
Nipun Mehta, founder, ServiceSpace

"Kristi Nelson has written a book absolutely packed with information that is both inspiring and practical. This is a difficult balance to achieve, and she has done it beautifully. Put this book on your nightstand and read a little bit every day." — Stephen Cope, Scholar Emeritus, Kripalu Center for Yoga and Health and best-selling author of The Great Work of Your Life

"Kristi Nelson has written a soul-revealing and stirring companion for life's peaks and valleys. I'm grateful for her wisdom and this book." —
Rachel Bagby, founder, Singing Farm Sanctuary

"The capacity to look at oneself and one's life exactly as they are with gratefulness is the capacity most needed to live fully, rise through suffering, and contribute to the well-being of the world. Kristi Nelson's inspired work ought to be in every school desk and hotel nightstand and on every kitchen counter. With her guidance we are prepared to hold our lives tenderly, be kind, and love each other fully." — Maria Sirois, Psy.D., author of A Short Course in Happiness After Loss (and Other Dark, Difficult Times)

"The most valuable spiritual guidebooks, the kind you keep next to your bed, are grounded in the writer's personal awakening. Cancer taught Kristi Nelson to accept the uncertainty and impermanence of life, and through that she discovered gratefulness as a path to healing and wholeness. Now she offers it to us, and it is a blessing to receive." — Mirabai Bush, Senior Fellow, Center for Contemplative Mind in Society and coauthor of Walking Each Other Home: Conversations on Loving and Dying
Storey Publishing, LLC, 9781635862447, 240pp.
Publication Date: November 24, 2020
About the Author
Kristi Nelson is the author of Wake Up Grateful and the executive director of A Network for Grateful Living. She has a master's degree in public administration from the Harvard Kennedy School and has spent more than 30 years in nonprofit leadership, development, and consulting. She has worked at the Center for Mindfulness in Medicine, Kripalu Center for Yoga and Health, and the Soul of Money Institute. Nelson is a Stage IV cancer survivor who cherishes living among friends and family in western Massachusetts.
As a scholar, writer, and social activist, Brother David Steindl-Rast has shared messages of peace, interfaith dialogue, social justice, and environmental stewardship worldwide for more than 50 years in spoken and written word that is both thoughtful and occasionally infused with beauty, wonderment, and wit. His TEDtalk Want to Be Happy? Be Grateful has garnered over 5 million views and thousands of people a day tap into the interactive online community he co-founded, A Network for Grateful Living, for information and guidance on the transformative power of gratefulness as a mindfulness practice.