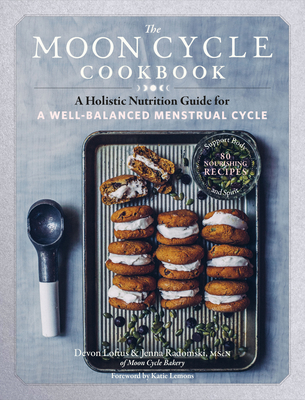 The Moon Cycle Cookbook
A Holistic Nutrition Guide for a Well-Balanced Menstrual Cycle
Paperback

* Individual store prices may vary.
Description
The Moon Cycle Bakery, founded in 2017, creates sweet treats that replenish certain micronutrients women lose during the different stages of their menstrual cycle. In The Moon Cycle Cookbook, bakery founder Devon Loftus and nutritionist Jenna Radomski empower women to nourish themselves with recipes for sweets, savory meals, and snacks, organized around each of the four phases of the menstrual cycle, that can be customized to suit their bodies' fluctuating needs.
 
Every recipe is formulated with the knowledge of what is happening hormonally in a woman's body during each cycle phase, using ingredients that replenish and support essential nutrients. Suffering from cramps? Try adding more cacao to your diet. Mood swings? A sweet-potato brownie can help with that. A happy mix of creativity, self-empowerment, and downright deliciousness, this wellness guide demystifies menstrual health, educating readers about their unique needs and helping them to deepen their self-care regimen. Sidebars feature suggested self-care practices and rituals to enhance a woman's connection to her body and understanding of how to nurture a healthy cycle.
 
Praise For The Moon Cycle Cookbook: A Holistic Nutrition Guide for a Well-Balanced Menstrual Cycle…
"An eye-opening guide to mindful eating during one's menstrual cycle." — Publisher's Weekly

"A beautiful, delicious, and creative way to honor your cyclical self. These recipes and lifestyle practices will help give your body the support it needs when it needs it most." — Dr. Jolene Brighten, author of Beyond the Pill

"Every woman should know that she has the power to affect the quality of her cycle and each of its phases through diet and lifestyle.  Using food strategically is a fundamental way to nourish our hormonal balance.  Devon and Jenna's recipes are a delicious resource for your journey of supporting your cycle with food."— Alisa Vitti, bestselling author of WomanCode and In the FLO, creator of The Cycle Syncing Method®, founder of FLOliving.com

"The Moon Cycle Cookbook is a must-have if you want to understand how and what to eat according to the phases of your menstrual cycle. I've had the pleasure of indulging in Devon's delicious Moon Cycle Bakery treats over the past few years, and if they are any indication of how good the food is in this cookbook, then you and your taste buds are going to be delighted! I highly recommend it!" — Nicole Jardim, Certified Women's Health Coach & Author of Fix Your Period

"The Moon Cycle Cookbook is a book that every single woman needs to receive. It should be handed out to girls the day we learn about our menstrual cycles. And now thanks to Devon and Jenna we can eat the most magical, delicious and nourishing foods like dark chocolate cherry grain-free granola with sprouted walnuts while fueling our bodies with the nutrients it needs for all times of the month and our cycles. Who would have thought that devouring sweet potato brownies can help with moodiness? There are endless recipes in this book and I cannot wait to keep cooking from it." — Rachel Mansfield, podcast host and author of Just the Good Stuff

"This book is like a giant hug when you need it most – and my cycle is one thousand percent less annoying because of it. IN LOVE!"  — Jessica Murnane, author of Know Your Endo and One Part Plant 

"Devon offers the epitome of creating feminine food as medicine, increasing pleasure and health through incredible recipes that cater to both body and palate." — Alyssa Melody, Root&Bones Holistic Herb Company
 
Storey Publishing, LLC, 9781635862850, 240pp.
Publication Date: October 5, 2021
About the Author
Devon Loftus is a writer, speaker and the founder of Moon Cycle Bakery — a wellness based business that focuses on the menstrual cycle and creates sweet treats and food related products to help support women hormonally, spiritually and emotionally. Loftus currently lives, works and writes from New Jersey. 
Jenna Radomski,
MScN, is a holistic nutritionist, recipe developer, and the voice behind Jenna Bee Basics, an online space for exploring the everyday elements of a nourished life. Starting her menstrual cycle and developing acne at a very young age led Radomski on a decade-long search for answers. She ultimately found relief through intuitive eating, living in sync with her cycle, and intentional self-care. Radomski holds a B.S. in Nutritional Sciences from the University of Arizona and a Master of Science in Nutrition from the National University of Natural Medicine. She currently lives in Portland, Oregon, where she loves to garden, hike and explore the local food scene.