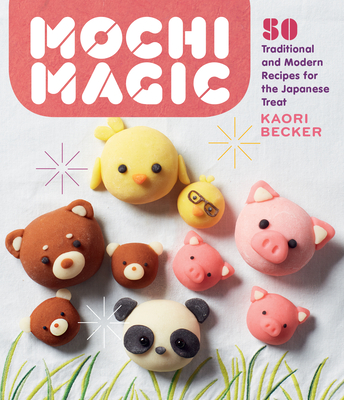 Mochi Magic
50 Traditional and Modern Recipes for the Japanese Treat
Paperback

* Individual store prices may vary.
Description
Mochi — the traditional Japanese treat made of chewy rice dough — is a popular and versatile vehicle for all kinds of sweet and savory fillings, and easily molded into adorable shapes and characters that define Japan's culture of cuteness. Food writer Kaori Becker's easy-to-follow techniques for creating and cooking with mochi deliver the perfect mix of fun and tradition. Each colorful page brims with recipes for hand-pounded, steamed, and modern microwave mochi; fillings like rosewater, Nutella, black sesame, Oreo Cream Cheese, and Japanese plum wine; mochi-focused goodies like Bacon-Wrapped Mochi, Ozoni Soup, baked goods; and inspiration for shaping irresistibly charming mochi flowers, baby chicks, pandas, and more. Kawaii!!
Praise For Mochi Magic: 50 Traditional and Modern Recipes for the Japanese Treat…
"This book is a great starting point for chefs new to making mochi, and a wonderful addition to any library collection." – Booklist

"Kaori isn't just teaching you how to make mochi. She's teaching the art as well as the technique behind each adorable design, breaking it down so that it's super easy to follow. She connects you to her heritage throughout the book and shows you the endless sweet possibilities with mochi!" – Hetal Vasavada, author of Milk & Cardamom

"Mochi making is a paramount tradition that brings joy and delight to every generation of the Japanese people. I am so happy that Kaori put together this book so the magic of mochi can be shared with everyone." — Namiko Chen, founder of Just One Cookbook

"Kaori Becker shows us everything we need to know about the marvelous world of mochi!" — Daniel Shumski, author of How to Instant Pot and Will It Waffle?
 
"I become more fascinated by Kaori's cute and delicious mochi world every time I turn the page, and I get excited about what I'm going to make. I'm sure you will too." — Maki Ogawa, coauthor of Yum-Yum Bento Box

"Mochi is an important part of the food landscape in Japan, from an ingredient in savory soups to sweet strawberry-stuffed ichigo daifuku. Mochi Magic shows how absolutely simple it is to make at home, even in my tiny Japanese kitchen!" — Brian MacDuckston, founder of Ramen Adventures

"Thank you, Kaori Becker, for generously, lovingly sharing your mochi-making expertise with us! Mochi Magic, with its oodles of adorable, doable mochi sweets, is a perfect blend of instruction and inspiration. Kaori-san, you are our mochi muse!" — Elizabeth Andoh, founder of A Taste of Culture

 
Storey Publishing, LLC, 9781635862942, 192pp.
Publication Date: November 24, 2020
About the Author
Kaori Becker is the author of Mochi Magic and a cook specializing in Japanese cuisine. Growing up "hapa" (half-Japanese) in the Bay Area, she was drawn to her mother's Japanese home cooking, especially sweets and baked goods. Together with her mother, Becker runs Kaori's Kitchen, a Bay Area cooking school featuring popular mochi classes. Becker also co-owns The Mochi Shop in Columbus, Ohio.