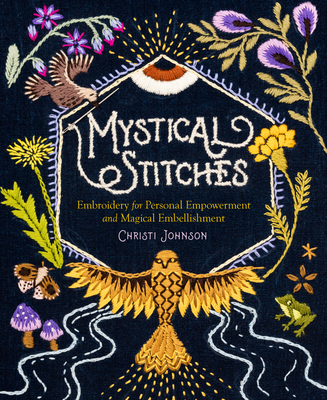 Mystical Stitches
Embroidery for Personal Empowerment and Magical Embellishment
Hardcover

* Individual store prices may vary.
Description
Hand embroidery can be a joyous respite from busy daily life. It is an exploration of material, an invitation to slow down, and it allows time for contemplation. Mystical Stitches combines this beloved and accessible craft with a spiritual element, introducing nearly 200 original designs for different symbols readers can use to create personal icons to wear or embellish items in the home. Christi Johnson offers patterns inspired by botanicals, animals, numbers, the cosmos, earth elements, and mythological icons for novice or well-practiced crafters to combine into talismans with personal meaning. Johnson's folk art style is vibrant and unintimidating and provides a framework for bringing spiritual elements into physical form. In addition to basic techniques, an overview of material options, and an illustrated encyclopedia of stitches, the extensive treasury of symbols is lavishly photographed in hand-stitched, full-color spreads that will inspire readers to create personalized designs to stitch on clothes, hang on the wall, place on an altar, carry with them, or display in a place of prominence.
Praise For Mystical Stitches: Embroidery for Personal Empowerment and Magical Embellishment…
"What a gift for the world to have Christi Johnson's work in printed form. In this book we have the honor of joining Johnson's journey through embroidery, but we are also invited to go so much deeper than just stitching. Johnson leads us through beloved symbols and incredible imagery—like moon phases, zodiac signs, mythical beasts, and medicinal plants—and also offers suggestions for ways to live, connect, and heal. Christi makes magic with words and images—her intentions, inspirations, and intuition shine so brightly through every page of this stunning book." — Katrina Rodabaugh, artist and author of Make Thrift Mend and Mending Matters  
"This book is so generous in the way it perfectly balances supportive, clear instructional content and technical information with permission, guidance, and encouragement to experience creativity and process free from perfectionism or external constraints and expectations. The links between magic and creativity and spirituality are so deep and beautifully expressed." — Sarah K. Benning, author of Embroidered Life 
"Completely fascinating and breathtakingly beautiful! Like Johnson's embroidery itself, Mystical Stitches channels the power of sacred imagery to seamlessly weave magical symbols into a multidimensional creative outpouring." — Erica Feldmann of Hauswitch 

"Christi Johnson's Mystical Stitches encourages spiritual forms of artistic expression. Part arts and crafts book, part meditative spiritual guide, it reveals the power of symbols, showing how to create them through fiber arts... Throughout, the book invites deep self-expression that embodies, through tangible visual symbols, the power of the spiritual imagination." — Foreword Reviews
Storey Publishing, LLC, 9781635863345, 208pp.
Publication Date: June 22, 2021
About the Author
Christi Johnson creates mystical garments that blend elements of botanical dyes with handcrafted stitches. The resulting textile talismans honor the body, its boundaries, its extensions, and its relations to the world and cosmos around us. She works from the belief that through self-expression, we discover our power to transform our worlds. Raised in tropical Florida, Johnson studied Fashion Design at Otis College of Art and Design. She worked in the fashion industry in Los Angeles for nearly a decade, most notably designing "cosmically crafted" limited-edition embroideries for boutique brand Coast-Wide's denim workwear, and now lives in the Catskill Mountains of upstate New York. As a teacher, Johnson also offers workshops in natural dyeing and embroidery and has created kits and booklets for students and DIYers. Her garments, booklets, kits, and embroidered artwork have sold at maker studios and boutiques across the nation.