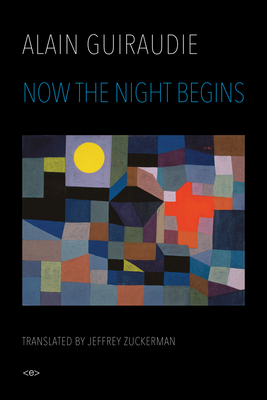 Now the Night Begins (Semiotext(e) / Native Agents) (Hardcover)
Semiotext(e), 9781635900057, 232pp.
Publication Date: June 1, 2018
* Individual store prices may vary.
Description
A novel that is a meditation on friendship, love, obsession, power, and abuse, by turns hyperrealist and phantasmagoric, recalling the work of Sade and Bataille.
And he leaves. I'm not happy, I'm pretty upset at myself, I wasn't satisfied with him but I wouldn't have been any better without him. I sit on the couch and think. I'm not actually thinking, it's already been thought, I have to call Grampa... I need to hear his voice. I miss him.
--from Now the Night Begins
At the tail end of summer vacation, Gilles Heurtebise drifts between lazy afternoons, swimming, cruising the shores of a nearby lake, and absentmindedly hooking up with old lovers. He has yet to achieve material or romantic stability. He is forty, facing a precarious future with unformed fears and regrets. The one thing that seems solid is Grampa, the ninety-year-old patriarch of a family Gilles has befriended. Gilles grows obsessed by the old man, and a strange sexual bond grows between the two. When the police get involved, and Gilles is witness to a murder, the banality of interhuman violence is brought to a paroxysmal climax.
The winner of France's prestigious Prix Sade, Now the Night Begins is a meditation on friendship, love, power, and abuse in a world where social relations have radically disintegrated. Interwoven with swaths of Occitan, the language of troubadours and love, and by turns hyperrealist and phantasmagoric, the novel recalls Georges Bataille's dark surrealism and the unvarnished violence of Bret Easton Ellis. It proves Alain Guiraudie's status as the preeminent writer of the vulnerability underlying our contemporary malaise.
"The genial perversity of Alain Guiraudie's Now the Night Begins is something rare and fascinatingly energized, a metaphysical and moral slapstick that points to the arbitrariness of all authority and the fluidity of all desires. In its way, the most elegant, certainly the most hilarious brief for anarchy that anyone has written in a long time."
--Gary Indiana
"Raw, sexual, and scatological, Alain Guiraudie's novel evokes Sade and Bataille."
--Elisabeth Philippe
About the Author
Alain Guiraudie is a French film director, screenwriter, and novelist. His films include Staying Vertical (2016), Stranger by the Lake (2013), and The King of Escape (2009). Bruce Hainley is the author of Under the Sign of [sic]: Sturtevant's Volte-Face and Art & Culture, both published by Semiotext(e). The editor of Commie Pinko Guy, he wrote, with John Waters, Art--A Sex Book. He cochairs the Graduate Art program at ArtCenter College of Design and is a contributing editor at Artforum.