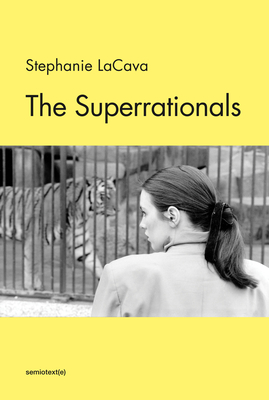 The Superrationals (Semiotext(e) / Native Agents)
Paperback

* Individual store prices may vary.
Description
An erotic and darkly comic novel about female friendship, set at the intersection between counterculture and the multimillion dollar art industry.
Over the course of a few days in the fall of 2015, the sophisticated and awkward, wry and beautiful Mathilde upends her tidy world. She takes a short leave from her job at one of New York's leading auction houses and follows her best friend Gretchen on an impromptu trip to Paris. While there, she confronts her late mother's hidden life, attempts to rein in Gretchen's encounters with an aloof and withholding sometime-boyfriend, and faces the traumatic loss of both her parents when she was a teenager.
Reeling between New York, Paris, Munich London, and Berlin, The Superrationals is an erotic and darkly comic story about female friendship, set at the intersection between counterculture and the multimillion dollar art industry. Mathilde takes short, perceptive notes on artworks as a way to organize her own chaotic thoughts and life. Featuring a bitchy gossip chorus within a larger carousel of voices, The Superrationals coolly surveys the international art and media worlds while exploring game theory, the uncanny, and psychoanalysis. Written in the "Young Girl" tradition of Michelle Bernstein's All The King's Horses, Bernadette Corporation's Reena Spaulings and Natasha Stagg's Surveys, The Superrationals confronts the complexity of building narrative in life and on the page and the instability that lies at the heart of everything.
Praise For The Superrationals (Semiotext(e) / Native Agents)…
"Stephanie LaCava's exploration of the cracks and fault lines in human identity is so sharp it nearly bleeds. The Superrationals is a spell of a book. So cool and knowing on the surface, it delves deep into our own silences, ellipses, and selfillusions, how we do and don't connect the dots on the world around us."
– Christopher Bollen, author of The Destroyers

"At one point in Stephanie LaCava's novel The Superrationals, someone quotes Hans Bellmer: 'What is at stake here is a totally new unity of form, meaning and feeling: languageimages that cannot simply be thought up or written up.' Stephanie has written an entire novel exploring Bellmer's idea, and the result is a haunting work of fiction which wrings dreamlike languageimages from the world, like the novel Nadja would have written if André Breton had let her, or the film Belle de Jour would have made had she torn the camera away from Buñuel. The Superrationals has stayed with me since I first read it."
– Lauren Elkin, Author of Flâneuse: Women Walk the City in Paris, New York, Tokyo, Venice, and London

"These glimpses of young women just starting out — working vacuous jobs, sleeping with the wrong guys, embracing and then resisting the fake cosmopolitanism of our time — is like a perfectly edited film: daggerlike dialogue, throwaway lines that reveal volumes of heartbreak, hilarious shrieks delivered in the driest of voices. I hated reading this onscreen: there was just too damn much I wanted to underline. It's incredible how much wisdom Stephanie LaCava has packed into story of all the ways people connect, and all the ways they don't."
– Benjamin Moser, author of Why This World: A Biography of Clarice Lispector, and Sontag: Her Life and Work
Semiotext(e), 9781635901320, 192pp.
Publication Date: October 13, 2020
About the Author
Stephanie LaCava is a writer based in New York City. Her work has appeared in Harper's Magazine, Artforum, Texte zur Kunst, the New York Times, the New York Review of Books, Vogue, and Interview.
or
Not Currently Available for Direct Purchase