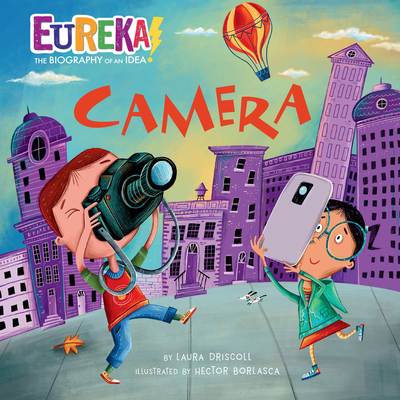 Camera
Eureka! The Biography of an Idea
Paperback

* Individual store prices may vary.
Other Editions of This Title:
Hardcover (8/3/2021)
Description
EUREKA! Great things happen when science crosses history! Discover the all-true stories of your favorite inventions with this new multicultural STEM series that takes readers on a journey through time and around the world. A perfect choice for kids ages 4–8 who love to figure out how things work!


Say "Cheese!" Around the world, millions of pictures are taken every second. Here is a "biography" of the camera, an essential invention that helps people capture the world around them!

From the great Chinese thinker Mozi to Aristotle to Louis Daguerre and George Eastman, people have noticed the interesting effects of light passing through a small opening--the basic idea of a camera. Camera is a fun and informative look at an invention that makes a huge difference in our lives. This STEAM nonfiction title is part of the new Eureka! series, with each book focusing on one groundbreaking, world-changing discovery that millions of people use every single day.
Praise For Camera: Eureka! The Biography of an Idea…
"The appealing Eureka! The Biography of an Idea series introduces primary-grade students to the history behind familiar inventions, from an initial concept or prototype to versions familiar to users today. The writing is simple, clear, and often lively. Richly colorful, digital artwork suggests the look of different time periods and cultures, while portraying individuals who developed each invention and showing how its appearance has changed through the years. Well attuned to the intended audience, this series is both engaging and informative." —Booklist

"A concise, inclusive history of the evolution of the bicycle. The multicountry perspective (Germany, England, France, America, Ireland, and China are all mentioned) is a refreshing angle; also welcome is the information on ways bicycles were and are used, their efficiency, and the etymology of bicycle names and terms. This engaging history of the bicycle is sure to pique young riders' interest while it enriches their knowledge." —Kirkus Reviews (for EUREKA!: Bicycle)
Kane Press, 9781635924299, 32pp.
Publication Date: August 3, 2021
About the Author
A former editor, Laura Driscoll is the author of many books for kids, both fiction and nonfiction, such as The Bravest Cat, Frogs, I Want to Be a Doctor, and for Kane Press, Slow Down, Sara and The Blast-Off Kid. She lives in Middletown, Connecticut. 

Hector Borlasca studied to become a lawyer, but discovered his real passion in illustration. His bright, colorful books for kids include Buenos Dias Anita, Big Kid Shoes, Yiddish Saves the Day, and the I Can Read, Jesus Loves Me. He lives in Argentina with his wife and daughter. Visit hectorborlasca.blogspot.com.