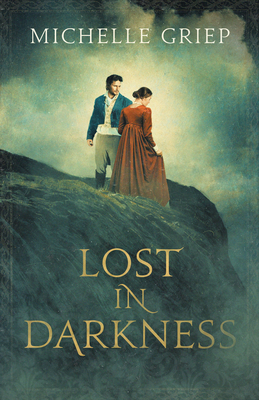 Lost in Darkness (Of Monsters and Men)
Paperback

* Individual store prices may vary.
Other Editions of This Title:
Digital Audiobook (10/31/2021)
CD-Audio (11/1/2021)
Description
Even if there be monsters, there is none so fierce as that which resides in man's own heart.
Enchanting Regency-Era Gothic Romance Intertwined with Inspiration from Mary Shelley's Frankenstein  
 
Travel writer Amelia Balfour's dream of touring Egypt is halted when she receives news of a revolutionary new surgery for her grotesquely disfigured brother. This could change everything, and it does. . .in the worst possible way.
 
Surgeon Graham Lambert has suspicions about the doctor he's gone into practice with, but he can't stop him from operating on Amelia's brother. Will he be too late to prevent the man's death? Or to reveal his true feelings for Amelia before she sails to Cairo?
Praise For Lost in Darkness (Of Monsters and Men)…
Michelle Griep's wonderful gothic novel, Lost in Darkness, transported me back to 1815 England and entranced me with well-developed characters and a vivid setting. Griep's superpower is her rich prose so reminiscent of the classics. I'll never look at Frankenstein the same way again. Highly recommended!
—Colleen Coble, USA Today bestselling author of the Pelican Harbor series


With the despairing elements of Frankenstein, Griep takes her readers into the twisted alleyways of greed and malicious intent. A monstrous applause for Michelle Griep's latest read Lost in Darkness! 
— Jaime Jo Wright, author of On the Cliffs of Foxglove Manor 
Lost in Darkness is Gothic fiction at its finest with characters so flawed yet endearing you'll count them friends. With her unique signature style, Michelle Griep delivers a broody, romantic tale of Regency intrigue that makes the pages fly. Her best yet!
—Laura Frantz, author of A Heart Adrift


An absolutely captivating story, brimming with tension and suspense. While set on a Gothic stage, Lost in Darkness explores timeless questions relevant for every generation. The best and worst of humanity come together in these pages, turning on its head what it means to be either monstrous or heroic. As ever, Michelle Griep writes with courage and authority, weaving truth throughout the tale.
—Jocelyn Green, Christy Award-winning author of Shadows of the White City


Lost in Darkness is the perfect blend of mysterious and romantic. The characters are so complex, each one strong in some ways and yet tenderly vulnerable in others. I was rooting for a happy ending for them all, even though I couldn't imagine how Michelle Griep could pull it off. And the homage to Mary Shelley was perfection.
—Erica Vetsch, author of The Serendipity & Secrets series


Tense and heartrending, with echoes of Frankenstein, Griep is at the top of her game in gothic romance with this one! It will suck you in and keep you up half the night with the need to find out what happens. I don't know how she keeps getting better and better, but she does!
—Shannon McNear, 2014 RITA® nominee, 2021 SELAH winner, and author of Daughters of the Lost Colony: Elinor


Griep's latest is a unique, standout story that evokes all the deliciously eerie tones of gothic classics, but with generous doses of hope and beauty. Tender moments stand in beautiful contrast to the shocking and terrible events that play out, and I never knew what to expect from one page to the next. Griep pens noble yet broken characters unlike any you'd find in other books, and carries them through the most surprising, amazing circumstances. A light-filled twist on Shelley's Frankenstein, Lost in Darkness is a read-all-night sort of book!
—Joanna Davidson Politano, author of A Midnight Dance and other historical novels



Michelle Griep's Lost in Darkness is an atmospheric page-turner packed with romantic tension, faith, and shades of Frankenstein. Fans of Jaime Jo Wright won't want to miss this one.
—Julie Klassen, author of Shadows of Swanford Abbey



Never one to shy from sympathetic, flawed characters, Griep's prowess shines in Lost in Darkness. Fans of Mary Shelley's Frankenstein character will fall in love with gentle giant Colin Balfour. This book is not to be missed!
—Elizabeth Ludwig, USA Today Bestselling Author



Michelle Griep once again stuns with this spell-binding tale of love, loss, and sacrifice. Lost in Darkness left me breathless with every turn of the page. A powerful story that reveals the monsters some keep inside…and the gentle beauty of those the world rejects. This is a masterpiece I'll not soon forget!
—Tara Johnson, author of Engraved on the Heart, Where Dandelions Bloom, and All Through the Night



Reminiscent of Beauty and the Beast with a twist, I was captivated by this "what-could-have-been" tale from page one and not released—even after I turned the last page. I can't stop thinking about the characters.
—Ane Mulligan, author of In High Cotton and the bestselling Chapel Springs series



Hauntingly brilliant and masterfully written, Lost in Darkness is yet another example of how Ms. Griep never fails to entertain, to romance, and to take one on a journey not soon forgotten. Her characters are deep, her prose exceptional, and her storytelling provocative. Another not-to-be-missed novel from this remarkable author.
—MaryLu Tyndall, award-winning author of the Legacy of the King's Pirates series
"Frankenstein fans will appreciate the nod to that story throughout Griep's faith-infused homage, including an appearance by Mary Godwin herself. Readers who enjoy historical inspirationals should take a look."
— Publishers Weekly
Barbour Fiction, 9781636090658, 320pp.
Publication Date: November 1, 2021
About the Author
Michelle Griep's been writing since she first discovered blank wall space and Crayolas. She is the Christy Award-winning author of historical romances: A Tale of Two Hearts, The Captured Bride, The Innkeeper's Daughter, 12 Days at Bleakly Manor, The Captive Heart, Brentwood's Ward, A Heart Deceived, and Gallimore, but also leaped the historical fence into the realm of contemporary with the zany romantic mystery Out of the Frying Pan. If you'd like to keep up with her escapades, find her at www.michellegriep.com or stalk her on Facebook, Twitter, and Pinterest.
 
And guess what? She loves to hear from readers! Feel free to drop her a note at michellegriep@gmail.com.