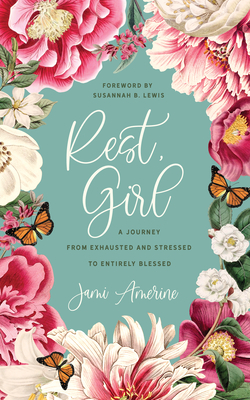 Rest, Girl
A Journey from Exhausted and Stressed to Entirely Blessed
Paperback

* Individual store prices may vary.
Other Editions of This Title:
Digital Audiobook (10/31/2021)
CD-Audio (11/1/2021)
Description
If you're overwhelmed and exhausted. . .
If you've ever thought that all you need to do is try harder. . .
If you've ever felt unappreciated or overlooked. . .
If you've found Jesus or you're still searching. . .
 
Your Heavenly Father Invites You to Rest, Girl.

***
Female readers of all ages will find a sassy, funny, authentic, and encouraging friend in master word weaver Jami Amerine, as she comes alongside you to share God's overwhelming grace and peace in an inside-out journey to true, life-sustaining rest. In a climate that is steeped in stress and worries, this book offers a priceless opportunity to walk in faith to experience the overwhelming blessing of a mind, spirit, and body at rest. Jami will lead you on a humorous, engaging and life-altering journey from restrictions and unrealistic expectations to the unconditional love of the Father. 
Praise For Rest, Girl: A Journey from Exhausted and Stressed to Entirely Blessed…
Many of us are bad at resting, and I am the chief of sinners. This is why I'm thankful for Jami Amerine's reminder that God invites us to a life of rest. This book is not an invitation to take a momentary breather; it's a clarion call to change the posture of your life from one of worry to rest. As always, Jami Amerine's writing is full of honesty and humor. She has experienced her fair share of storms, which makes her the perfect person to write about the One who slept through storms and empowers us to do the same. Why be ruled by worry when you can rule from rest?
-Paul Ellis, Author of
The Silent Queen: Why the Church Needs Women to Find their Voice and Stuff Jesus Never Said
Rest, Girl is a must read! Jami Amerine knows firsthand what it feels like to crawl through each day, exhausted and weary. And yet, through life experience, the study of scripture, and a deep affection for Jesus, she has learned a better way. A way that leaves her energized, filled with hope, and eager to share what she has found with others—the way to true rest. Filled with hilarious anecdotes and heart-stirring truth, Rest, Girl offers laughter and hope to your weary soul, and a promise that a life of rest and joy is truly possible.
- Jennifer Bleakley, author of Joey: How a Blind Rescue Horse Helped Others Learn to See and Pawverbs: 100 Inspirations to Delight an Animal Lovers Heart .
 
I value friends who speak hard truths into me while praying peace and blessing over me. Jami Amerine is one such friend to me! As you read the following pages filled with what her own heartache, faith journey, and research has taught her, I imagine Jami will become a truth-speaking, peace-praying friend of yours too! In Rest, Girl, Jami helps weary women like us to finally understand why we have never truly been at rest, even though we love God and trust His promises. Via her trademark mix of wit and humor, you'll come to see that chronic unrest happens whenever our words and thinking do not line up. Allow Jami to show you how true rest can be your reality going forward whenever you take God at His Word; receiving His love over the fears and lies that have kept your mouth and mind wound up and misaligned for years. 
~Tracy Steel, Mentor, Speaker, and Author of A Redesigned Life: Uncovering God's Purpose When Life Doesn't Go As Planned
 
What would it feel like if the rumbling in your heart stilled like the storm Jesus spoke to? What if your shoulders lowered out of your ears? What if your mind stopped racing? You would feel the rest Jesus promised. Jami repeatedly points us back to Christ as we wrestle with what leaves us exhausted and stressed. It's time rest in the blessing. Read on, dear one! 
- Jill E. McCormick, co-author of Sister, Walk in Truth and host of the Grace In Real Life podcast
 
We tend to forget how important rest is in this crazy, mixed up culture we live in, but we've never needed to understand it more than we do now. In Jami Amerine's thought-provoking new book, Rest, Girl, she shares powerful strategies for rest that can transform our lives and our world if we put them into practice. Filled with deeply honest and humorous stories, biblical truth, and valuable life applications, Jami's newest book will help you maneuver through life's most difficult challenges with true love, grace, and beautiful, peaceful rest.
- Kate Battistelli, author of The God Dare, co-host of The Mom to Mom Podcast


Like Jami, I have struggled with a "What If Ugh" mindset, assuming the worst and rehearsing hurts, which has resulted in unrest. After reading Rest, Girl I am consciously choosing to adopt a "What If Wow" mindset, asking myself, "What if this goes well? What if there is no longer a disconnect between what I profess and how I live? What if it is possible to daily embrace the Good News of the Gospel and walk in the freedom and peace Jesus died to give us?" Rest, Girl will make you think and it will stretch you, while simultaneously inviting you to rest in the goodness of God. . .not buts.
- Katie M. Reid, author of Made Like Martha and A Very Bavarian Christmas, and co-founder of ChangeYourMindChangeEverything.org
 
Barbour Books, 9781636090665, 256pp.
Publication Date: November 1, 2021
About the Author
Jami Amerine is an author, speaker, artist, wife, and mom. She and her husband, Justin live in Houston, Texas and have six children. She holds a Master's of Education in Counseling & Human Development. Jami and Justin are advocates for  foster care and adoption. Jami blogs at sacredgroundstickyfloors.com