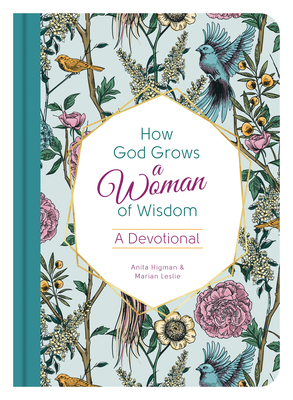 How God Grows a Woman of Wisdom
A Devotional
Hardcover

* Individual store prices may vary.
Other Editions of This Title:
Hardcover (8/1/2020)
Hardcover (8/1/2021)
Paperback (5/1/2021)
Hardcover (6/1/2016)
Paperback (4/1/2014)
Hardcover (12/1/2019)
Hardcover (6/1/2018)
Hardcover (6/1/2015)
Description
God Is Growing You into a Beautiful Woman of Wisdom

How God Grows a Woman of Wisdom was designed to enhance your spiritual journey.  Featuring two hundred–plus devotional readings complemented by scripture selections and prayers, this lovely collection offers a powerful blend of inspiration, encouragement, and motivation for every area of your life. Touching on topics like beauty, blessings, conversation, joy, patience, prayer, relationships, work, and more, you will find yourself drawn ever closer to your heavenly Father as you meditate on each reading and open your heart and mind to God's Word.

Blessed the woman, who listens to me,
awake and ready for me each morning,
alert and responsive as I start my day's work.
When you find me, you find life, real life,
to say nothing of God's good pleasure.
Proverbs 8:34–35 MSG
Barbour Books, 9781636091235, 224pp.
Publication Date: February 1, 2022
About the Author
Anita Higman, an award-winning and bestselling author from Texas, has authored or coauthored fifty-plus books, and she has a BA in the combined fields of speech communication, psychology, and art. A few of Anita's favorite things are fairytale castles, steampunk clothes, traveling, antiquing, exotic teas, gardening, and laughing with her family and friends! Please drop by Anita's website at anitahigman.com. She would love to hear from you!